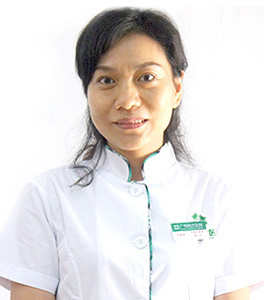 Zhang Dechun

Position: Director of Biology Experiment Center
Title: Associate Chief Physician
Specialty: Biological immunotherapy
Introduction
Graduated from Sun Yat-Sen University in 2004, Director Zhang Dechun stated her work on biological treatment for cancer. In order to provide patients better help and get improvement, she constantly reads books, learns about cancer knowledge, communicates and exchanges with other doctors, and participates in many medical seminars. Additionally, Director Zhang won the progress award of touched characters of Modern Cancer Hospital Guangzhou.
Education Background
1994-1197 Guilin Health School
2000-2004 Sun Yat-Sen University
Medical Experience
Director Zhang Dechun devoted herself to biological treatment for cancer since she graduated from Sun Yat-Sen University in 2004. As another new therapy following traditional treatment methods, biological immunotherapy can kill potential tumor cells, improve patient's immunity and consolidate treatment effect. Compared to traditional methods, immunotherapy won't hurt normal tissue of body, has higher safety and better improvement of life quality of patient. Over 10 years, she has been sticking to her work and biological immunotherapy study.
Academic Achievement
To get improvement, Director Zhang continuously reads books and learns, communicates and exchanges with other doctors, and participates in many medical seminars. She once participated in the fifth forum of immunotherapy and molecular targeted therapy in tumor treatment of CSCO-south where she communicated with more than 40 domestic and foreign well-known oncologists and exchanged information about immunotherapy, molecular targeted therapy, new technology of tumor treatment and comprehensive treatment for tumor and so on. Besides, she summarized her study and experience and published academic papers.
Research Technology
Research Area
If you have any questions, please contact us via online consultation, email or phone call. If you find our website useful, please follow our FaceBook and YouTube, health information will be updated regularly.
Online Inquiry
CLICK HERE!
Let's Have A Healthy Life!
Video
To show you
what is cancer by
videos
Chatting on Facebook

Become a fan of us!
+Follow
We are waiting for you.