CAR-T Effectively Treats Hematologic Malignancies
So far, CAR-T is one of the effective therapies for hematologic malignancies. As a new type of cell therapy, it applies patient's own immune system to clear cancer cells. CAR-T has been recognized by American Science magazine as leader of top 10 scientific breakthroughs of 2013. In August. 2017, it was approved unanimously by America FDA and became a groundbreaking therapy for hematologic malignancies such as lymphoma, leukemia, myeloma, etc.
Distinct Advantages of CAR-T
Different from traditional radiotherapy and chemotherapy, CAR-T is actually an autoimmune treatment through T cell modification, which requires less drugs and causes few side effects, while radiotherapy and chemotherapy cause various side effects, such as nausea, vomiting, diarrhea, constipation, loss of appetite, body loss, hair loss, etc.. Most patients have to give up treatment due to insufferable side effects.
Zhang Dechun , chief oncologist of St. Stamford Modern Cancer Hospital Guangzhou said, "As radiotherapy and chemotherapy cause severe side effects, they are not suitable especially for elder patients and patients with other diseases. However, with the feature of fewer side effects, short cycle, less pain, quick recovery, most importantly, good prognosis, CAR-T has become an alternative treatment for elder and advanced stage cancer patients."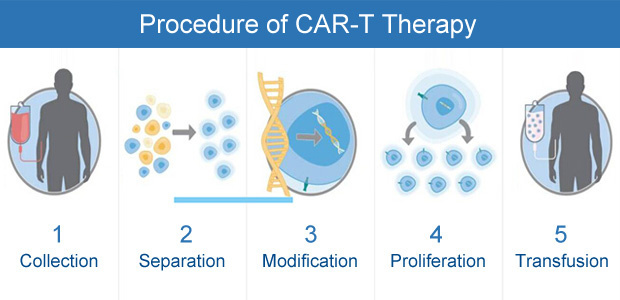 How Does CAR-T Treat Hematologic Malignancies?
Procedure of CAR-T treatment:
Separation: Mononuclear cells are extracted from cancer patients.
Modification: With genetic engineering, Chimeric Antigen Receptor (CAR) which can identify cancer cells and activate T-cells is attached to T-cells, which refers to the Preparation of CAR-T cell.
Proliferation: CAR-T cells proliferation in vitro culture.
Transfusion: A large number of CAR-T cells (after vitro culture) are transfused to patient.
Monitoring: Closely monitor the reaction of patient and cope with severe adverse reactions if any.
The whole procedure lasts for about one month, and it requires two weeks from cell separation to proliferation.
So far, CAR-T therapy has been developed to the third generation and is mainly applied to treat hematologic malignancies, such as lymphoma, leukemia, myeloma, etc.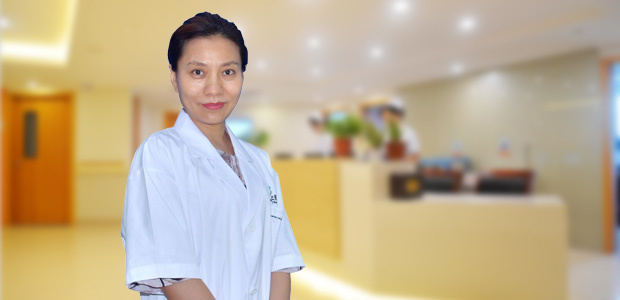 Zhang Dechun
According to latest statistics, China has conducted over 160 clinical trails of CAR-T, which counts same as that in United States and has achieved high efficiency. Zhang Dechun, chief oncologist of St. Stamford Modern Cancer Hospital Guangzhou indicated that, "Currently, CAR-T has witnessed great success in treating hematologic malignancies, such as lymphoma, leukemia, myeloma, etc., with high efficiency over 70% and patients' survival rate improved.
*Surgery, in addition to the appropriate chemotherapy and radiotherapy, are effective in treating early cancer, but certain patients in late stage of cancer may not be tolerate surgery well as they can be relatively weak. A combination of carefully planned minimally invasive therapy, chemotherapy or radiotherapy can effectively reduce the side effects and discomfort of treatment and may help patient get better efficacy.