Warm Christmas in Modern Cancer Hospital Guangzhou
In the morning of Dec. 24, the day of Christmas Eve, President Wang Huaizhong of Modern Cancer Hospital Guangzhou on behalf of all medical staffs visited all hospitalized patients and their dependents. There he sent them Christmas gifts and wished them Merry Christmas and a Happy New Year.
Early at the beginning of December, the hospital staffs have already prepared the Christmas trees and lights at each corner of the hospital, making it a place full of happiness and warmth. Meanwhile, they put the gifts well prepared into delicate boxes, waiting for the upcoming Christmas.
As President Wang pushed against the door and walked into the wards, patients and their family members were surprised to see him with Christmas gifts in hands. "Merry Christmas. This is a small gift for you. Wish you a happy new year and recover soon." said President Wang sincerely. Because some patients were receiving treatment, he reminded them to pay more attention to keep warm, be relaxed during the treatment, and let the medical staff know if there is any special requires. All patients were happy to receive the gifts and blessings and they said the hospital has given them such a warm Christmas. Then they had photo together to record this wonderful moment. .
New Year, new hope! For overseas patients, Christmas day not only brings them together to share gifts and happiness to each other, but let them feel the love of god on their anticancer road. Tonight there will also be a Christmas party where Santa Claus will carry a bag with gifts for all patients. There will be lovely deer singing all the way and fabulous singing and dancing performance. Patients who attended this activity can also enjoy magic show and lucky draw, etc.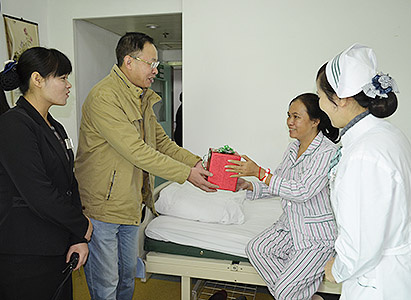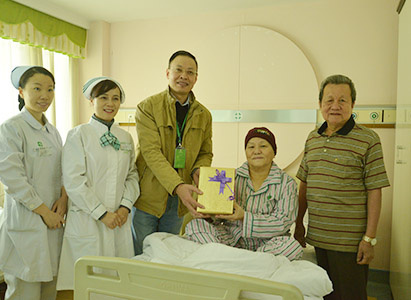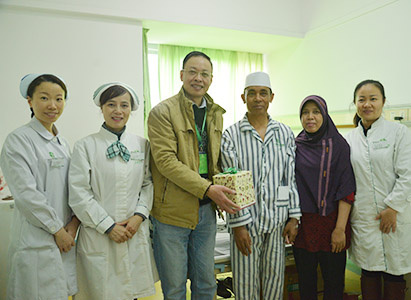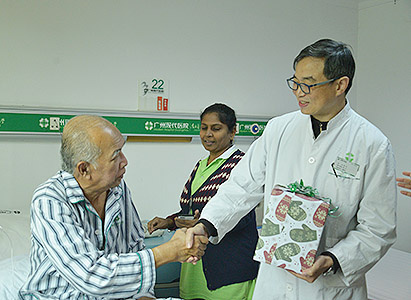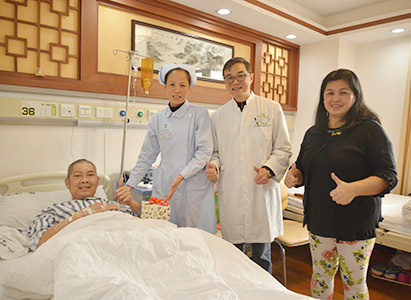 *Surgery, in addition to the appropriate chemotherapy and radiotherapy, are effective in treating early cancer, but certain patients in late stage of cancer may not be tolerate surgery well as they can be relatively weak. A combination of carefully planned minimally invasive therapy, chemotherapy or radiotherapy can effectively reduce the side effects and discomfort of treatment and may help patient get better efficacy.