Focus on Cancer Academic Research and Benefits Cancer Patients
Opening ceremony of research project approved by Guangzhou Health and Family Planning Commission was held in St. Stamford Modern Cancer Hospital Guangzhou
On Feb. 26, 2016, implementation of St. Stamford Modern Cancer Hospital Guangzhou of the research project, Comparing Efficacy and Safety between Treatments of Combining Nanoknife with Gemcitabine and Radiotherapy with Gemcitabine for local pancreatic cancer, was finally approved by Guangzhou Health and Family Planning Commission. Last December 5, 2016, St. Stamford Modern Cancer Hospital Guangzhou formally announced the research project led by Prof. Xu Meng, chief physician and doctoral supervisor of the First Clinical Medicine College of Jinan University and organizer of Biological Treatment Committee of Guangdong Anticancer Association with the presence of Tu Xiaoming, vice president of Singapore St.Stamford International Medical Group, and Wang Huaizhong, dean of St. Stamford Modern Cancer Hospital Guangzhou and the other leaders and research groups.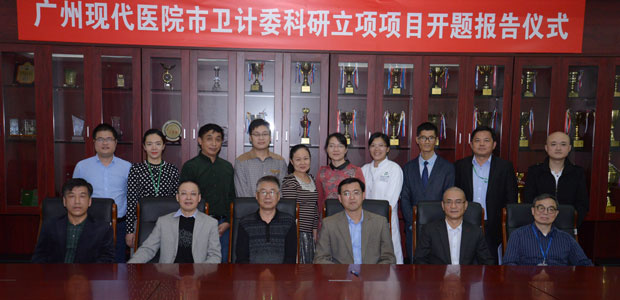 Members of the research project initiation consultation committee
In the ceremony, Huang Deliang, oncology inpatient department director of St. Stamford Modern Cancer Hospital Guangzhou, gave the theme report to the project comparing efficacy and safety between treatments of combining nanoknife with gemcitabine and radiotherapy with gemcitabine. The subject is to compare the local ablation efficacy of nanoknife when combined with the treatment of gemcitabine, with combination of gemcitabine with other therapies, and assess their safety to serve the safest clinical application.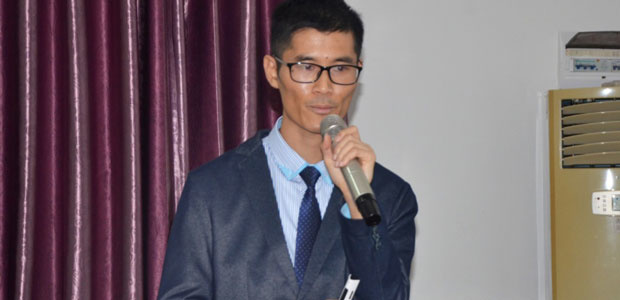 Huang Deliang, Executive of the Research Project
The research group held a deliberation as to the main content up to the feasibility of the study, focusing on the expected effect of combining gemcitabine with nanoknife technology and its 100% efficacy in treating pancreatic cancer. Associate director of oncology department and supervisor, Prof. Wang Xin, pointed out that as long as pancreatic cancer patients treated by the combined treatment of nanoknife and gemcitabine, survive rate will be longer.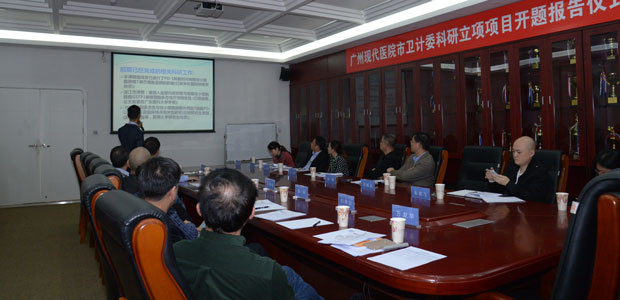 On the scene of the opening ceremony of the research project
In the end, Prof. Xu Meng gave his gave his conclusion in which the research will deliver precision in advanced medicine innovations. He stressed out the refining of the research details and the importance of safety in the clinical trial with the expectations that each hospital may utilize its own clinical treatment guidelines such as in the 30 cases which are undergoing through it. He hoped that the research group can steadily conduct this project with high-end technology of nanoknife as a platform and treatment of pancreatic cancer is the start to establish a breakthrough. He believed with pancreatic cancer as the first target, and sooner will cover more other cancer cases and would benefit more cancer patients.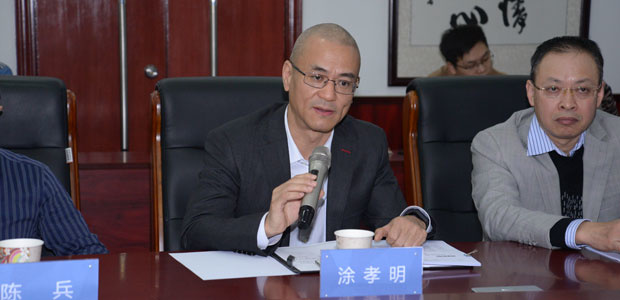 Tu Xiaoming, Vice president of Singapore St.Stamford International Medical Group
Tu Xiaoming, Vice President of Singapore St.Stamford International Medical Group, divulge that it's never easy to get the government's approval for a research project, however, St.Stamford Modern Cancer Hospital Guangzhou has successfully launched 2 projects to start with. The first one was Research on the Feasibility of Cryotherapy in Triple-Negative Breast Cancer Recurrence and Metastasis which was initiated by Director Dai Wenyan. All of these indicate the advancement of innovation in the field of Academe and Research garnering widespread and favorable information around the community.
*Surgery, in addition to the appropriate chemotherapy and radiotherapy, are effective in treating early cancer, but certain patients in late stage of cancer may not be tolerate surgery well as they can be relatively weak. A combination of carefully planned minimally invasive therapy, chemotherapy or radiotherapy can effectively reduce the side effects and discomfort of treatment and may help patient get better efficacy.