You're the Best Especially on International Doctor's Day
We all know particular date such as Teacher's Day even Nurse's Day but few know there's also Doctor's Day. While foreign patients in MCHG keep this special day in mind. On March 30, patients from the Philippines, Russia, Vietnam, Malaysia and Indonesia etc. sent their heartfelt blessings to doctors with carnation and thank-you notes prepared in advance.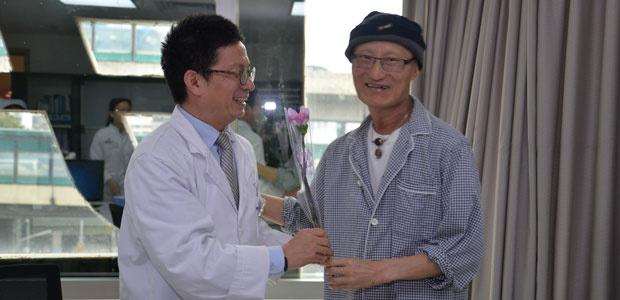 On hold of presents from patients, doctors were surprised and happy. "Even though we receive some small handmade gifts from patients from time to time, it is special and meaningful for us to receive gifts on such a special day, because it represents their recognition and confidence in our medical treatment and services", said an oncologist Lin Jing.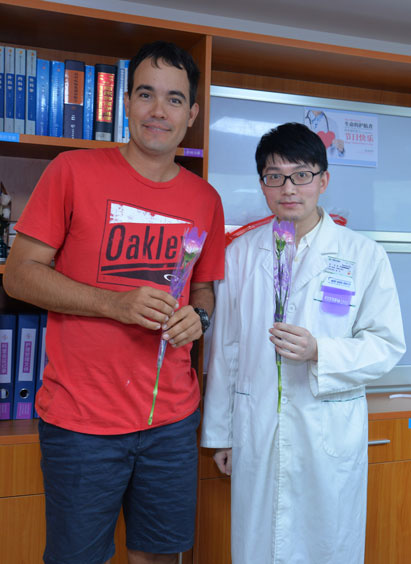 Susan, a breast cancer sufferer from the Philippines fondly read her thank-you note to express her gratitude to doctor Kou, her attending doctor. "Many thanks to the effective and professional medical team and staff who take care of us patiently. It is you who made me feel comfortable here and feel at home. I will pray to God. Wish you a better future, to provide excellent medical services for patients and help them recover from diseases. God Bless you."
Yana Zein, anti-cancer warrior from Indonesia also wrote down her thank-you note to show her appreciation to her attending doctor. " Thank you for careful medical attention during my stay in hospital, now my condition is improving day by day. I wish you a happy doctors' day." Yana was admitted to hospital in January 2017 for breast cancer, after interventional therapy, her condition took a favorable turn and were effectively controlled. Though she could not go to the doctor office in person, she arranged this note early, to express her gratitude to her attending doctor.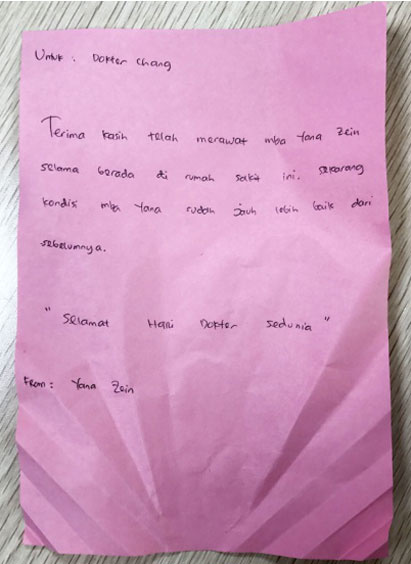 It is known that St. Stamford Modern Cancer Hospital Guangzhou, as a JCI certificated hospital specilazed in cancer treatment, besides providing professional minimally invasive therapies, it also supplies with high quality medical services, including regular medical travel, singing competition, birthday party, to get patients ready for fighting cancer effectively and happily. Patients sometimes would make cross-stitch and greeting cards themselves for doctors to extend their gratitude. "Every time when we receive presents from patients we all feel extremely moved. As a doctor, the very motivation is to meet the needs of patients." said doctors of MCHG.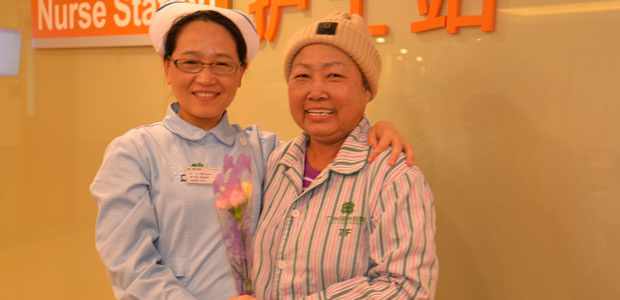 *Surgery, in addition to the appropriate chemotherapy and radiotherapy, are effective in treating early cancer, but certain patients in late stage of cancer may not be tolerate surgery well as they can be relatively weak. A combination of carefully planned minimally invasive therapy, chemotherapy or radiotherapy can effectively reduce the side effects and discomfort of treatment and may help patient get better efficacy.