New Breakthrough, 3D printing template assisted seed implantation was successfully conducted in MCHG
On June 1st, 2017, 3D printing template assisted seed implantation was successfully practiced in St. Stamford Modern Cancer Hospital Guangzhou. The procedure was conducted by the leading expert Dr. Bai Haishan, who is renowned for his high precision skills in tumor puncture and who has been engaged in cancer treatment for over 20 years. Additionally, he is also a member of China Anticancer and Minimally Invasive Cancer Treatment Committee.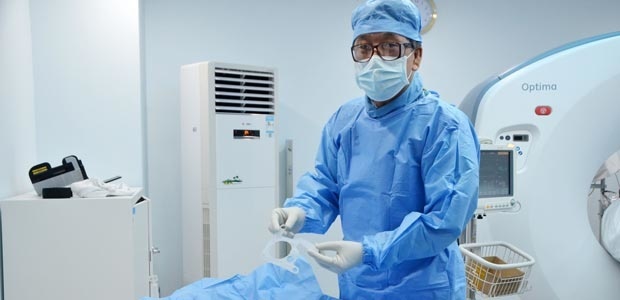 Dr. Bai Haishan
A female patient, 78 years old from Indonesia, came to St. Stamford Modern Cancer Hospital Guangzhou in May 2017 for checkup due to persistent pain in left lower limb and right chest. According to the CT scans, a 3cm tumor found in her right lung with metastases to the left femur. The needle biopsy revealed that she had right lung cancer stage IV. After a thorough assessment, the Multidisciplinary Team came up with 3D printing template assisted seed implantation. Dr. Bai Haishan explained, "I125 seeds implantation releases continuous radiation into the tumor and kills the cancer cells from inside, which is more suitable and easily to apply with less harm to adjacent tissues.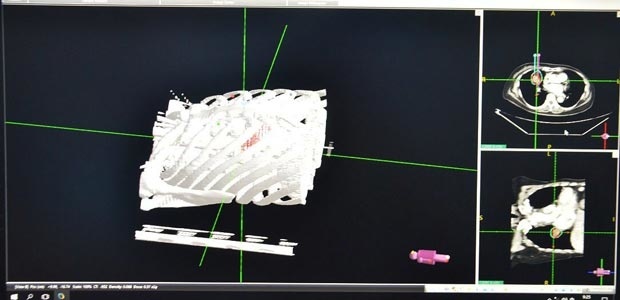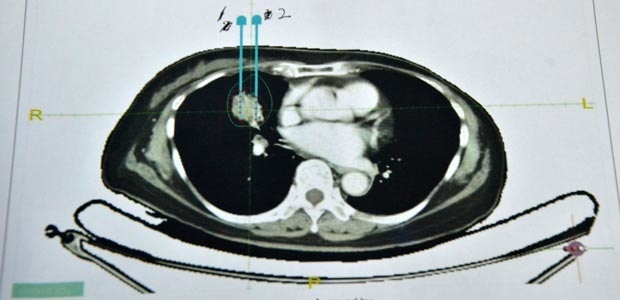 Planning and dosage evaluation before the operation
Prior to the operation, the patient underwent CT scans. Then with the software PROWESS TPS, a seeds implantation planning system, three-dimensional reconstruction was conducted based on the CT scan images of the tumor thus to completely show the connection among the skin, bone, veins and tumor. Furthermore, to precisely confirm the puncture tracks, depth, seeds distribution and the dosage for the lesion. At last, the 3D printing template that perfectly fits the skin will be made with relative device.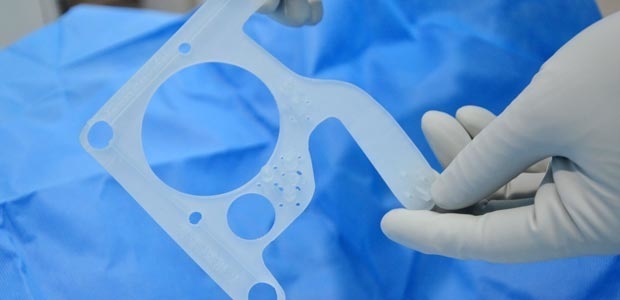 Prepare the 3D printing template in advance
On June 1, the patient was successfully conducted with 3D printing template assisted seed implantation. She maintained stable condition afterwards. The doctor said, "the seeds dosage is exactly the same as planned."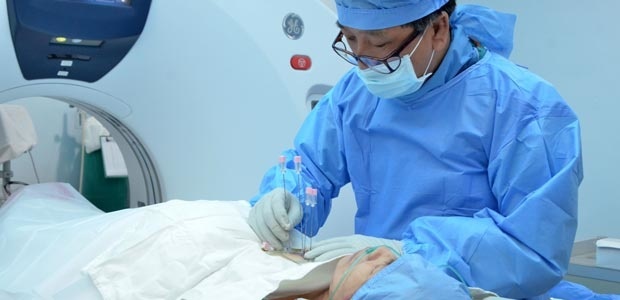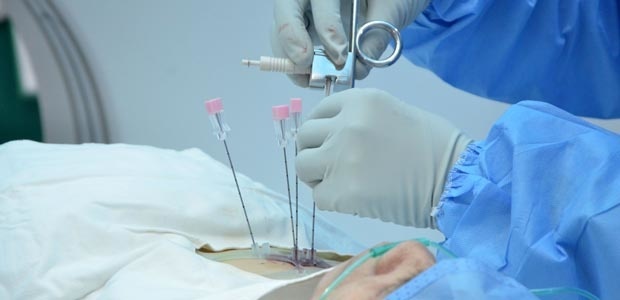 During the puncture
It is well-known that 3D printing template assisted seed implantation is a medical breakthrough, a more advanced version of particle implantation as a cancer treatment – more accurate and scientific than traditional seeds puncture with bare hands. Moreover, the operation also guarantees the accuracy of puncture spot, depth and seeds distribution as well as technically and effectively avoids blind spots, thus, improves the accuracy and thoroughness of operation and enhances the efficacy.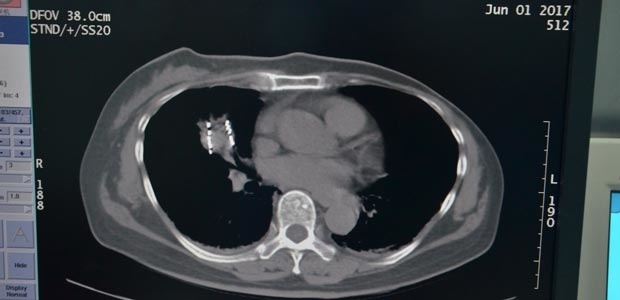 Dosage verification after the operation to make sure the dosage of seeds is equal to that planned before the operation
*Surgery, in addition to the appropriate chemotherapy and radiotherapy, are effective in treating early cancer, but certain patients in late stage of cancer may not be tolerate surgery well as they can be relatively weak. A combination of carefully planned minimally invasive therapy, chemotherapy or radiotherapy can effectively reduce the side effects and discomfort of treatment and may help patient get better efficacy.