2017 Asia-Pacific Oncology Academic Forum Successfully Held in Vietnam
On Nov. 11, 2017 Asia-Pacific Oncology Academic Forum was successfully held in Hanoi, Vietnam. Co-hosted by St.Stamford Medical Group and Hanoi Cancer Association, the event aims to strengthen exchange and cooperation on minimally invasive treatment in Asia-Pacific region and promote universal application of advanced cancer treatment. During the conference, Chinese and Vietnamese experts and scholars in cancer treatment delivered academic reports, generating thorough discussion and exchange on current situation, development, issues and confusion of minimally invasive treatment for cancer, especially for breast cancer.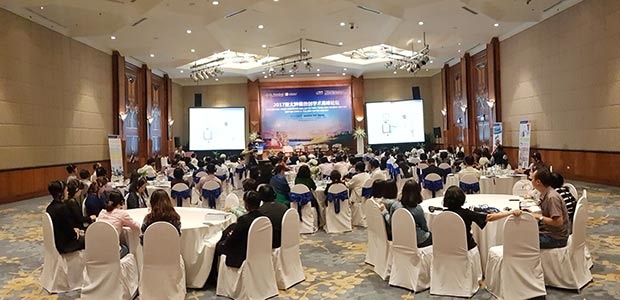 At the scene
The forum officially began at 4 pm. President of St.Stamford Medical Group Lin Zhicheng and vice president of Hanoi Cancer Association Le Van Thao made opening speech, expressing their vision of China and Vietnam making concerted efforts in medical field and providing high-quality medical service for more cancer patients.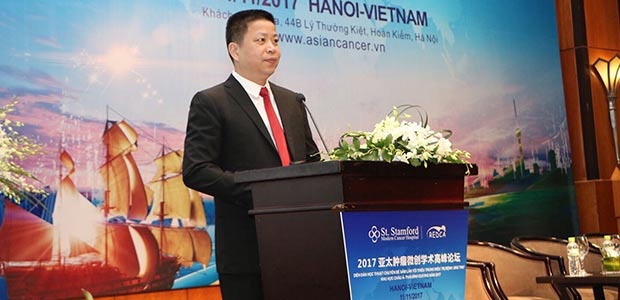 Lin Zhicheng, president of St.Stamford Medical Group
Peng Xiaochi, chief expert and director of oncology in St.Stamford Modern Cancer Hospital Guangzhou, also attended the event and gave a special report on Minimally Invasive Cancer Treatment. Based on his clinical experience, Prof. Peng gave examples, which provided strong supplement to advantages of minimally invasive treatment comparing to traditional therapies such as chemotherapy and radiotherapy, such as fewer side effects, less damage to patient and quicker recovery. Furthermore, he made detailed introduction of 125I seed implantation, one of advanced cancer treatments in St.Stamford MCHG.
Le Van Thao, president of Hanoi Cancer Association
After that, MS Dai, director of Breast Cancer Center in St.Stamford MCHG, gave a special report on Application of Minimally Invasive Treatment to Breast Cancer, during which she noted the undetectability of early-stage breast cancer and the impact of mastectomy on patients. Statistics indicates numerous female cancer patients has been benefited from minimally invasive treatment, which avoids mastectomy, relieves their pain, improves living quality and most importantly, prolongs their survival.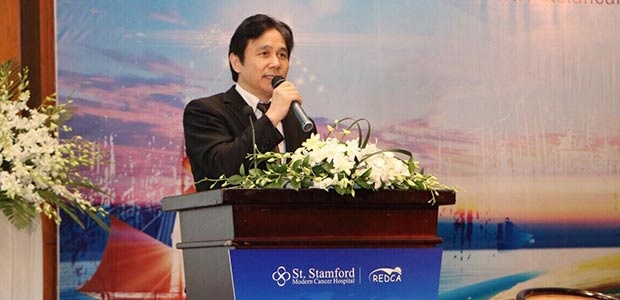 Peng Xiaochi, chief expert and director of oncology in St.Stamford MCHG
Approaching the end of 2017 APOAF, the organizer, experts and scholars attended the interviews conducted by several media, including VTC Digital Television Station, Tien Phong Newspaper, Dantri News and Health Newspaper.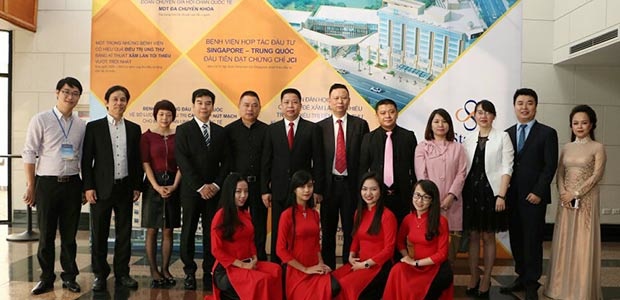 Distinguished attendees
Mr. Lin Daoxuan, medical director of St. Stamford Medical Group, noted that with the guidance of One Belt, One Road, we devoted years of unremitting efforts to strengthen international medical cooperation. We cherish wishes to all countries in Asia-Pacific region, aiming to enhance medical cooperation and tackle the challenge in cancer treatment and realize the dream of public health.
*Surgery, in addition to the appropriate chemotherapy and radiotherapy, are effective in treating early cancer, but certain patients in late stage of cancer may not be tolerate surgery well as they can be relatively weak. A combination of carefully planned minimally invasive therapy, chemotherapy or radiotherapy can effectively reduce the side effects and discomfort of treatment and may help patient get better efficacy.