In-depth Discussion on Anti-cancer Technology, Making Benefit for More Cancer Patients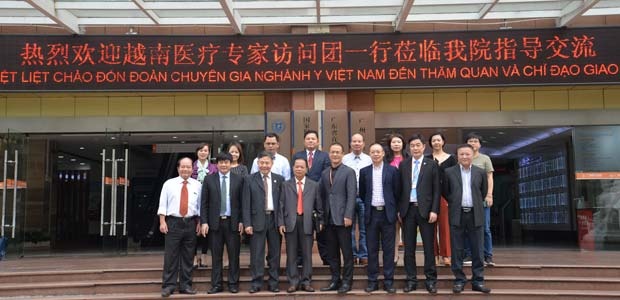 Group Photo of hospital leaders and the delegation
On Nov. 17, a medical delegation headed by Mr. Le Van Thao, the vice president of Hanoi Cancer Association and former president of Hanoi Cancer Hospital, visited St. Stamford Modern Cancer Hospital Guangzhou (MCHG). This transnational exchange is an important action after the 2017 Asia-Pacific Oncology Academic Forum.
On behalf of the whole hospital, General Manager Mr, Tu Xiaoming extended a warm welcome to the delegation in the morning. Under the guidance of "One Belt One Road" strategy, MCHG has kept learning and importing advanced anti-cancer technology and equipment, sparing no effort to offer patients better medical services with JCI international standard. General Manager Mr. Tu also pointed out that this transnational medical visit was conducted with the expectation of mutual learning and exploration on anti-cancer technology.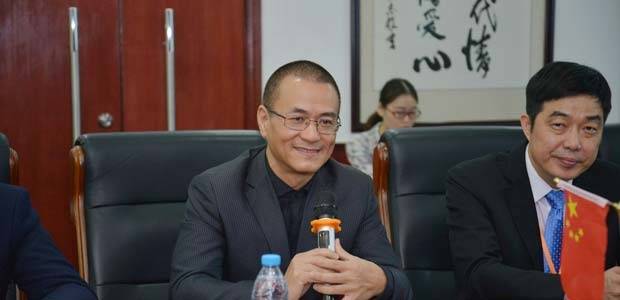 General Manager Mr. Tu is extending our warm welcome to the delegation
Mr. Le Van Thao indicated that the common cancer types in Vietnam are different from other countries due to the differences in geographical environment and life style, therefore requires different treatment technologies. Mr. Le hoped that both sides can have a deep exchange and discussion on anti-cancer technology to overcome the difficulty in cancer treatment together. Besides, Mr Le thought that the high-quality medical service, advanced anti-cancer technology and management concept in MCHG are worth learning.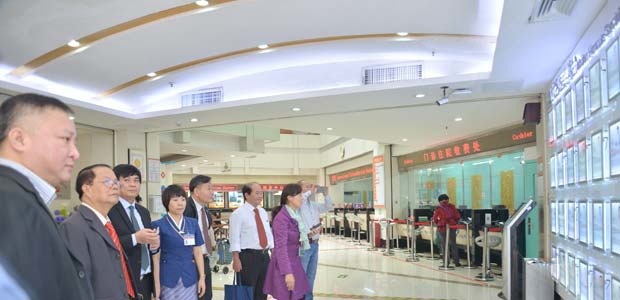 The delegation is visiting our hospital
Every expert in the delegation highly praised the living facilities in the wards and living quarters after visiting the whole hospital. They thought the facilities are flexible and humanized enough to meet different patients' need for living and eating.
The delegation then watched a minimally invasive surgery live broadcast explained by the Dr. Zha Huangqi and launched a deep discussion on minimally invasive therapy and Vietnamese local anti-cancer technology. Every cancer patient in MCHG is given different kind of minimally invasive therapy based on their physical condition. Mr. Le Van Thao told us that he gained a lot from this visit:"Compared to traditional systemic chemotherapy and radiotherapy, minimally invasive therapy gives patient more selectivity and possibility because of its few side effects and great improvement in patient's living quality.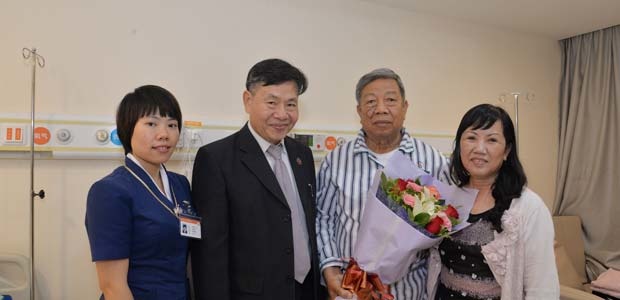 The delegation and Vietnamese cancer patient
The whole delegation visited Vietnamese hospitalized patients, gave them cordial greetings and caring. A stomach cancer patient told the delegation:"Thanks for your kind visiting. I come here for minimally invasive therapy because before I was too weak to take chemotherapy in Vietnam. I got a great improvement here."
*Surgery, in addition to the appropriate chemotherapy and radiotherapy, are effective in treating early cancer, but certain patients in late stage of cancer may not be tolerate surgery well as they can be relatively weak. A combination of carefully planned minimally invasive therapy, chemotherapy or radiotherapy can effectively reduce the side effects and discomfort of treatment and may help patient get better efficacy.