2017 Celebrating Christmas, Greeting the New Year
"Jingle bell, jingle bell, jingle all the way..."Year 2017 is coming to an end when the Christmas Carols sounds over all the earth. In order to celebrate Christmas and greet 2018 New Year ahead at such a special day, staff in St. Stamford Modern Cancer Hospital Guangzhou carefully prepared and organized a Christmas party for hospitalized cancer patients and their families, wishing them a blessed Christmas and a Happy New Year.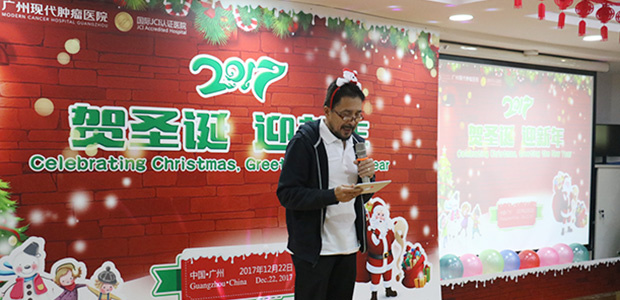 Mila's husband is hosting the prayer and blessing ceremony
At 3:00 pm, Dec. 22, along with melody songs and laughter, Christmas party themed on "2017 Celebrating Christmas, Greeting the New Year" was grandly held in International Meeting Center of St. Stamford Modern Cancer Hospital Guangzhou. Over 100 cancer patients from Malaysia, Indonesia, the Philippines, Vietnam and Thailand and their families arrived at the center earlier before the celebration show, waiting for the beginning of such a great visual feast.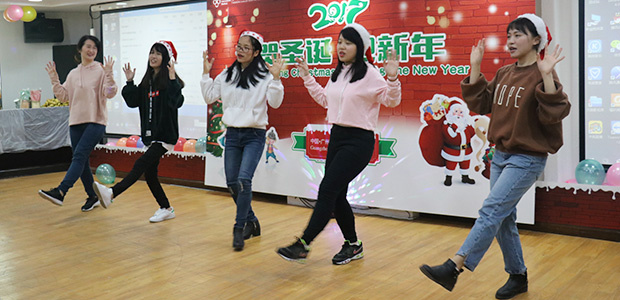 Sing-and-dance show Feliz Navidad from Indonesian interpreters
The party began with a warm Christmas and New Year's video with blessings and New Year's message from Mr. Tu Xiaoming, General Manager of St. Stamford Modern Cancer Hospital Guangzhou and medical staff representatives and staff of the overseas Offices. "Merry Christmas and A Happy New Year!" brought patients from different language and countries together, different forms of holiday wishes moved all the on-site patients and their families. When Navy Chen, interpreter representative of St. Stamford Modern Cancer Hospital Guangzhou said, "We are your family, we are your friends ,we will always be here for you", a Malaysian cancer patient was flooding with emotion and she said, " Here I feel myself at home since I feel all the care and love from family member and friends here, although I cannot stay with my family in such a special day, I am still happy."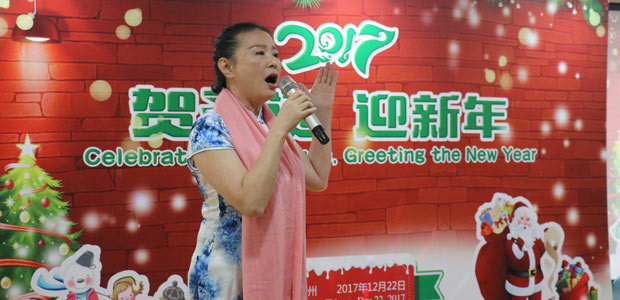 Prof. Cao Chun is singing song I love You China
Afterwards, with the guide of the husband of Mila, the Philippines cancer patient, we had a solemn Christmas Prayer and Blessing ceremony, filling with gratitude for life and hope for the future. Then, Christmas and New Year Carnival show officially began. The song "I love you China" sung by Prof. Cao Chun ignited everyone's enthusiasm and attracted lots of applause. The joyous song made everyone forget the pain and devote themselves to the festive atmosphere. Indonesian solo song "virgoun-surat cinta untuk starla" and chorus "Feliz Navidad" aroused the sympathy of all Indonesian patients on the scene and they sang along with the rhythm which pushed the activity to the climax.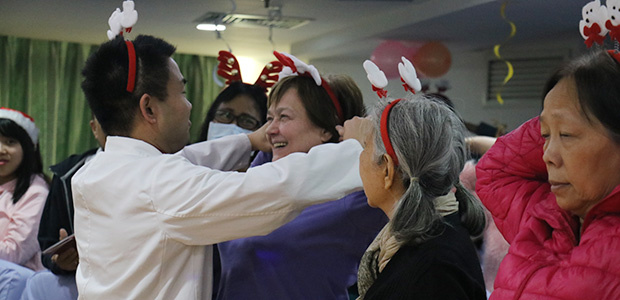 Dr. Zhao is teaching the fitness exercise
In the game session, "Minute to Win it-Stack Attack", "Draw Something" and Lucky Draw cheered the audience, screams sounded here and there. Although all the people come from different countries, speak different languages, same smile on their face eliminate all the barriers and turn into blessings and love for each other.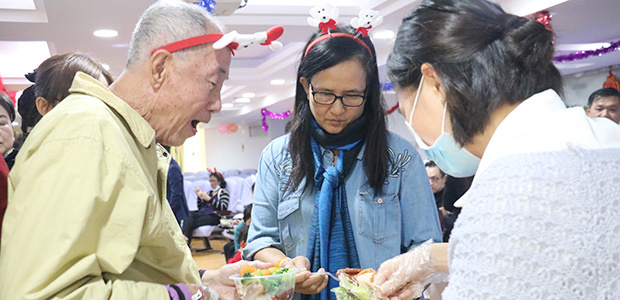 Food sharing time
Besides song-and-dance show and game session, Dr. Zhao Zhigang of Physiotherapy Department taught all the audience to do fitness exercise on site, he remarked, "Moderate exercise is required and suggested for cancer patients during their hospitalization which can help most of them protect their neck and the lower part of the back, I hope all of them can restore their health and be happy in the ahead New Year."
Along with Jingle Bells sung by students from Guangdong Pharmaceutical University, "2017 Celebrating Christmas, Greeting the New Year" party came to an end.
After the celebration, staff in St. Stamford Modern Cancer Hospital Guangzhou carefully prepared sumptuous dinners with reference to the dietary habits of patients in different countries. People shared food and exchanged Christmas and New Year messages and take photos, trying to keep this wonderful moment with the camera.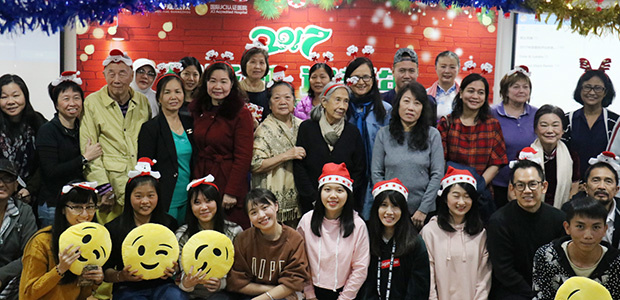 Group photo after the celebration
As an international cancer hospital, St. Stamford Modern Cancer Hospital Guangzhou adheres to the principle of providing the most careful and convenient high quality of service for cancer patients all around the world. In order to help cancer patients fight against cancer happily and easily, and to recover sooner, in holidays not just Christmas and New Year, but almost every Chinese and foreign traditional holidays, staff in hospital will arrange holiday parties based on the custom of foreign patients in different countries, to make them feel at home and defeat cancer bravely and positively.
*Surgery, in addition to the appropriate chemotherapy and radiotherapy, are effective in treating early cancer, but certain patients in late stage of cancer may not be tolerate surgery well as they can be relatively weak. A combination of carefully planned minimally invasive therapy, chemotherapy or radiotherapy can effectively reduce the side effects and discomfort of treatment and may help patient get better efficacy.