Chairman Edhy Listiyo Paid A Medical Visit to MCHG
-Strengthening China-Indonesia Medical Cooperation and Benefiting More Cancer Patients
On the morning of June 19, Edhy Listiyo, the chairman of RS Adi Husada Surabaya, together with several medical experts, paid a medical visit to St.Stamford Modern Cancer Hospital Guangzhou. The visit aims at strengthening medical cooperation and making concerted efforts to exploring new model of medical development, in order to help more cancer patients.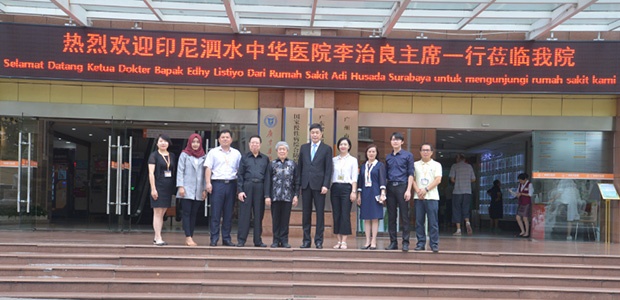 Chairman Edhy Listiyo and learship of MCHG
In the morning, Mr. Lin Shaohua, Dean of Operation of MCHG, expressed his warm welcome to Dean Edhy Listiyo and the delegation. In his speech, Dean Lin noted: "In recent years, the scale of development of our hospital has continued to expand, and MCHG has achieved remarkable breakthroughs in medical technology, medical services, environmental scale and safety facilities. In 2015, MCHG established exchanges with National University of Singapore. In 2016, Mayo Clinic of the United States and the Cancer Center of Singapore also paid visit to MCHG and spoke highly of the hospital. In addition, MCHG passed JCI first and second accreditation in 2014 and 2017 with high scores, which laid a solid foundation for the hospital to further integrate with international medical care.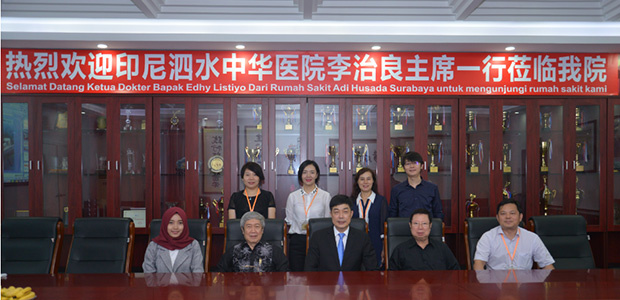 Leadership of MCHG extends warm warm welcome to the delegation
As the first overseas cooperative hospital of MCHG, RS Adi Husada Surabaya has made graven contributions to its development and construction for many years. We hope that through the cooperation and exchange between China and Indonesia, consensus could be reached on information sharing and resource integration, building an international medical cooperation platform to serve more cancer patients.
The delagation visits Indonesian breast cancer patient Indahwati Iwan
Chairman Edhy Listiyo stated: "St.Stamford Modern Cancer Hospital Guangzhou and RS Adi Husada Surabaya have always kept close exchanges and cooperation. Since the establishment, St.Stamford MCHG has witnessed remarkable breakthroughs, especially in the hospital environment, medical equipment, technology and services. The hospital also gained trust and recognition from Indonesian people by passing JCI accreditation with high scores.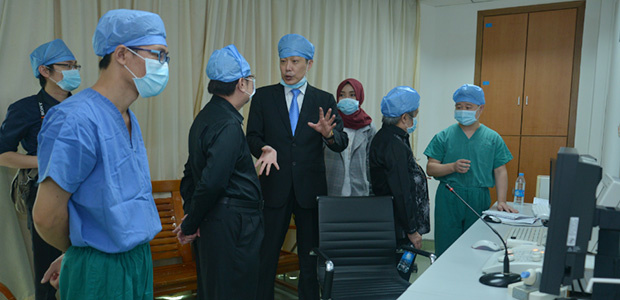 Chairman Edhy Listiyo watches a live operation ofminimally invasive therapy
After the meeting, Chairman Edhy Listiyo took a tour around the hospital and watched a live operation of interventional therapy, a kind of minimally invasive therapies. He also conducted in-depth exchanges with the MDT(Multidisciplinary Team)on the advantages of minimally invasive cancer treatment and its applicable diseases, followed by a visit to the hospital's international remote consultation center, minimally invasive therapy operating room, interventional operating room, VIP wards, and dinning rooms. Chairman Edhy Listiyo was so delighted to say that " Compared with three years ago, MCHG has witnessed dramatic changes, whether in medical technology or services, they have already stood at the forefront of the world. This is not only a new treatment option for cancer patients in Indonesia, but also for cancer patients worldwide."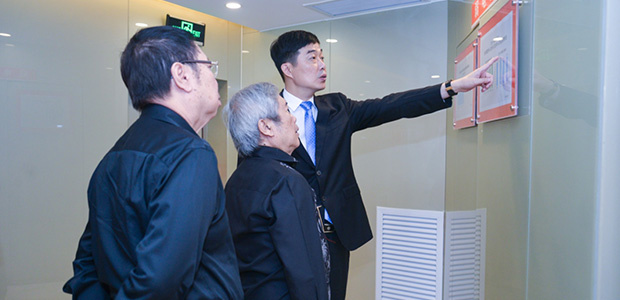 Dean Lin and Edhy Listiyo take a tour around the hospital

*Surgery, in addition to the appropriate chemotherapy and radiotherapy, are effective in treating early cancer, but certain patients in late stage of cancer may not be tolerate surgery well as they can be relatively weak. A combination of carefully planned minimally invasive therapy, chemotherapy or radiotherapy can effectively reduce the side effects and discomfort of treatment and may help patient get better efficacy.