I Had Cancer but Cancer didn't Have Me
"I had cancer but cancer didn't have me. I choose to face it positively. I'm grateful to everything God gives me, even cancer. Everything in my life, good or bad, happens for a reason. I can learn something experience and lesson from it. Life can throw us lemon sometimes. It's our choice on how we want to respond to it. We can let it become bad sour lemon or we can make a delicious lemonade out of it. And I choose to make a delicious lemonade. I can do it and you can too." HARYATI LAWIDJAJA (Fey)said during the interview.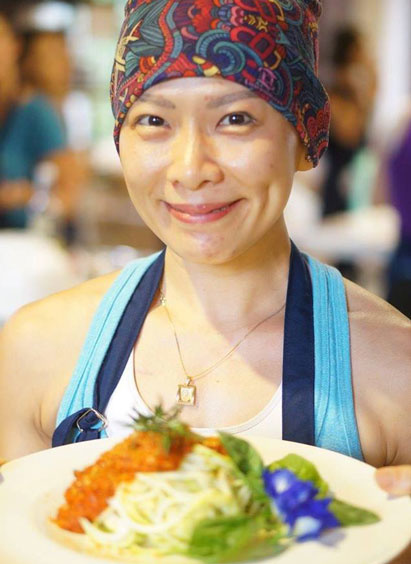 Fey (during the treatment period)
In Indonesia, she was diagnosed as cervical cancer in October 2016. After many obstacles, she took minimally invasive treatment in St. Stamford Modern Cancer Hospital Guangzhou and finally got rid of cervical cancer. Her strong willpower and positive attitude are really amazing. She always wears a smile, which even makes people forget about the disease she's suffering. The smile and eyes do tell story.
No one's life can be defined by cancer, neither can mine.
I'm also a chef
Due to my closely-managed work schedule as the Country Director for a digital technology company, I didn't have time to do something I actually want to do, for example, cook, let alone simply enjoy life. In May 2017, during my treatment period, I joined in a raw food culinary course conducted by a Japanese cook in Bali. Two weeks later I got my certification.
Fey with classmates in culinary course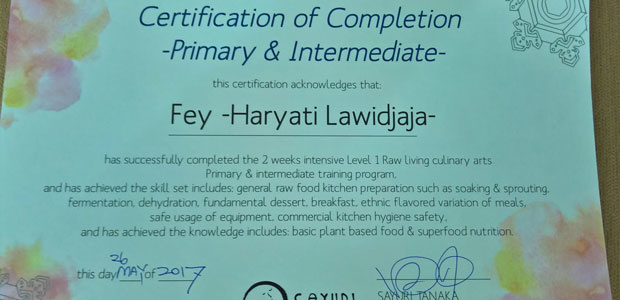 Culinary Certification
I'm also a runner
As a sports fan, I have joined several marathons. Exercise for me is a trail for body and mind. No matter in your life or work, as long as you keep firm faith confronting difficulties, good things will happen.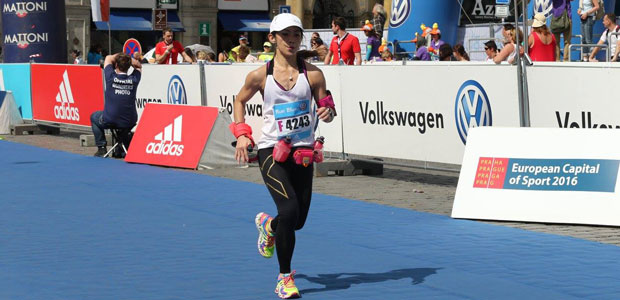 In 2016, Fey at Cuba Marathon(right after the first diagnosis)
I'm also a diver
I love nature so I always go traveling, mountaineering, diving with my friends. It's a good chance to experience wonderful things in the world. Like a newly born, I'm curious about everything new to me and I'm eager to try everything. The cancer is just like an adventure, which endowed me different understanding in life.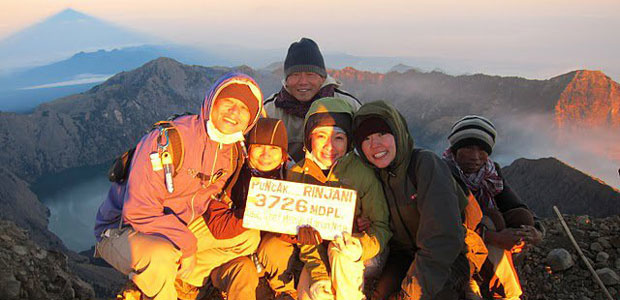 In 2011, Fey climbed Rinjani, Lombok,Indonesia with friends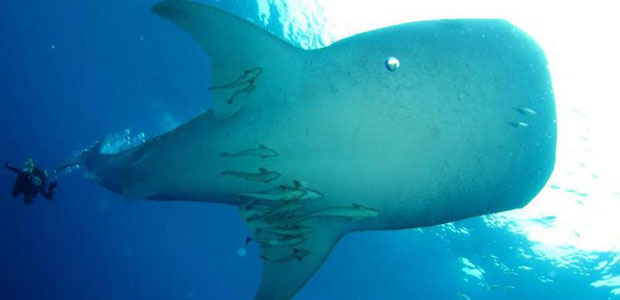 In 2012, Fey was diving in Cendrawasih Bay, Papua, Indonesia and took photo with white shark
I'm also a life-enjoyer
At present, I often cook healthy food. I love cooking, running, cycling and also traveling. I'm grateful to everything in my life. Cancer is not the excuse for negative thoughts, on the contrary, it generated me more passion and optimism toward life.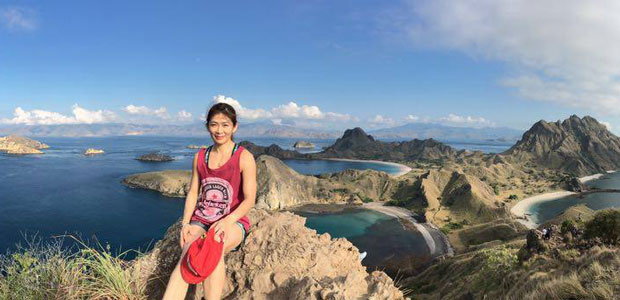 In 2016, Fey was at Komodo Island, Labuanbajo, Indonesia
Accidents may happen
Wearing a beautiful smile, Fey shared her cervical cancer journey:
One day in October 2016, I found symptom of abnormal leukorrhea with strange odor, so I went on a checkup in local hospital. It turned out to be cervical cancer stage IB. Though the bad news came suddenly, I believed there was a way. Because I have faith in God, he arranges things for reasons. I kept in mind that positive thoughts always yield good result. Doctors suggested an immediate surgery in case of deterioration and metastasis. Actually back then I just signed up for a marathon in Cuba, so I decided to finish the competition first. After the event, I took another checkup in Singapore wherein doctors there recommended chemotherapy as the main treatment. Due to the severe side effects of chemotherapy, I refused the and went back to Indonesia. I just didn't want to be a real patient lying on bed all day long.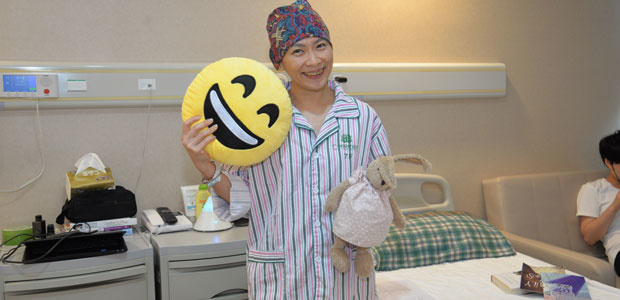 Fey in St. Stamford Modern Cancer Hospital Guangzhou
Everything is the best arrangement
I kept searching for better treatment and found St. Stamford Modern Cancer Hospital Guangzhou on the internet by chance. What caught my eyes was the minimally invasive treatment that causes small trauma and fewer side effects. I believed it was God's will.
In December 2016, I came to St. Stamford MCHG with so much hope. While the situation was beyond expectation, a thorough examination proved cervical cancer stage IV. I didn't lose hope as my confidence in doctors and also myself. The Multidisciplinary Team promptly made a combined treatment of interventional therapy and natural therapy. I felt obvious effects in the next day after the first session of treatment and leukorrhea never bother me since then.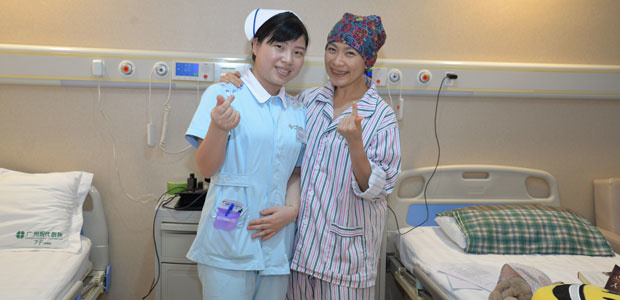 Fey with nurse
I went back home for recuperation until the second session. During the period, I spent my days as usual, running, cycling and traveling. My friends and families were all amazed that I was so energetic as before. As all they knew about cancer patient is a person who lying on the bed due to overall weakness caused by chemotherapy, but my life quality was not affected at all. That's the reason why I choose St. Stamford MCHG and minimally invasive treatment.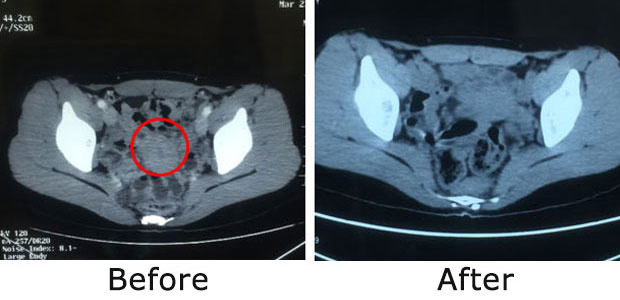 CT scans before and after the treatment
In June 2017, I came back to St. Stamford Modern Cancer Hospital Guangzhou for recheck and treatment. My attending doctor Yao brought me good news that CT Scans showed my tumor lost activity and my condition backed to normal. To my surprise, Medical staff also threw a birthday party for me. I felt so lucky and happy.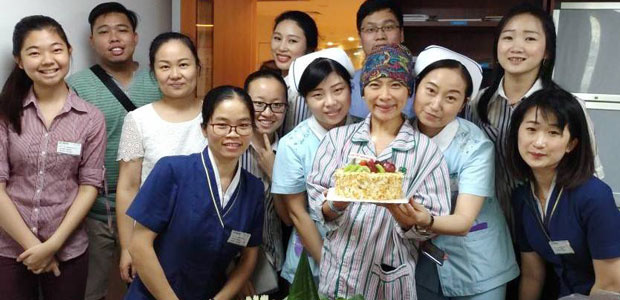 Celebrating birthday with hospital staff
I give much gratitude to my doctor, nurses and translators for their generous help and considerate care during my stay. With their company, I never felt aloof though I came alone. They took me as a friend and family.
Outlook for the future
After treatment in St. Stamford MCHG, my condition and life came back to normal. I can expect my life after cancer would be more fantastic. I want to travel to places I've never been to. I want to do everything I like, including pursuit my career. Certainly, I wish to encourage more cancer patients and help them gain confidence in fighting cancer and enjoying life. I want to tell them, don't worry! Please do believe in doctors and also yourself. Negative thoughts are what you need to overcome during treatment. As Positive thoughts always yield good result.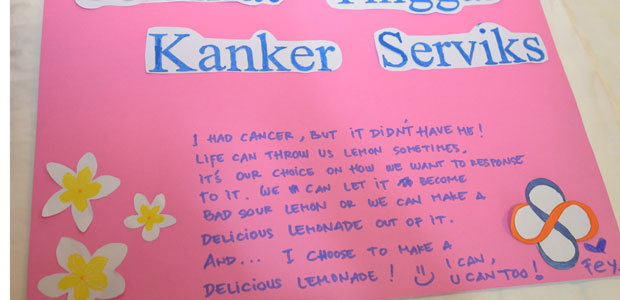 Words for other patients