Minimally invasive therapy gave me chance to watch my doctor grow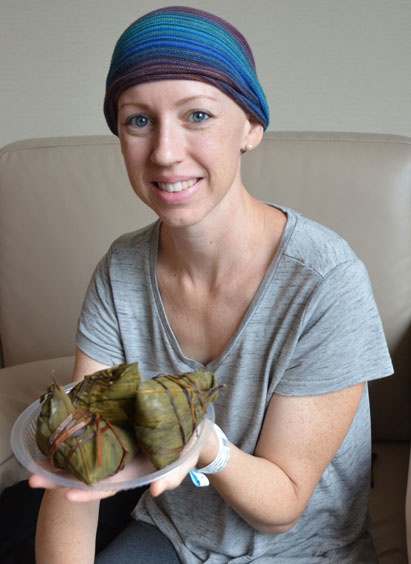 Emily in St. Stamford Modern Cancer Hospital Guangzhou for Dragon Boat Festival
Emily Woodman, from Australia, suffered from cervical adenocarcinoma with postoperative pulmonary metastasis. Emily was first diagnosed with cancer in 2014. In early December 2012, she gave a birth to an adorable baby girl, while six months later; she found her private parts bleeding, which she then thought as normal symptoms of just having a baby delivered. But condition deteriorated as time went by, after medical check-up, she was diagnosed as cervical adenocarcinoma stage I in 2014. Since the mass was very small and discovered early, local doctor suggested her an operation to remove it. In December 2014, for her health, Emily underwent an operation to cut out her tumor as well as her uterus and bilateral fallopian tubes.
Misdiagnosis led to serious consequences
Emily thought she could live a healthy life with her family after operation. However, she didn't expect misdiagnose to happen on her. In September 2016, she began to cough, and as time went by, her cough got worse so she went to see a doctor. CT scan indicated that there were another 3 tumors in her lungs, the largest tumor in the bottom of her left lung got to 7*5cm and the two other are smaller, about 3cm. Emily was annoyed then because doctor told her before her operation in 2014 that the small mass in her lung was born with her and had nothing to do with cancer.
This time, doctor suggested Emily to do chemotherapy and told her clearly that chemotherapy could not save her from cancer but it would help extend her life. What upset her most was that doctor told her there were only 12 months for her to live. But she was clear about the side effects of chemotherapy so she rejected doctor's suggestion. She, together with her husband, tried to look for other treatments that work.
St. Stamford Modern Cancer Hospital Guangzhou brought her hope
Emily firstly went to a clinic to do natural therapy but could not gained expected results. Then the doctor in the clinic recommended St. Stamford Modern Cancer Hospital Guangzhou to her. Emily happened to talk with another Australian patient who once treated in St. Stamford Modern Cancer Hospital Guangzhou in Facebook at the same time, and she didn't leave for Guangzhou until she got the detailed information of the hospital.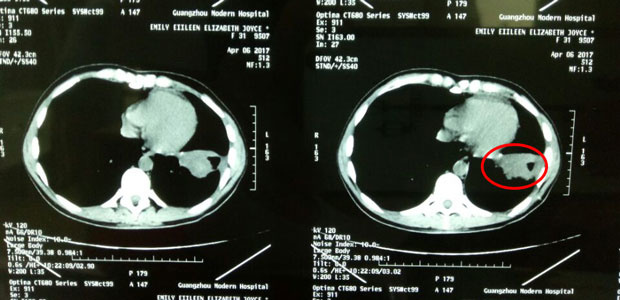 In April, tumors in her lung
When Emily was admitted into St. Stamford Modern Cancer Hospital Guangzhou, she was very weak. She kept coughing day and night and can hardly walk or lie down. She had difficulty in breath due to the fluid in her lungs. She felt like a drowning man. After detailed check-up, doctors first helped drained out 3 liters of fluid, then interventional therapy was conducted straight away in her lung to kill the tumors. Soon after, tumors began to die off, her cough was cured and she regained her physical strength to walk all day. Emily underwent cryotherapy later, which she said was amazing and very easy. Minimally invasive therapy for cervical cancer is of small trauma, good efficacy, few side effects. She coughed up part of the dead tumor four days after the cryotherapy. Till now, she has experienced three sessions of interventional therapy and two sessions of cryotherapy. The latest CT scan result showed that tumors in her lungs were much smaller, and the largest tumor already shrank by 4 cm.
In May, tumors in her lung
When Emily first came to St. Stamford Modern Cancer Hospital Guangzhou, another little mass was detected in her pelvic cavity which was not found by Australian hospital. Currently, treatments are targeted at this small mass.
Emily was excited and pleased at the treatment effects in two months here in St. Stamford Modern Cancer Hospital Guangzhou. "Minimally invasive therapy is amazing." said Emily. She also encouraged other cancer patients, "Do not lose hope even when you fell tired and sick. You just got to find something that works for you. Take your health into your hands and you do what's best for yourself. "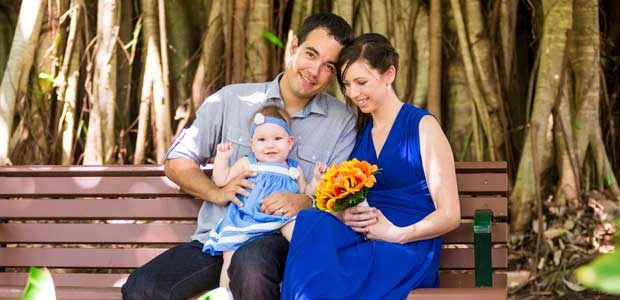 Emily's family photo
During her stay, Emily had her husband accompanied. Nowadays, their daughter is four years old, she gave Emily lots of psychological comfort and support and Emily now has the chance to watch her daughter grow. Time passes, Emily now is getting better. We wish her a quick recovery and healthy life.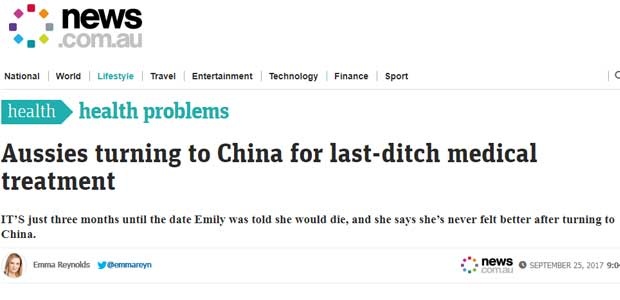 Screenshot of the report published on News.com.au
Recently, Emily's anticancer story is reported by a famous Australian news webiste News.com,au, click here for more deteils