Minimally Invasive Therapy Saves Cervical Cancer Patient from Suffering*
SUSILOWATI comes from Surabaya, Indonesia. In Feb. 2016, initially she suffered leucorrhea and cough, she didn't pay attention as her healthy physical condition with enthusiasm in sports and outdoor activities such as hiking and swimming. Out of her expectation, what she suffered were turned out to be symptoms of cervical cancer.
After uterectomy and 6 sessions of chemotherapy, cervical cancer still recurs 2 years later
In local hospital, SUSILOWATI took CT Scans and was diagnosed with stage I cervical cancer. She sought for treatment in Singapore. "I'd rather choose treatment technology in Singapore." SUSILOWATI said.
However, things didn't go so well after taking uterectomy and 6 sessions of chemotherapy. Although her condition was temporarily under control, resulting side effects such as hairloss, darken skin and vomiting made her suffer.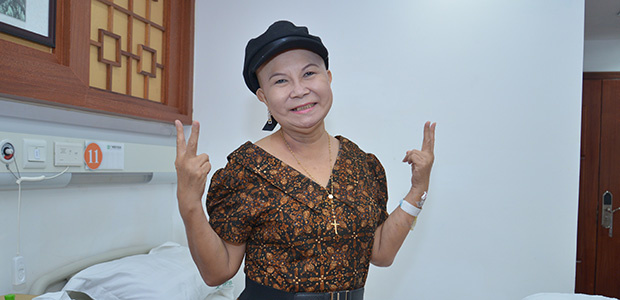 SUSILOWATI
In Aug. 2016, she finished the last session of chemotherapy and thought it would be the end, actually it was just the start of her anticancer journey.
In Feb. 2018, symptoms of unknown cause occurred, including cough with sputum, pain in right chest while coughing severely and swollen lymph nodes in bilateral clavicle. In local hospital, she was detected metastasis to lung, which left her desperate.
Seeking for advanced treatment for cervical cancer abroad
Occasionally, SUSILOWATI and her families learned about St. Stamford Modern Cancer Hospital Guangzhou online. She also joined an anticancer group in Indonesia and a patient who had taken treatment in MCHG shared anticancer experience, which inspired her to take treatment in MCHG. When she visited branch office of MCHG in Surabaya and knew about minimally invasive therapy and round-the-clock translation service, she saw a glimpse of hope and decided to grasp the opportunity.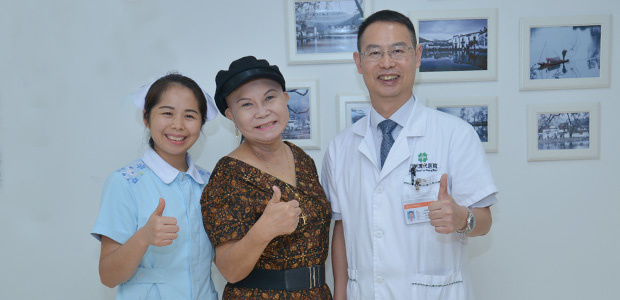 SUSILOWATI with medical staff
Minimally invasive therapy treat cervical cancer with few side effects and quick recovery
Upon admission, SUSILOWATI suffered swollen lymph nodes in bilateral clavicle, respectively measuring 4cm*5cm in the right and 2cm*3cm left. Due to severe cough, she could barely talk, drink even sleep. Multidisciplinary Team came up with a combined treatment with interventional therapy and particle implantation based on her case.
"Differ from systemic chemotherapy, interventional therapy doesn't cause complications such as vomitting, darken skin or severe pain as surgical resection. Up till now, I've received 4 sessions of interventional therapy and 2 particle implantation. Previous symptoms are all gone and my condition is relieved gradually."SUSILOWATI said with joy.
According to SUSILOWATI's attending doctor Lin Jin, "Interventional therapy, with 2 mm small incision and few side effects, starves cervical cancer cells to necrosis, injecting anticancer drugs of 2-8 times higher concentration than that of systemic chemotherapy; During particle implantation, I125 seeds is directly placed into the tumor, emitting γ-ray to effectively kill cervical cancer cells. Combined treatment of interventional therapy and particle implantation are the first option for cervical cancer patients.
Upon discharge, SUSILOWATI encouraged other cancer patients with her anticancer story," Cancer is not the end of the world, as long as you take timely treatment and keep optimistic mind, cancer can be conquered. "
*Surgery, in addition to the appropriate chemotherapy and radiotherapy, are effective in treating early cancer, but certain patients in late stage of cancer may not be tolerate surgery well as they can be relatively weak. A combination of carefully planned minimally invasive therapy, chemotherapy or radiotherapy can effectively reduce the side effects and discomfort of treatment and may help patient get better efficacy.