Vietnamese Patient Expresses Thanks to St.Stamford MCHG for Saving His Life*
In July 2017, 68-year-old TRAN VAN DUC won the champion in Disabled Table Tennis Games. Though as a cancer patient, confronting all strong competitors, he showed great persistence in the game. It's a shock to know that he suffered cancer and being given up by local doctors before.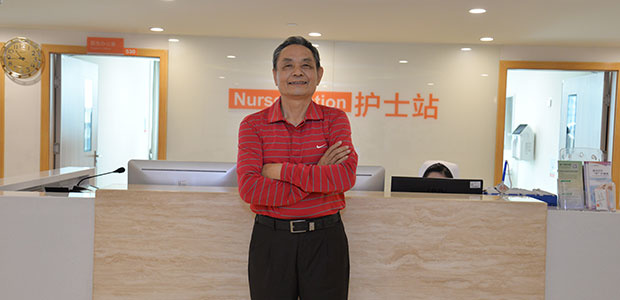 TRAN VAN DUC
Being diagnosed colorectal cancer and meet death
In Dec. 2014, TRAN VAN DUC was diagnosed with colorectal cancer. He was frightened at first but his condition was under control after treatment. However, bad things happened to him again in January, 2017. He suffered cancer recurrence with multiple metastases to liver and peritoneum. Local doctors couldn't do anything but told him to go home. In that moment, he felt like being sentenced to death.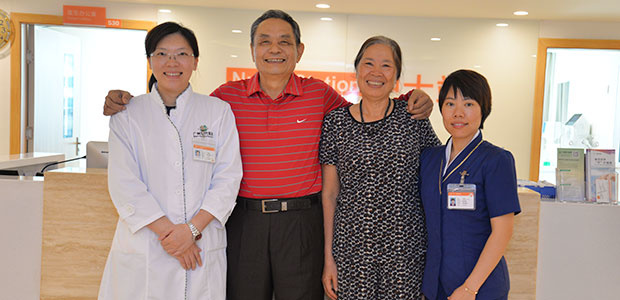 TRAN VAN DUC with wife and medical staff
TRAN VAN DUC was in despair on the news and he thought himself beyond save. But every cloud has a silver lining. His friend, who was once also a cancer patient, paid a visit and recommend St.Stamford Modern Cancer Hospital Guangzhou, in which he also took treatment and yielded good efficacy. After careful consideration, TRAN VAN DUC felt it's worth trying and arrived at St.Stamford Modern Cancer Hospital Guangzhou in Feb. 2017.
Find hope in St.Stamford Modern Cancer Hospital Guangzhou
Upon admission in St.Stamford Modern Cancer Hospital Guangzhou, the Multidisciplinary Team held a meeting and came up with a treatment plan for TRAN VAN DUC. The treatment combined cryotherapy aiming to shrink the 5.5cm liver tumor with interventional therapy to prevent metastases. With 3 sessions of treatment, even though he suffered slight side effect during this period, TRAN VAN DUC got better condition. He gained good appetite and sleep with weight maintained at normal. In June 2017, the CT Scans indicated his liver tumor has shrunk from 5cm to 1cm. TRAN VAN DUC felt so excited and confident in following treatment.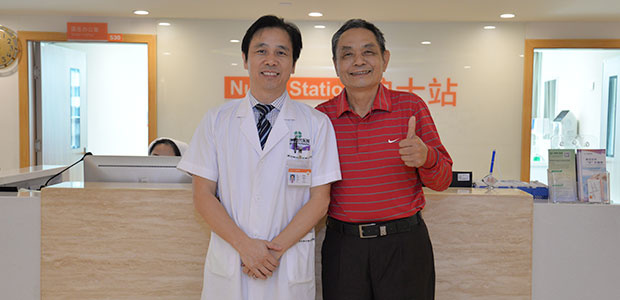 TRAN VAN DUC with Prof. Peng
Up till now, TRAN VAN DUC is in stable condition and he doesn't look like cancer patient at all. Treatment didn't make him weak or have bad impact on his life. Instead, during the treatment, he took part in Disabled Table Tennis Games and won the champion.
TRAN VAN DUC was wearing smile throughout the interview. He also showed us pictures recording all games he involved in and won prize. Cherishing great thanks to his attending doctor, he asked to take a group photo. He noted, "knowing the diagnosis, I was on the brink of despair but St.Stamford Modern Cancer Hospital Guangzhou brought me hope and gave me life."
*Surgery, in addition to the appropriate chemotherapy and radiotherapy, are effective in treating early cancer, but certain patients in late stage of cancer may not be tolerate surgery well as they can be relatively weak. A combination of carefully planned minimally invasive therapy, chemotherapy or radiotherapy can effectively reduce the side effects and discomfort of treatment and may help patient get better efficacy.