Interventional Therapy and Cryotherapy Make Me Face Lung Cancer Stage4 Positively*
MUHAMMAD NASIR, from Surabaya Indonesia, was diagnosed as lung cancer stage4 with mediastinal lymph node metastasis and lungs metastasis.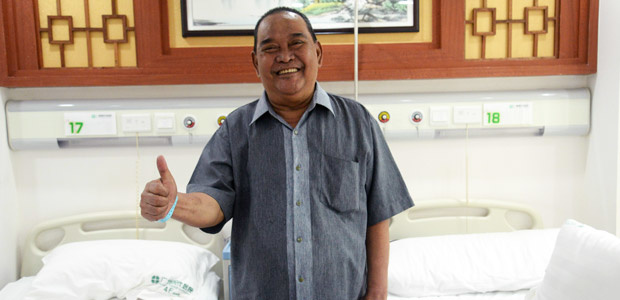 MUHAMMAD NASIR
MUHAMMAD NASIR's feet began getting swollen in the early April, 2016. He didn't know the reason. As there were no other symptoms except swollen feet, he couldn't figure out what disease he might get. In consideration of his condition, accompanied by wife and son, he had visited a lot of doctors at that time, including physicians, cardiologists and pulmonologists. At the end, the diagnosis for him turned out to be lung cancer. But, MUHAMMAD NASIR knew nothing about his condition at that time. As his wife and son decided to hide the truth from him in case he would worry.
And then MUHAMMAD NASIR began his hospitalization in Indonesia. After two weeks of intravenous chemotherapy, the oncologist said that chemotherapy could only stabilize his condition but did not cure the disease. He had to keep being in and out of hospital for the rest of his life. Upon hearing these words from oncologist, MUHAMMAD NASIR's son decided to seek another effective therapy for his father. After all, undergoing chemotherapy in Indonesia was not only expensive but also very harmful. As a 66-year-old man, his father could not afford to suffer from these side effects anymore.
Searching on the Internet, MUHAMMAD NASIR's son knew that China and America would be a good choice for treating lung cancer. At that time, the eighteen major minimally invasive techniques in St. Stamford Modern Cancer Hospital Guangzhou caught his eye. On the website, he learnt that there was a cancer symposium held by St. Stamford Modern Cancer Hospital Guangzhou, so he came to the symposium for consultation. After consulting the oncologist, he decided to take his farther to China for treatment.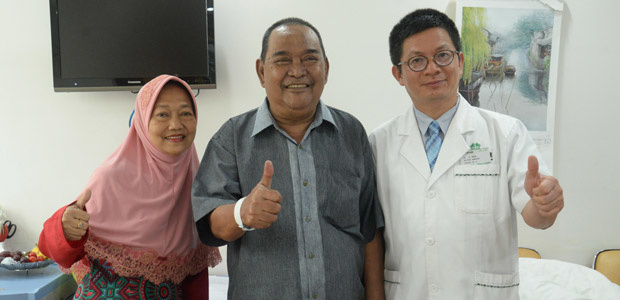 MUHAMMAD NASIR, his wife and doctor
MUHAMMAD NASIR arrived at St. Stamford Modern Cancer Hospital Guangzhou on June 8, 2016. Until that time, his son never told him his condition. And his tumor had grown to 7cm at that time. After comprehensive examination and diagnosis, MUHAMMAD NASIR was diagnosed with Lung cancer stage4. The multidisciplinary team of St. Stamford MCHG specially made him a comprehensive treatment plan. The first time for his hospitalization had been for nearly a month. On June 12, he took a cryotherapy to treat the tumor in his right lung. After that, he had taken twice interventional therapy on June 16 and July 5. The therapeutic efficacy was quite obvious. According to examination result, his condition improved by 50%. Two weeks after discharge, MUHAMMAD NASIR came back to hospital for rechecking and took two sessions of interventional therapy and one session of cryotherapy. After the treatment this time, his has improved by 80%. This is the third time for him to come back to hospital for treatment. According to MUHAMMAD NASIR, during and after the interventional therapy and cryotherapy, he did not feel any discomfort and side effects like nausea or vomiting.
As an optimistic person, when knew that he was diagnosed with lung cancer, MUHAMMAD NASIR just felt astounded only. His wife, as a person who knew his condition since the beginning, acted very calmly and always accompanied him patiently and gently. According to his wife, it was no doubt that a patient should take treatment immediately. Additionally, they have got married for 45 years. She hoped that their love could last forever. She said, " Forget about your age and try your best to stay young at heart. "
According to MUHAMMAD NASIR, one of the reasons for his doesn't worry about condition at all is the doctors' all-around concern in St. Stamford Modern Cancer Hospital Guangzhou. With the advanced technologies, professional doctors, considerate nurses and beloved family, what he could do is to get on with treatment. Although there is a language gap, the responsible and outgoing interpreters have already helped him to remove all the communication barriers. At the same time, he sincerely encourages other patients, "My dear friends, I wish that you could come to St. Stamford Modern Cancer Hospital Guangzhou for treatment. With confidence, we can defeat cancer. "
*Surgery, in addition to the appropriate chemotherapy and radiotherapy, are effective in treating early cancer, but certain patients in late stage of cancer may not be tolerate surgery well as they can be relatively weak. A combination of carefully planned minimally invasive therapy, chemotherapy or radiotherapy can effectively reduce the side effects and discomfort of treatment and may help patient get better efficacy.