Interventional Therapy and Cryotherapy Benefit Me with Courage to Face Stage IV Lung Cancer*
SAIDAH BINTI UMAR, a 54-year-old woman, comes from Indonesia. Since 2014, symptoms of chest pain and difficulty of breathing occurred to her. After checkup in local hospital, doctors told her she had Gastropathy and medications were given. However, her condition did not improve and she became weaker instead. Second quarter of 2015, she did chest X-rays in local hospital as the symptoms became increasingly serious. It turned out that there's fluid in her lungs. To make a definite diagnosis, she made an overall checkup in Jakarta and confirmed that it's lung cancer stage IV. The family was in disbelief upon hearing it especially when the doctor said that she would have only 8 more months to live. A so-heartbreaking news for everyone.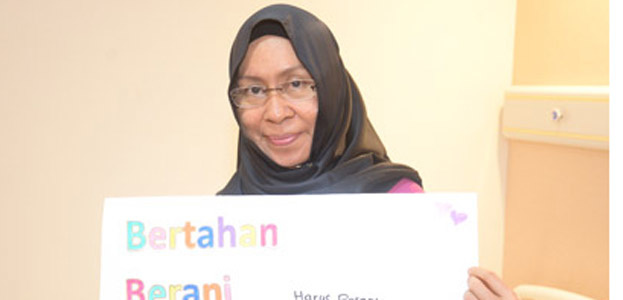 SAIDAH BINTI UMAR
The family stood in faith that she will be treated then pursued in Singapore as planned. SAIDAH BINTI UMAR began her cancer treatment in Singapore with four sessions of intravenous chemotherapy and two-month oral chemotherapy drugs. She terribly suffered from the harsh side effects such as loss of appetite, insomnia, constipation and skin rash. Within the first year of the treatment, her condition didn't get better, even more aggravated when a new tumor was detected on the left thoracic wall. That moment, mingled with depression and hopelessness, SAIDAH BINTI UMAR thought of just ending up her life. She gave up any treatment and went back home in Indonesia, lying helplessly on bed every day.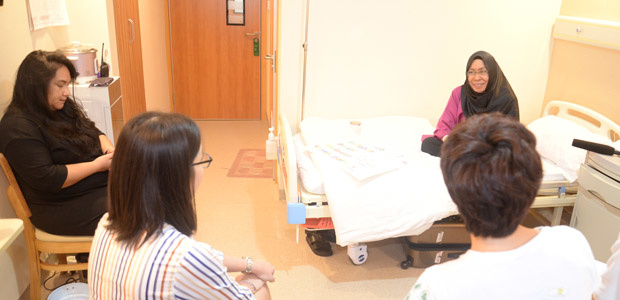 SAIDAH BINTI UMAR on interview
Love is the most indispensable thing in one's life. Her family didn't give up on her and kept encouraging her to have faith and be strong amidst the ordeal. When her 74-year-old mother knew that SAIDAH was diagnosed with cancer, she told SAIDAH to be tough and brave to live because she didn't want to lose another child anymore. Two decades ago, SAIDAH's sister died without any treatment six months after diagnosed with leukemia.
Meanwhile, SAIDAH's family was striving to find effective treatment technology around the country. When St. Stamford Modern Cancer Hospital Guangzhou held an activity, propagating cancer prevention and treatment and also providing free consultation about cancer in there place, her daughter happened to attend the lecture. With all SAIDAH's medical reports, she took the chance to consult Professor Liu and treatment plan was given for her mother. Subsequently, Professor Liu personally visited SAIDAH at home and made a thorough physical examination to her. Professor Liu told her that the tumor can be treated with Cryotherapy. SAIDAH's weak body can't afford the long-distance travel to Guangzhou, so she didn't make any decision. Two months later, learning about a friend who got a good effect after taking treatment in St. Stamford Modern Cancer Hospital Guangzhou, her family was enlightened and made their minds to take her to Guangzhou for treatment. Not long, SAIDAH set off with a wheelchair and an oxygen tank to travel by plane.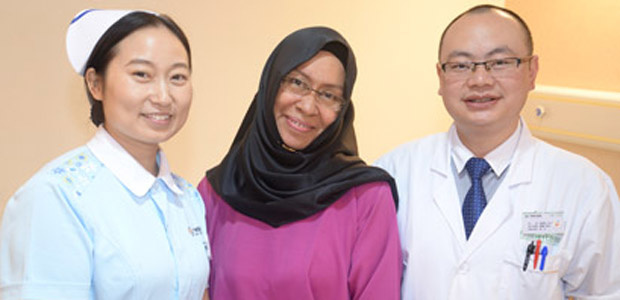 Medical staff and SAIDAH BINTI UMAR
On 28th July 2016, SAIDAH arrived at St. Stamford Modern Cancer Hospital Guangzhou. Following a thorough examination, SAIDAH was diagnosed with left lung cancer stage IV with multiple metastases to left chest wall, peritoneum and with mediastinal lymph nodes, etc. And the largest tumor in her left lung was about 6.0cm*3.5cm big. SAIDAH was treated with the first session of interventional treatment on 31st. After three days, she was relieved from insomnia, regained appetite and pain was reduced. On August 5, she underwent left chest wall tumor biopsy and Cryotherapy successfully under local anesthesia. On 9th August, she proceeded the second session of Cryotherapy which showed her great improvement. Her pain was alleviated by 50% compared than before, thus, she can get up by herself without assistance. Additionally, two sessions of Interventional therapy were made respectively on 21st August and 21st September. Little by little her condition has stabilized and she regained 2kg during the treatment period in St. Stamford Modern Cancer Hospital Guangzhou. On 25th September, she was finally discharged from the hospital.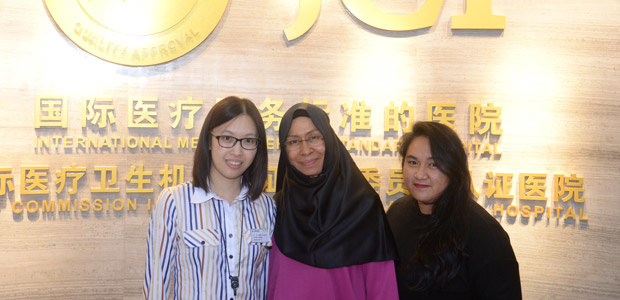 SAIDAH BINTI UMAR, her daughter and interpreter
It was the SAIDAH's second time in our hospital where we got her interviewed. She recalled that before she couldn't sit on her own and now she can do grocery shopping and cook Indonesian food. Now, she gets to encourage other patients and says "Don't be upset. Be strong, have faith and take treatments. There's always hope."
She was announced 8 months to live then but currently she's been survived for two years and became more beautiful.
In March 2017, SAIDAH BINTI UMAR came back to MCHG. On the evening of March 15th, she visited around Zhujiang river in Guangzhou with her friends-other cancer patients who also took treatment in MCHG. The satisfied smile spoke for her wonderful condition. Standing for all medical staff, we cherish best regards to her and wish her a healthy and happy life. Every patient's story is to be continued here!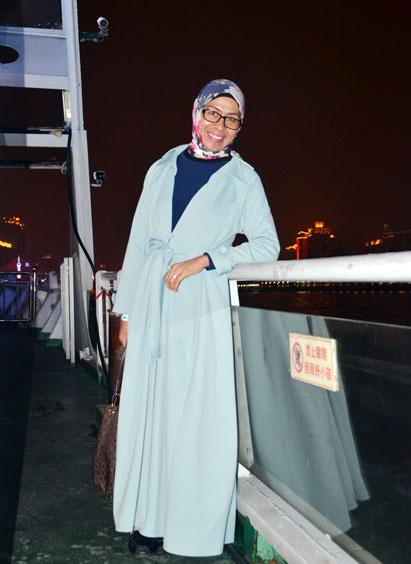 On the bank of Zhujiang river
*Surgery, in addition to the appropriate chemotherapy and radiotherapy, are effective in treating early cancer, but certain patients in late stage of cancer may not be tolerate surgery well as they can be relatively weak. A combination of carefully planned minimally invasive therapy, chemotherapy or radiotherapy can effectively reduce the side effects and discomfort of treatment and may help patient get better efficacy.