FARIDA: Minimally Invasive Therapy Effectively Defeats Ovarian Cancer
In 2011, Farida knew that she had gotten ovarian cancer. The bad news broke the peace of her family. With support and company from families and friends, Farida went to Malaysia to take ovarian cancer treatment. She underwent twice surgeries, in which her ovaries were removed, and radiotherapy and chemotherapy for several times.
She thought she had already got rid of cancer. However, cancer quietly recurred three years later. Farida's family was trapped in sadness and worry once again. Accidentally, her friend encouraged her that cancer was not terrified. Her friend said, "I also have got cancer before but now I am still alive. I took treatment in Modern Cancer Hospital Guangzhou before and you could have a try." From then on, she knew about Modern Cancer Hospital Guangzhou.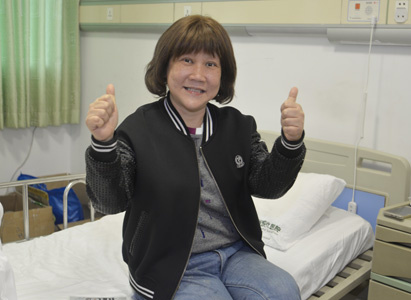 Farida
Since that her friend recommended her Modern Cancer Hospital Guangzhou, she searched the information about it on the Internet. The advanced minimally invasive technologies deeply attracted her because there were only surgery, chemotherapy and radiotherapy in Indonesia and Malaysia. Thus, she and her husband participated in the cancer symposium which was held by Modern Cancer Hospital Guangzhou. In the symposium, Director Peng introduced interventional therapy, 125I seed implantation and other international advanced minimally invasive therapies.
In order to further know about the hospital, she and her husband went to the Jakarta office of MCHG. In the Jakarta office, oncologist provided professional medical suggestion according to her individualized condition and told her about the hospitalization procedure. When she left the Jakarta office, she and her husband met a cancer patient, who took treatment in Modern Cancer Hospital Guangzhou. His condition was improved and he came back to the office to thank the doctors and staffs.
Witnessing that many cancer patients got improvement, Farida decided to go to Modern Cancer Hospital Guangzhou for ovarian cancer treatment.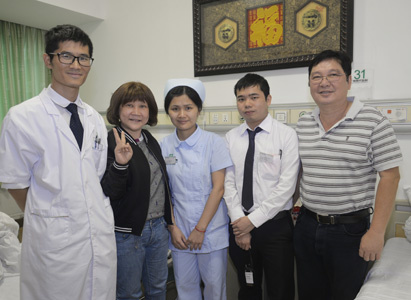 Farida, her husband and medical staff
Her condition was severe when firstly arriving at the hospital. Her cancer cells had transferred to peritoneum and liver and also manifested ascites. MDT (Multidisplinary team) immediately made a therapeutic plan according to Farida's condition. On June 5th, Farida firstly took 125I seed implantation. She was nervous but surprisingly 125I seed implantation did not bring any side effects. When she had taken cancer treatment in Malaysia, chemotherapy and radiotherapy caused a lot of side effects which made her suffer and vomit. On June 10th, she constantly took interventional therapy. Though interventional therapy brought her a little discomfort, her mental status and appetite returned back to normal quickly after a few days.
Farida said, "MDT in Modern Cancer Hospital Guangzhou brings confidence to me. A team of doctors analyze my condition and make medical plan for me. At night, doctors or nurses sometimes go to my ward and check for my sleeping condition, which make me feel closed."
So far, Farida has taken seven sessions of interventional therapy and two sessions of 125I seed implantation. Her attending doctor said, "Her tumor is obviously shrunk with no discomfort." And Farida also told us, "At present her appetite and mental status is also very good and she really hopes to get well soon and take a trip to Italy with her husband."