Minimally Invasive Treatment Saved Me from Stage IV Pancreatic Cancer
Parents of ANG CHIN PHENG are very old. His mother is 85 years old. When we met her, she was admirably rosy and healthy. ANG CHIN PHENG said to us, "As their son, i used to think that I would live as old as them and I have never thought that pancreatic cancer would come to me, such a malignant cancer and I know it has a higher incidence and death rate than other types of cancer. "
"Afraid of side effects, I rejected chemotherapy. "
ANG CHIN PHENG
ANG CHIN PHENG is 56 years old, he comes from Penang, Malaysia. During his company annual medical checkup in August 2016, he was diagnosed with stage IV pancreatic cancer, with liver metastasis. "When my family and I heard about the medical results, we felt panic since it was really unbelievable and unacceptable, he recalled. Later, he went to four local cancer hospitals and to his surprise, all the doctors recommended him chemotherapy medication. "They all tell me they can only do chemo therapy, but doctor also told me the chemo therapy medication for pancreatic cancer has very low response rate, less than 50% and there are no other options for me. The way the Malaysia treat through chemo therapy is quite scary, many people have feedbacks that are very painful. When I came here I do the interventional and I told them I still can eat and my hair is still there. A lot of people worry about the chemo's side effects. ANG CHIN PHENG said to us when we asked him about the reasons why he didn't consider chemo therapy in Malaysia.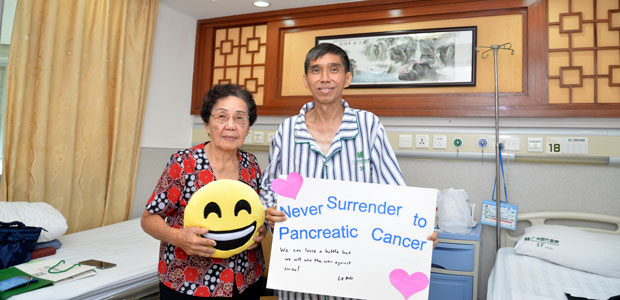 ANG CHIN PHENG and his mother
"Minimally invasive treatments gave me new hope. "
In October 2016, when ANG CHIN PHENG was worried about the treatment, his brother found St. Stamford Modern Cancer Hospital Guangzhou through the Internet. He said,"till the end of September, my brother found MCHG from the Internet and then we found that in Penang there was an office, so we went over to the office and we set up a conference call with the hospital here. "We exchanged information (like) the cost of treatment and everything". After the experience in office, ANG CHIN PHENG had a comprehensive sense of the technologies and treatment in hospital so finally he decided to seek treatment in St. Stamford Modern Cancer Hospital Guangzhou.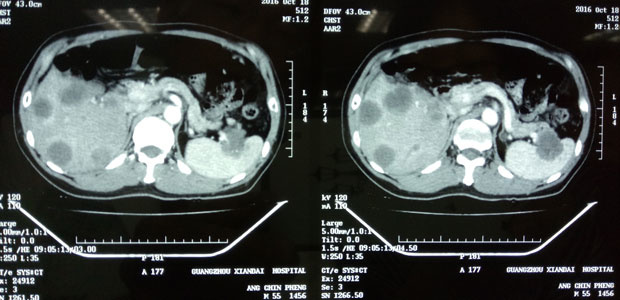 Prior to admission, ANG CHIN PHENG was diagnosed with stage IV pancreatic cancer , with liver and spleen metastasis
On October 17, ANG CHIN PHENG, arriving at St. Stamford Modern Cancer Hospital Guangzhou, was again diagnosed with advancing pancreatic cancer. After his admission into hospital, according to his condition, Multidisciplinary Team (MDT) of St. Stamford Modern Cancer Hospital Guangzhou came out with an individualized treatment plan for him, which includes interventional therapy, particle implantation, cryotherapy, microwave ablation, triple oxygen immunotherapy and natural therapy 6 etc..
"The only side effect I know, I usually have, was after the next day or two three days, I had low grade fever but those I just drank a lot of water and I was okay with it and then of course occasionally there were some slight muscular pain and all that which I can manage, so it was not bad at all. I was very lucky since I made a wise decision."
ANG CHIN PHENG's attending doctor Tang Xiangzhuan told us, "His latest test results showed that his tumor marker CA19-9 has sharply dropped from more than 280, 000 to 22, 000, which revealed that he was making a great improvement. And after cryotherapy, tumors in his liver were almost dead and gradually disappeared, while tumor in his spleen completely disappeared after particle implantation. Tumors in his pancreas were mostly killed after treatment as well. He is in remission at present."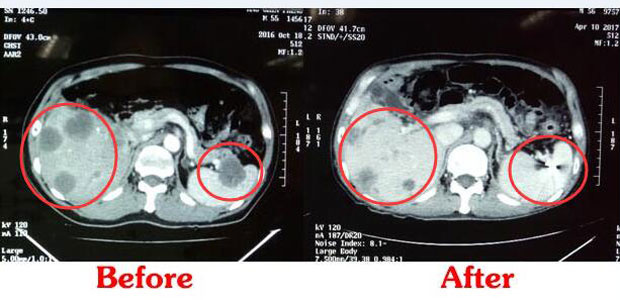 After minimally invasive therapies, most tumors in pancreas and liver were killed, while tumor in spleen disappeared completely
When asked to say something to the other cancer sufferers prior to his discharge from hospital, ANG CHIN PHENG said my advice to the patients is this, if the doctor recommend something to you, seriously follow and always focus on the treatment and forget about side effects. Side effects of drugs will go away when it expires in your body. As long as the end result can reduce the cancer, then it has already worked effectively." We believe after the tough battle with pancreatic cancer, ANG CHIN PHENG will not win against it continue to have a meaningful life.