Minimally Invasive Treatment for Pancreatic Cancer*
LORSIA LORENZO QUIAMBAO is a 52-year-old patient from the Philippines. In July 2016, during her visit to relatives in America, her friends noticed yellowish discoloration on her eyes and skin and suggested to have it checked. Imaging reports showed a 6cm pancreatic mass involving the head and body of the pancreas obstructing the middle portion of the common bile duct. The doctor advised her to take biopsy but she delayed it as her US visa was about to expire. Surgery was inapplicable, doctors suggested instead chemotherapy but she refused.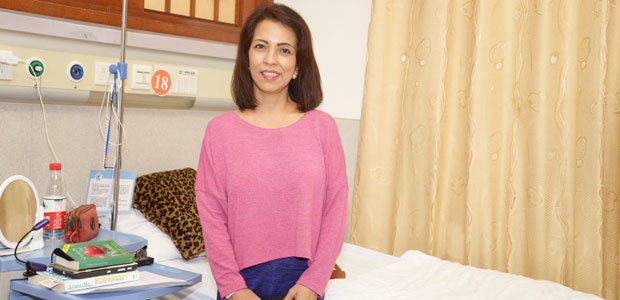 LORSIA
Be afraid of side effects, I refuse chemotherapy
"In the beginning, I refused chemotherapy. Because I've seen my family and friends suffering from chemotherapy. Most of them passed away half year after that."LORSIA recalled. On hearing the bad news, she didn't have any negative thoughts. While she was actively looking for other options, she once resorted to herbal therapy, triple oxygen therapy and Vitamin C therapy. The combined treatment lasting for three months greatly enhanced her immunity.
Searching for more effective treatment, LORSIA found MCHG on the internet by chance. She learned that minimally invasive therapy as suitable therapy for pancreatic cancer, features less trauma, good efficacy and few side effects. Later she conducted online consultation and got prompt response. After a thorough discussion about her condition with the resident physician in Manila office of MCHG, she opted for the treatment in MCHG.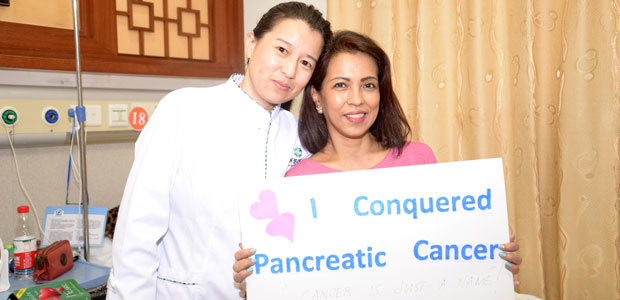 LORSIA and her attending doctor Kou
In Feburary 2017, LORSIA, accompanied by her daughter and aunt, arrived at MCHG. Upon admission, abdominal pain and back pain, flatulence, loss of appetite and weight loss were noted. Moreover, she also couldn't fall asleep, hence, she became weak. The Multidisciplinary Team came up a treatment plan based on her condition and combination of traditional Chinese medicine (TCM) & Western medicine.
"The next day after interventional therapy, I felt the obvious effect. The stomach and back pain disappeared. I regained my appetite and slept well". "Dr. Kou specially recommended Chinese and Western Medicine, which greatly boost my immune system. I couldn't walk beyond 30 minutes. But now I can walk around", LORSIA recalled.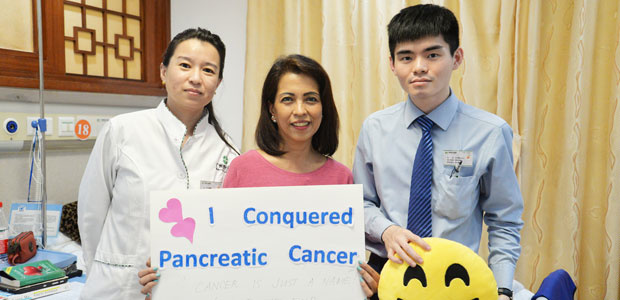 LORSIA, her attending doctor and the interpreter
Out of trust, I choose and recommend MCHG
Being asked about the feedback during her stay in MCHG, LORSIA answered, I was so positive because I've learned enough about the hospital through the internet. I believe in the hospital, the doctors and also the treatment. "For other cancer patients, I want to say that cancer is just a name, it doesn't mean anything. We should always be hopeful and pray to God for guidance. In addition, if you also suffer cancer, MCHG can be a good option. In the hospital, doctors and nurses will take care of you. Doctors know well about your condition and they have profound experience in cancer treatment. I believe everything will get better. Cancer is just a name, not the end of everything.
*Surgery, in addition to the appropriate chemotherapy and radiotherapy, are effective in treating early cancer, but certain patients in late stage of cancer may not be tolerate surgery well as they can be relatively weak. A combination of carefully planned minimally invasive therapy, chemotherapy or radiotherapy can effectively reduce the side effects and discomfort of treatment and may help patient get better efficacy.