Comprehensive Treatments Help Stomach Cancer Patient Defeat Cancer*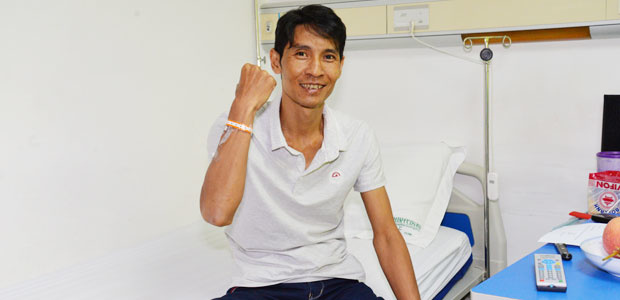 Bui Ba Hien
In July 2016, Bui Ba Hien from Vietnam was diagnosed with Gastric Cancer, recommended to have surgery by local doctors but refused to it and searched for better treatments instead.
On the same month when he was diagnosed, Bui was admitted in St. Stamford Modern Cancer Hospital Guangzhou. Multidisciplinary team (MDT) tailored a minimally invasive treatment program which used interventional therapy as the main treatment. After interventional therapy, his tumor marker has dropped significantly from 3954 u/ml to 78 u/ml. In order to treat cancer completely, Bui agreed also to undergo gastrectomy though he was skeptical about the risks of complications, the success of the surgery and the possibilities of living the same normal life.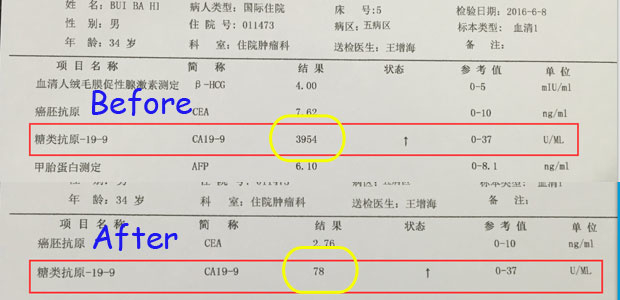 Comparison of tumor marker before and after interventional therapy
The time came in Sept. 11, 2016, Bui Ba Hien thankfully survived the surgery. Tumor entirely removed. Although his weight decreased, he got improvement after a month of complete rest.
Early Nov. 2016, we paid Bui Ba Hien a visit. Though he looked thin after surgery, he was vigorous. He was busy then preparing his seafood meal which was really tasty. He stewed the food until it became tender enough to eat. Since his stomach was removed, he depended on the intestine to digest the food. Moreover, he eats in an hourly basis due to his condition. It may not be an easy experience though but for Bui Ba Hien, he still feels he is more than lucky. He said, "Compared with cancer that threatens life at any time, it is easier." At present, he is cancer-free.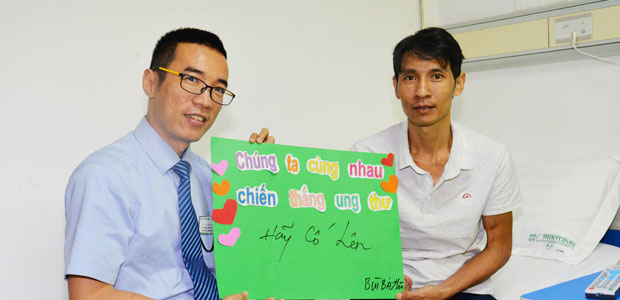 Bui Ba Hien and interpreter
During treatment, he was so upset on the threats the disease may bring. He is just 34 years old. With a beautiful wife, 2 adorable children and parents, he has too much responsibilities and love that cannot be abandoned, and so he must struggle to live. Ending all treatments come with the great hope that he can fully restore his health, continue to work and take all responsibilities as a son, a husband, and a father. Fortunately, through interventional therapy and surgery, he is in better condition now. There is a hope!
*Surgery, in addition to the appropriate chemotherapy and radiotherapy, are effective in treating early cancer, but certain patients in late stage of cancer may not be tolerate surgery well as they can be relatively weak. A combination of carefully planned minimally invasive therapy, chemotherapy or radiotherapy can effectively reduce the side effects and discomfort of treatment and may help patient get better efficacy.