In October 2011, a French immunologist named Ralph M.Steinman won a Nobel Prize in medicine because of his discovery of dendritic cell (DC) and its operation mechanism in acquired immunity (immune system). What's more, a stage 4 pancreatic cancer patient's survival time was successfully prolonged from 1 year to 4 and a half years with the treatment of Ralph M.Steinman. As a result, biological immunotherapy was widely used in cancer treatment.
What is biological immunotherapy?
Biological immunotherapy is a kind of new anticancer technology after surgery, radiotherapy and chemotherapy. Biological immunotherapy kills and wounds cancer cells or activates the anti-tumor immunologic reaction of the host via transfusing immunocytes with anti-cancer activity into patients.
Biological immunotherapy increases the number of immune cells to improve human immunity, so as to better fight against cancer cells.
Advantages of Biological Immunotherapy
(1) High safety
(2) Highly targeted
(3) Long persistence
(4) Wide adaptability
(5) Thoroughness
(6) Rebuilds immune function
Applicable group:
1. Patients who have ever taken operation, chemotherapy, radiotherapy or minimally invasive therapies
2. Patients who are not sensitive to chemotherapy and radiotherapy
3. Patients who cannot undergo the suffering of operation, chemotherapy and radiotherapy
4. Middle or advanced stage cancer patients with tumor recurrence or metastasis.
Biological immunotherapy is mainly used in the treatment of breast cancer, liver cancer, lung cancer, colorectal cancer, cervical cancer, nasopharyngeal cancer, thyroid cancer, lymphoma, prostate cancer, stomach cancer, etc.
Video of Biological Immunotherapy
Biological immunotherapy has gained the following recognition:

(1) Found and proofed by a Nobel Prize winner
(2) About 30, 000 cases have received Biological Immunotherapy in St. Stamford Modern Cancer Hospital Guangzhou.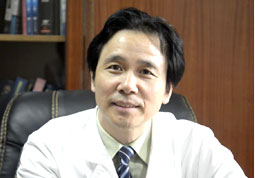 Expert comment:
Professor Peng Xiaochi:"Biological immunotherapy is suitable for every cancer patient because of its high safety and few toxic side effects. The immune cells are extracted from the patient's own self, so there will be no rejection reaction."