Stage III Breast Cancer Survivor: I Turned Down Chemotherapy*
"After 5 months of herbal treatment, it deteriorated from stage 2B to stage III, fortunately, I accepted minimally invasive treatments here in St. Stamford Modern Cancer Hospital Guangzhou and now my breast tumors vanished completely. " Meiggy says to us brightly in her ward.
With a 1-cm breast lump, I was detected with breast cancer stage 2B
My name is Meiggy Persulessy, I am from Jakarta Indonesia. There wasn't any sign before I was diagnosed with breast cancer. Back to September 2016, one day when I was taking shower I accidentally found out a small lump in my left breast, along with swollen pain and fluids leaking. I searched the internet and realized that my condition and breast cancer were alike in symptoms but since I was very afraid I didn't disclose to my husband and my families. One month later, it became much worse so I have to tell my families, my husband accompanied me to check in cancer hospital in Jakarta after he learned about my condition.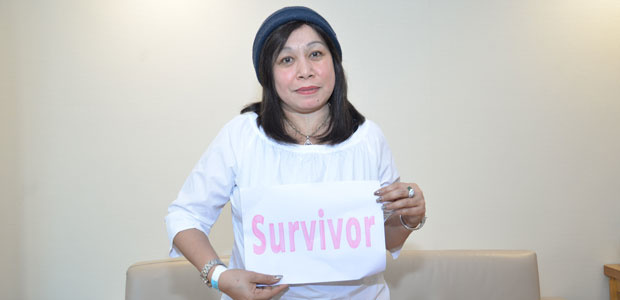 Meiggy Persulessy
In October 2016, I was confirmed as breast cancer stage 2B. Since I have seen so many cases in cancer hospital when cancer patients experienced chemotherapy they lost their hairs and suffered nausea, vomit and dry skin and poor health, I turned down the suggestion of surgery and chemotherapy. I didn't want myself to suffer like them so I tried other treatments instead.
5-months herbal treatment brought breast cancer deterioration from stage 2B to stage III
It turned out to be a very bad idea to take herbal medication by myself. From October 2016 to March 2017, before I came here, I took herbs for over 5 months, however my symptoms didn't respond, instead it became worse and worse. I still suffered fluids discharge and distending pain and the most serious moment was when I felt tearing pain.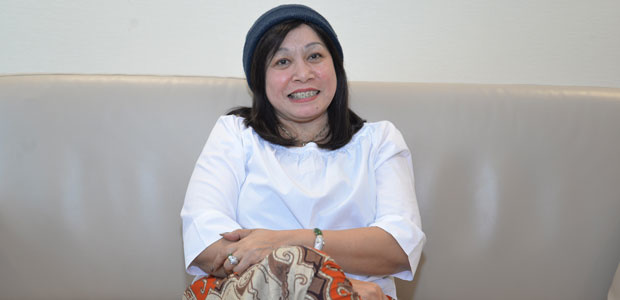 Meiggy Persulessy
Fortunately, my families knew about St. Stamford Modern Cancer Hospital Guangzhou from the network. And when I learned that there was a free lecture held by a Chinese oncologist from the hospital, I contacted the office immediately and made a consultation with her, she provided me with free diagnosis, and advise me to come to China to treat the tumor. When I learned from the internet that many more serious breast cancer patients than I had survived through minimally invasive treatment, and now they had a pretty good prognosis, at that moment I seemed to have caught the life-saving straw and with the help of the staff at the hospital's Jakarta office I flew to Guangzhou immediately.
However, to my surprise, my condition has deteriorated from stage 2B to stage III.
With interventional therapy and microwave ablation, my breast tumors are gone.
On March 14, I came to St. Stamford Modern Cancer Hospital Guangzhou, accompanied by my husband. Since we got support from the Jakarta Office, we obtained our visa easily and when we got off the plane we had staff there to pick us up, all of these strengthened my confidence in this journey of treatment in St. Stamford Modern Cancer Hospital Guangzhou.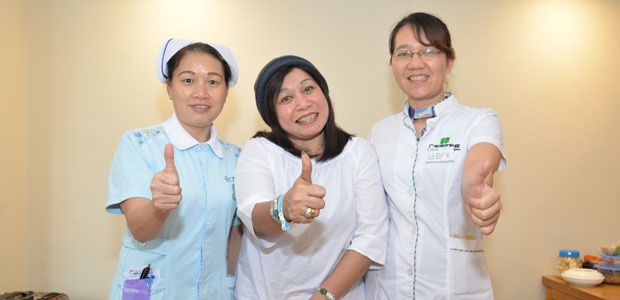 Meiggy and medical staff from St. Stamford Modern Cancer Hospital Guangzhou
On arrival of the hospital, physical examination was immediately arranged for me. But the test results made me feel so regretful not taking timely treatment that I missed the best time to control it. The little mass detected has developed into three 2-3cm lumps. What's worse, my condition has deteriorated from stage 2B to stage III.
Fortunately, there are various minimally invasive therapies for choice. My attending doctor prepared me two plans of treatment and I finally chose interventional therapy and microwave ablation after I learned about the procedure and characteristic as well as efficacy of each treatment. My attending doctor told me that although interventional therapy and microwave ablation differed from surgery and chemotherapy, they could reach the same effect of surgery and would not cause adverse reaction like severe hair loss and vomit etc.. I think that is what I was looking for.
Before my first session of interventional therapy, I was so nervous and scared that my blood pressure rose rapidly. For the sake of my Indonesian interpreter who accompanied by my side and comforted me, I finally calmed down. Till the second session of interventional therapy, I felt no longer nervous at all, during my operation, I felt no pain or discomfort. And before my third session of interventional therapy, my breast tumor has shrank by 80% and fluids discharge subsided.
Besides interventional therapy and microwave ablation, I also had the minimally invasive targeted therapy and combination of traditional Chinese medicine (TCM) &western medicine and natural therapy, two of the special treatments of St. Stamford Modern Cancer Hospital Guangzhou. Combined with these two adjuvant therapies, I almost feel no side effect and I am now in a good body condition and quick recovery and getting better.
This is my fifth admission and my latest physical examination result showed that under CT scan my breast tumor was completely dead. I am now free from the pain I experienced before admission. I am lucky in the battle with breast cancer, so I also want to share my experience with other female cancer patients. Early diagnosis and treatment for breast cancer when it is detected. At the moment when you sense any discomfort, choose a formal hospital and do not try herbs on your own in case of missing the best time for treatment.
*Surgery, in addition to the appropriate chemotherapy and radiotherapy, are effective in treating early cancer, but certain patients in late stage of cancer may not be tolerate surgery well as they can be relatively weak. A combination of carefully planned minimally invasive therapy, chemotherapy or radiotherapy can effectively reduce the side effects and discomfort of treatment and may help patient get better efficacy.