Thanks to Minimally Invasive Therapy, I Fight against Breast Cancer with Optimism*
Rejecting chemotherapy while facing breast cancer recurrence
KANTAT ERKULWARAWAT, 50 years old, was diagnosed with breast cancer in 2010. She underwent surgery resection and systemic chemotherapy in local hospital. In 2015, she felt pain in leg while doing yoga and got checked in hospital. It turned out that breast cancer recurred and even spread to lung and liver. Back then, doctors suggested her take chemotherapy but she refused with replying, " I had taken chemotherapy before, while breast cancer came back to me again. I believe there're more advanced therapies for breast cancer. I know well how severe side effects of chemotherapy are. " So she kept searching for more advanced breast cancer treatment.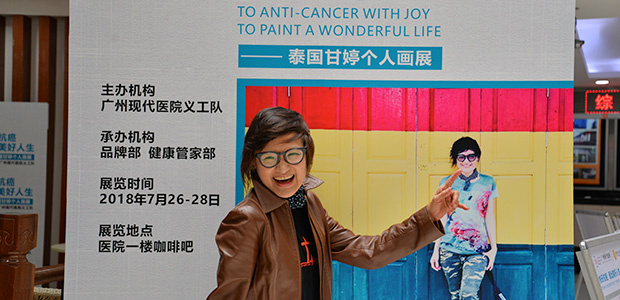 KANTAT ERKULWARAWAT
Choosing minimally invasive therapy and my condition is well under control
She accidentally learned about St. Stamford Modern Cancer Hospital Guangzhou through her friends. She had a brief understanding on the hospital's website, Facebook page, moreover, she went to its Bangkok office and knew about advanced treatment technology and attentive services. " I was informed that there're 18 cancer therapies including interventional therapy and cryotherapy, among these therapies, I have faith that I'll find treatment for my case. " KANTAT said.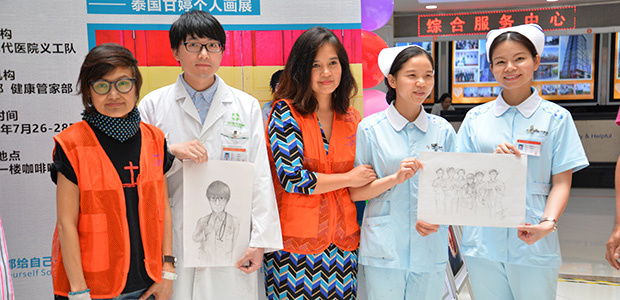 KANTAT takes picture with medical staff in painting exhibition

In June, 2018, with the company of her families and friends, KANTAT arrived at MCHG. Through body checkup, the MDT (Multidisciplinary Team) measured a treatment plan combining interventional therapy and cryotherapy. " I had chemotherapy before and was tortured by it side effects such as hair loss, vomiting and weakness. However, during the interventional therapy, I didn't suffer any pain and the duration of operation didn't last long, most importantly, few side effects were caused. All things are same as what I read on the website. Few days later, my condition backed to normal." KANTAT commented on the sharp contrast between interventional therapy and systemic chemotherapy. After combined treatment of interventional therapy and cryotherapy, her tumor greatly shrank and her condition is well under control.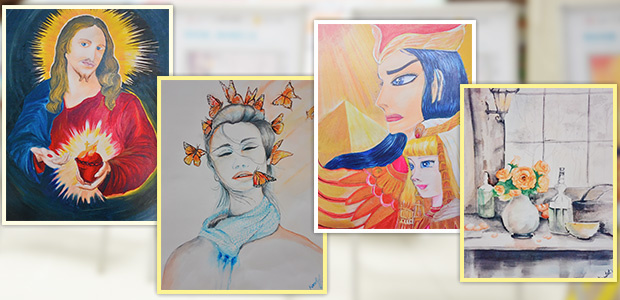 KANTAT' s works
Painting helps relieve my pressure of treatment and forget the pain
As a producer of TV station, KANTAT faces great pressure from work. Since the recurrence of breast cancer, she has begun to reduce workload and give herself more time to relax. Back then, she restarted to painting, which was her childhood interest. In her mind, painting helps her relax and forget the pain, facing cancer with positive attitude. During her hospitalization, KANTAT insisted on drawing and accomplished dozen of paintings, including portraits of doctors and nurses, beautiful scenery of Guangzhou, pets and beautiful things she observed. All her works indicate her desire for a better life and vision for a better future. In order to encourage her and also other cancer patients to fight against cancer with optimism, the medical staff of MCHG decided to hold an exhibition of her painting.
KANTAT receiving Interview of Guangdong Television

That day, Guangzhou Television and Guangzhou Daily reported on KANTAT' s anti-cancer story. As a member of Volunteer Team of MCHG, KANTA encourages other cancer patients with words, " Don't linger on the past, we should look forward into the future. Cherishing hope every day makes ourselves stronger and life better! "
*Surgery, in addition to the appropriate chemotherapy and radiotherapy, are effective in treating early cancer, but certain patients in late stage of cancer may not be tolerate surgery well as they can be relatively weak. A combination of carefully planned minimally invasive therapy, chemotherapy or radiotherapy can effectively reduce the side effects and discomfort of treatment and may help patient get better efficacy.