Rejecting Chemotherapy, Philippine Advanced Colon Cancer Patient Chooses Minimally Invasive Therapy*
Estrellita Vitug Zamora is a 58-year-old housewife and mother of 4 from the Philippines.
From July to August 2018, Zamora felt unwell, often with diarrhea and urinary incontinence, and sometimes pain in her left abdomen. In October 2018, she was diagnosed with stage IV colon cancer. Abdominal ultrasonography showed multiple tumors, the largest of which was approximately 8-9 cm. The tumors had blocked the colon and the doctor recommended an immediate resection.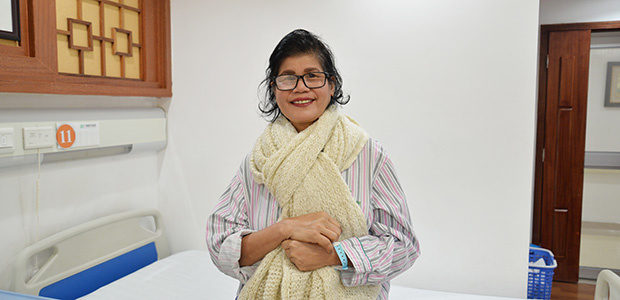 Zamora
Stage IV colon cancer patient refuse to take chemotherapy
After the surgery, the doctor told her that although the tumor had been successfully removed, she had to wear a colonic pouch. Even worse, at that time, cancer cells had spread throughout the abdomen, involving the adjacent organs, right inguinal lymph nodes, as well as the ovaries and uterus. Philippine doctors had nothing to do with her condition. At that time, cancer cells also appeared in her liver and lungs. Doctors recommended that only chemotherapy can be used to control the tumor, so as to prolong the survival of the patient.
Zamora and her family turned down the option of chemotherapy without a second thought, as they were aware of the side effects and what it could do to the body. They were desperately searching for alternative solutions at all cost. Luckily, one of her children saw an ad of St. Stamford Modern Cancer Hospital Guangzhou on Facebook. She immediately called and made an appointment at their local office in Makati, the Philippines.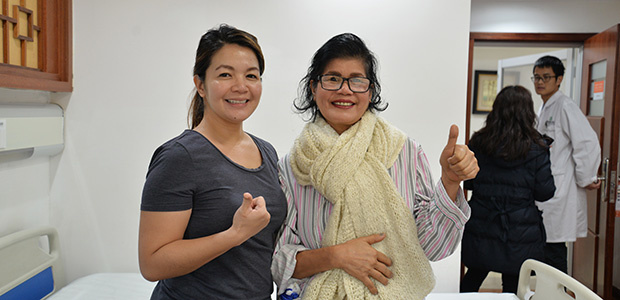 Zamora with her daughter
In Makati Office, Zamora consulted Dr. Lim about a second option of treatment for colon cancer. Dr. Lim made a brief introduction of minimally invasive therapy and its advantages in treating cancer. With the feature of high targeting, anticancer drugs are directly injected into the lesion with small trauma and few side effects, meanwhile, protecting the non-cancerous healthy cells unaffected. After the consultation, Zamora and her family immediately decided to go to Guangzhou for treatment.
Minimally invasive therapy brings hope to advanced colon cancer patient
In Nov. 2018, with the company of her daughter, Zamora arrived at St. Stamford Modern Cancer Hospital Guangzhou. Based on her complicated case, the Multidisciplinary Team(MDT)held a discussion and came up with a treatment plan combining interventional therapy, cryotherapy and natural therapy.
Being asked about her experience during the operation, Zamora said, "the first session of interventional therapy freaked me out and I was so nervous to trembling. With the following treatment, my condition was getting better, so I was relieved."
According to her attending doctor, Li Xiang, "Up till now, Zamora has finished six sessions of interventional therapy, one natural therapy and one cryotherapy. The remaining cancer cells in her abdomen are already necrotic, the cancer cells on her right inguinal lymph nodes are almost gone. The tumor marker is almost in the normal range as that of a healthy person."
Zamora with her daughter and attending doctor Li Xiang
Zamora's daughter said: "Compared with traditional surgery and chemotherapy, minimally invasive therapy features small trauma, few side effects with no harm to normal tissues. My mom now looks nothing like a patient. Everything is the same as usual. Now her physical condition is obviously improved, her appetite is getting better, and she can even do some housework. Additionally, my mom did not lose her hair. The doctors and nurses here are very friendly. What surprised us most is that there is 24-hour translation service here. We thought that going abroad for treatment, language will become a big obstacle, but the interpreters here are on call, which made us so relieved."
Zamora also encourages other cancer patients, "As long as we have faith, believe in the doctors and cooperate with the treatment, we will eventually conquer cancer." At the same time, she also hopes that St.Stamford Modern Cancer Hospital Guangzhou can be known by more cancer patients around the world and help them fight cancer."
As the condition gradually improved, Zamora has a good vision of the future. She wants to retire at home so that she can spend more time with her family. Love life and enjoy life.
*Surgery, in addition to the appropriate chemotherapy and radiotherapy, are effective in treating early cancer, but certain patients in late stage of cancer may not be tolerate surgery well as they can be relatively weak. A combination of carefully planned minimally invasive therapy, chemotherapy or radiotherapy can effectively reduce the side effects and discomfort of treatment and may help patient get better efficacy.