How to Treat Advanced Liver Cancer?*
9cm tumor disappeared in 5 months with minimally invasive treatment
WONG HING ONG, 63 years old, comes from Surabaya, Indonesia. Since mid- Aug. 2016, he suffered from abdominal pain which has been for almost a year then. After CT Scans, he was diagnosed as primary liver cancer stage IV with a 9cm tumor. A week later, he came to St. Stamford Modern Cancer Hospital Guangzhou and underwent minimally invasive treatment such as interventional therapy, cryotherapy and microwave ablation. CT Scans in 5 months showed that the tumor has disappeared and he's in stable condition.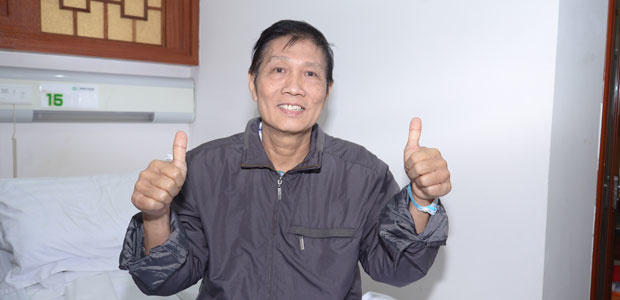 WONG HING ONG
Mistook liver cancer as gastritis
There are early signs of WONG HING ONG's liver cancer. Since August 2015, he felt episodes of pain in the abdomen. At first, he thought it just was common gastritis, so he just took some medicine. However, the symptom lasted for one year and he didn't get any better. He was in panic as well as his families, "previously, the pain occurred several times during one month, but later it became frequent and intensive. Additionally, I lost appetite so I decided to take a checkup." WONG HING ONG recalled.
In mid-Aug, WONG HING ONG was diagnosed with liver cancer stage IV, the size of tumor was about 9cm big and his AFP reached 23.01ng/ml. WONG HING ONG and his wife strived to look for better treatment after refusing the proposal of biopsy and chemotherapy made by the doctor. "We've heard a lot about chemotherapy and radiotherapy which cause serious side effects and are inappropriate for old patients with advanced liver cancer."
Minimally invasive treatment eliminated 9cm tumor on liver during 5 months
Fortunately, WONG HING ONG's children got to know minimally invasive treatment of MCHG online. Considering his condition, families made consensus on taking treatment in MCHG.
On Aug. 23, 2016, WONG HING ONG, with the company of family, arrived at St. Stamford Modern Cancer Hospital Guangzhou. "As soon as we have arrived the airport, hospital staff picked us up and took us to the hospital. An interpreter was also with us thus it's so convenient" his wife expressed her first impression on MCHG.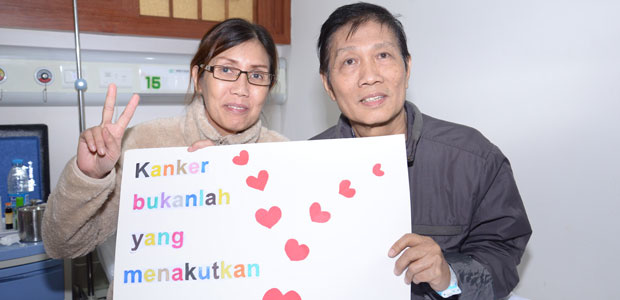 WONG HING ONG and his wife
Based on his condition, MDT of MCHG tailored a combined minimally invasive treatment of interventional therapy, cryotherapy, microwave ablation. According to his attending doctor Lin Jin, "the individualized treatment plan concerned about his inoperable case of old-age patient with advanced liver cancer." During the interventional therapy, anticancer drug is directly injected into tumor through femoral artery. The concentration and effect of drug are 8 times higher concentration than that of common intravenous injection. Interventional therapy also features surgery free and few side effects. Cryotherapy and microwave ablation cause cancer cell death and achieve same efficacy as surgery, which is new option for old patient with advanced liver cancer.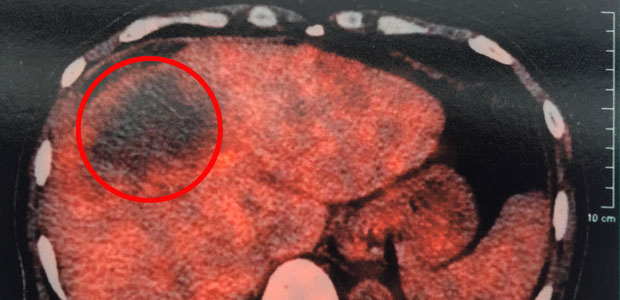 CT Scans after treatment
"I was afraid in the first session of interventional therapy, after which my condition got improvement. Previous symptoms of abdominal pain, body weakness and loss of appetite have been relieved, so I could deal with the following therapy at ease. In addition, I can feel my body gradually came backed to normal." WONG HING ONG said with smile.
Up till Jan. 2017, he underwent 3 sessions of microwave ablation, 6 interventional therapies and 1 cryotherapy. Currently, the tumor marker has returned to normal and 9cm tumor has totally disappeared. All he needed to do is to take regular check-up. On hearing that great news, the couple burst into tears.
Before discharged from the hospital, WONG HING ONG encouraged other patients, "Don't be afraid of cancer, as long as you face it with confidence and never give upon treatment, you'll defeat it."
Warming tips about liver cancer:
The typical symptoms of liver cancer includes: loss of appetite, continuous or intermittent pain in left upper abdomen, subcutaneous hemorrhage, hypodynamia, emaciation and icterus, etc. these symptoms are usually misdiagnosed as other diseases. Liver cancer shows no obvious symptom in the early stage. Once detected, it's already in middle or advanced stage. Therefore, we should keep an eye on these symptoms.
*Surgery, in addition to the appropriate chemotherapy and radiotherapy, are effective in treating early cancer, but certain patients in late stage of cancer may not be tolerate surgery well as they can be relatively weak. A combination of carefully planned minimally invasive therapy, chemotherapy or radiotherapy can effectively reduce the side effects and discomfort of treatment and may help patient get better efficacy.