Vietnamese Liver Cancer Patient Grateful for St. Stamford Modern Cancer Hospital Guangzhou*
VO VAN HOA, 55 years old, comes from Vietnam. He was diagnosed with primary liver cancer of stage III. In July 2019, he received interventional therapy and nanoknife in St. Stamford Modern Cancer Hospital Guangzhou and gained good results. Currently, the tumor greatly shrank and he has improved condition.
Rejecting surgery and treatment plan suggested in local hospital
VO VAN HOA is the abbot of a temple in Binh thuan province, Vietnam. With three siblings being monks, his family won quite reputation in Vietnam. He loves Chinese culture and calligraphy and even speaks simple Mandarin. In June 2019, low fever due to fatigue, accompanied by symptoms such as pain in the right upper abdomen, headache, and facial nerve abnormalities, paralysis and in both chin and lips.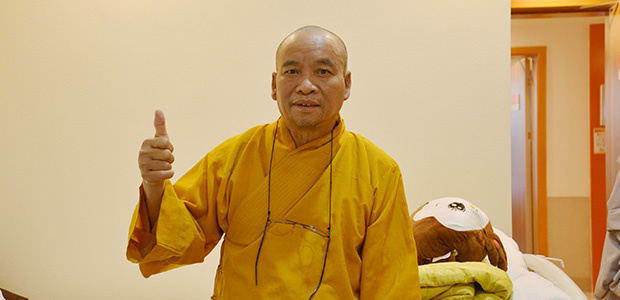 VO VAN HOA
Afterwards, VO VAN HOA went to local hospital for checkup, a CT scans of the abdomen indicated hepatocellular carcinoma and cirrhosis. The doctor suggested him take surgery but he was unwilling to take the risk of postoperative infection. So he turned down the suggestion.
By chance, VO VAN HOA's disciple learned that one of his friends had received treatment and got good efficacy in a cancer specialized hospital - St. Stamford Modern Cancer Hospital Guangzhou. Now his tumor has completely disappeared. The disciple recommended the hospital and introduced minimally invasive treatment his friend had received. As surgery was not involved in the treatment and VO VAN HOA decided to go to the same hospital. With the assistance of staff in Ho Chi Minh office, he departed for Guangzhou, China.
Comprehensive minimally invasive therapy saved liver cancer patient
In July 2019,VO VAN HOA arrived at St. Stamford Modern Cancer Hospital Guangzhou. Before the admission, He suffered from pneumonia due to repeated fever, for which anti-infective treatment was applied. The Multidisciplinary Team decided to apply minimally invasive treatment in his case.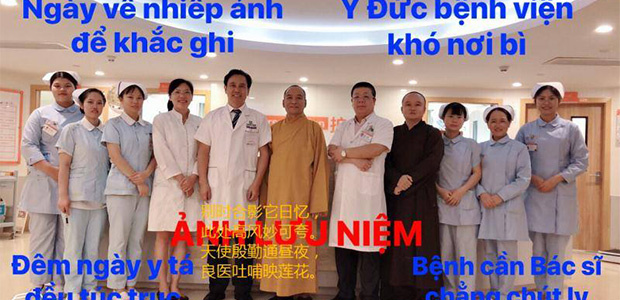 VO VAN HOA with medical staff
During the first hospitalization, VO VAN HOA received minimally invasive treatments such as interventional therapy and nanoknife. According to his attending doctor: "interventional therapy cut off the tumor's blood supply Intravenous treatment, inhibit tumor growth, reduce the risk of tumor metastasis, and completely kill the tumor."
"Differ from interventional therapy, nanoknife is a new type of cutting-edge tumor ablation technology, during which high-voltage pulses is released from electrode probes to break the membrane of tumor cells, resulting in multiple permanent nano-meters Irreversible Electroporation (IRE), damaging cells balance and accelerating the death of cancer cells. The combined treatment of interventional therapy and nanoknife is specialized for his case due to his unwillingness to undergo traditional treatment and tolerance to radiotherapy and chemotherapy."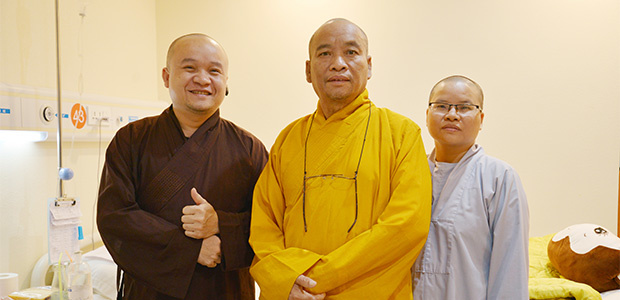 VO VAN HOA with family
Before admission, the size of his tumor was 70*60mm. After interventional therapy and nanoknife, the tumor was reduced to 22*16mm. After the second intervention, the tumors in the liver have basically disappeared, and symptoms such as headache, fever and facial nerve abnormalities have disappeared. His condition is in remission now.
St. Stamford Modern Cancer Hospital Guangzhou offers a better choice for cancer patients
VO VAN HOA had been to many hospitals for alternative options during the cancer journey. As he recalled: "St. Stamford Modern Cancer Hospital Guangzhou is the most modern and advanced hospital among the hospitals I'd been to. Professional and considerate medical staff take good care of the patients and address the patients' needs." In order to express his gratitude, he also wrote many poems to the medical staff.
Returned to Vietnam, VO VAN HOA shared his anticancer story and what he had experienced in St. Stamford Modern Cancer Hospital Guangzhou with people who are interested. Just as the big name he has in Vietnam, he also has a big heart and wishes to help more cancer patients.
VO VAN HOA encourages other cancer patients, "don't lose hope even if you're diagnosed with cancer. Negative attitude only makes it worse. It'd be better to find a suitable hospital and take treatment as soon as possible. The sooner the treatment you take, the greater the chance of survival".
*Surgery, in addition to the appropriate chemotherapy and radiotherapy, are effective in treating early cancer, but certain patients in late stage of cancer may not be tolerate surgery well as they can be relatively weak. A combination of carefully planned minimally invasive therapy, chemotherapy or radiotherapy can effectively reduce the side effects and discomfort of treatment and may help patient get better efficacy.