Advanced Lung Cancer Patient Gained New Life in China*
Đặng Thi Ánh Tuyết(Dang) comes from Vietnam and was diagnosed as stage IV lung cancer in 2016. She took treatment in local hospital but it didn't work, so she came to St.Stamford Modern Cancer Hospital Guangzhou for more advanced treatment. After one session of cryotherapy and nine courses of interventional therapy, the big tumor in her right lung has shrank by 70% and nodules scattering on both lungs mostly disappeared. Currently, she's in stable condition.
"When I was diagnosed as stage IV lung cancer, Vietnamese doctors didn't give me brief explanation about my case and neither any suggestion on treatment, they just told me to go home" Ms Dang recalled her situation upon the first diagnosis. For little understanding on cancer, she thought there must be death waiting for her.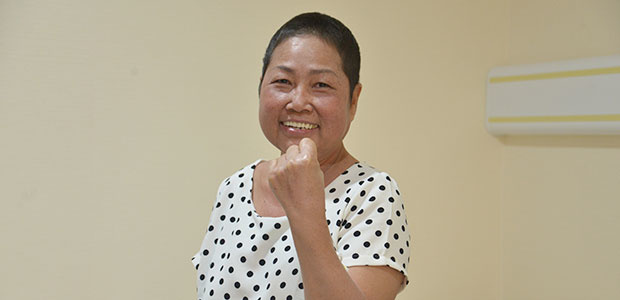 Đặng Thi Ánh Tuyết(Ms Dang)
Fortunately, it's not the end of everything for Ms Dang. Having been given up by local doctors, she regained hope for life in St.Stamford Modern Cancer Hospital Guangzhou. Her condition becomes stable after combined treatment of interventional therapy and cyotherapy.
There's no solution for advanced lung cancer in Vietnam
Ms Dang, 56 years old, comes from Ho Chi Minh City, Vietnam. In August, 2016, she had cough and she got it checked in several hospitals. Doctors said it's just chronic tonsillitis and gave her some medicine. While after taking the medicine, she even suffered more symptoms of chest tightness and difficulty in breathing along with severer cough.
In Nov. 2016, Ms Dang took CT scans in Tâm Đức hospital and it turned out that she had multiple nodules in left lung and big tumor in right lung. Afterwards a biopsy indicated that she had stage IV lung cancer with metastasis to lymph. What's worse, Vietnamese oncologists could do nothing and told her to go back home.
Ms Dang always thought cancer equals death. She was in the brink of desperation.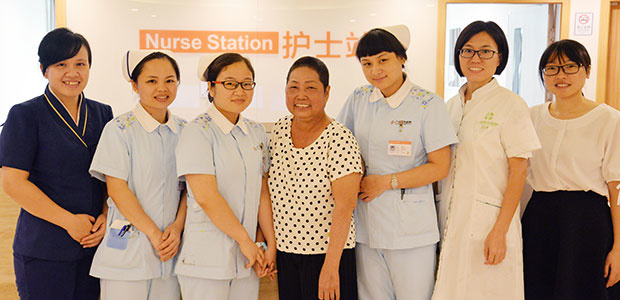 Ms Dang and medical staff
Resorting to cancer treatment abroad
Every cloud has a silver lining, a friend recommend St.Stamford Modern Cancer Hospital Guangzhou. She was also a cancer patient, who took treatment in the hospital and yielded good efficacy. Ms Dang considered it's a worthy try and she thought there's still hope.
Ms Dang and her sister immediately paid a visit to the overseas office in Ho Chi Minh City. What made her surprised was that long-distance online consultation about cancer was conducted and she talked to cancer experts in St.Stamford Modern Cancer Hospital Guangzhou, China. The doctor provided professional consultation and introduced minimally invasive treatment, which gave MS Dang confidence and courage to take cancer treatment abroad.
Minimally Invasive Treatment defeated advanced lung cancer
On Dec. 29, 2016, Ms Dang arrived at St.Stamford Modern Cancer Hospital Guangzhou.
"The treatment procedure here is efficient. In the next day after the admission, the Multiple Disciplinary Team (MDT) conducted joint discussion and made a treatment plan based on my condition. In the third day, I took cryotherapy." Ms Dang recalled.
After treatment, the big tumor in her right lung has shrank by 70% and nodules scattering on both lungs mostly disappeared
"I was nervous before the first session of interventional therapy. It got easier in the following sessions. As I stayed awake and felt slight pain during the whole procedure. I suffered few side effects and there's only a 2cm trauma left. Moreover, I was able to leave the bed in the next day. It's amazing." being asked about her feeling during the treatment, Ms Dang gladly answered.
Director Ma, Ms Dang's attending doctor, made a brief introduction on interventional therapy---differing from traditional systemic chemotherapy, interventional therapy applies percutaneous catheter to directly inject anticancer drugs into the lesion through artery, which provide bloodstream for tumor. Therefore, the procedure effectively kills tumor cells without damaging to normal cells and features small trauma and quick recovery. For advanced lung cancer patient like Ms Dang, interventional therapy relieves their pain, improves long-term efficacy and prolongs survival time.
With 8 sessions of interventional therapy finished, Ms Dang felt relieved on knowing the latest checkup result, which indicated the tumor in her right lung has shrunk and multiple nodules in both lungs have gone. She has confidence in the following treatment and gives high praise for doctors in St. Stamford Modern Cancer Hospital Guangzhou. "Thank you all for saving my life!" she said gratefully.
At present, Ms Dang regained normal life and her condition became stable. All she needs is regular checkup and succeeding treatment.
On behalf of all staff in St.Stamford Modern Cancer Hospital Guangzhou, we wish Ms Dang and all patients healthy and happy life.
*Surgery, in addition to the appropriate chemotherapy and radiotherapy, are effective in treating early cancer, but certain patients in late stage of cancer may not be tolerate surgery well as they can be relatively weak. A combination of carefully planned minimally invasive therapy, chemotherapy or radiotherapy can effectively reduce the side effects and discomfort of treatment and may help patient get better efficacy.