Minimally Invasive Treatments Shrank A 6cm Tumor away in Two Months*
YEE LOI YU is a Non-Hodgkin lymphoma patient from Malaysia.
On March 8, 2019, this was YEE LOI YU's third time coming to St.Stamford Modern Cancer Hospital Guangzhou for minimally invasive treatments. And turns out that his tumor in oral cavity has almost gone upon CT examination which pleased him a lot. "when I first came here, there was a mass measuring 6cm (caused by tumor in oral cavity), but it was gone by now. I believe I had made a right decision to come here for cancer treatment." said YEE LOI YU pleasantly.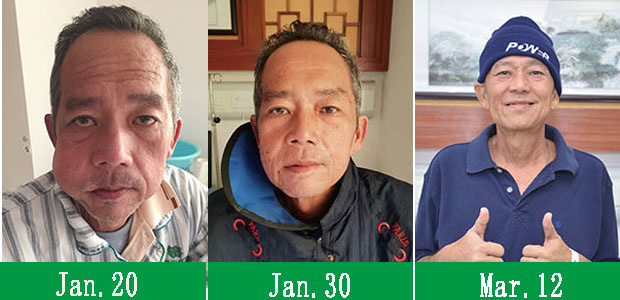 YEE LOI YU
In October, 2018, YEE LOI YU went to see a dentist as he got loose teeth, and after he got his second tooth pulled, symptoms came. He got swollen gums and tooth bleeding and as it became worse he went to a specialized hospital for a thorough examination. The biopsy test result showed lymphoma. "Turns out I suffered from cancer and it was lymphoma. I was too shocked, I mean I just have two teeth pulled and how did I get cancer?" YEE LOI YU was shocked when he first saw his report. His family was very sad when they heard the bad news. After calming down, they began to inquire about the methods to treat cancer.
When YEE LOI YU was waiting for the test results, his wife met Alan YANG, the General Manager of Penang Office of St.Stamford Modern Cancer Hospital Guangzhou. From the introduction and explanation of Alan, YEE LOI YU and his wife learned that St.Stamford Modern Cancer Hospital Guangzhou is equipped with 18 minimally invasive anti-cancer technologies such as interventional therapy, cryotherapy and particle implantation, which guarantees more treatment options for cancer patients. Besides, the hospital provides free airport shuttle bus service. After the plane trip the patient will be picked up by the medical staff at the airport directly, no bothering to move around the foreign city. At the same time, YEE LOI YU's sister searched on the Internet and saw many successful treatment cases in the hospital, which strengthened his faith in treatment in China and then he decided to come.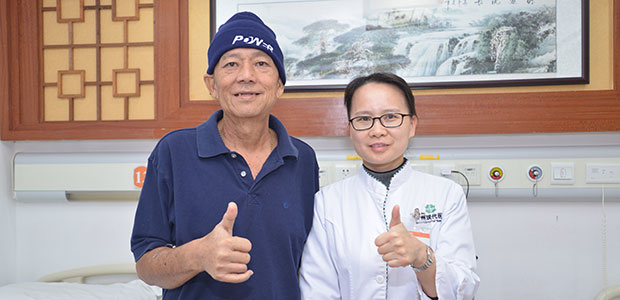 YEE LOI YU and his attending doctor Lin Jing
On January 20, 2019, accompanied by his younger sister, YEE LOI YU came to St.Stamford Modern Cancer Hospital Guangzhou. In response to his case, Multidisciplinary Team (MDT) tailored a treatment plan for him with interventional therapy, particle implantation therapy, triple oxygen therapy and natural therapy.
"On the third day of hospitalization, I started my first session of interventional therapy and particle implantation, after which my tumor started to shrank, then I began to accept natural therapy, triple oxygen therapy and consumed some Chinese herbs to protect my liver. Therapies here require no resection and I was not afraid at all when I had treatment." said YEE LOI YU. When asking of side effect, he commented, "There is no uncomfortable side effect after treatment."
Till now, after minimally invasive therapy, tumor about 6 cm has been effectively treated and gone, face swelling has faded away, too. YEE LOI YU was able to have some liquid food before he underwent minimally invasive therapy, but now he can have some solid food and his condition is well under control.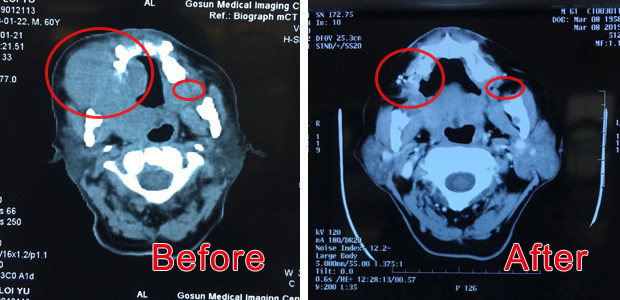 "My family was so happy and relieved to see me recover from the torture of cancer, especially my 84-year-old mother, she was very worried about me and I knew that." When speaking of his mother, YEE LOI YU felt sorry as he would not expect his mother to experience this sorrow and worry in her eighty. In his hospitalization, he coordinated the treatment strictly and hoped to recover from the disease as soon as possible.
Seeing many advanced cancer patients treated and controlled well here, YEE LOI YU is more confident of cancer fighting. YEE LOI YU told us, when he was younger, he once came to China, and the huge change happened in China really surprises him and he has faith in his treatment. And he also encourages other cancer patients to fight on to the end and never surrender to the disease, and never push yourself too much, face it as a cold and have faith in the treatment and yourself.
*Surgery, in addition to the appropriate chemotherapy and radiotherapy, are effective in treating early cancer, but certain patients in late stage of cancer may not be tolerate surgery well as they can be relatively weak. A combination of carefully planned minimally invasive therapy, chemotherapy or radiotherapy can effectively reduce the side effects and discomfort of treatment and may help patient get better efficacy.