Treated by Particle Implantation and Interventional Therapy, I no longer fear of Thymus Cancer*
Cancer is not a terminal disease, it's treatable. The most important thing for us to do is to keep an optimistic mind.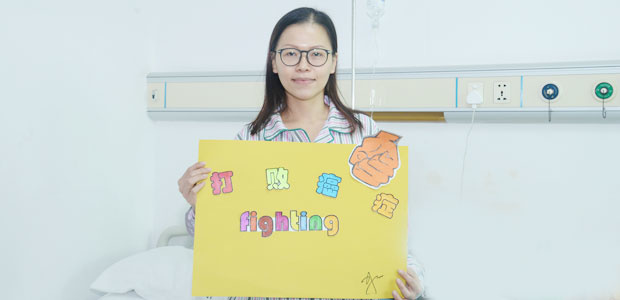 SAM YIT SIM
SAM YIT SIM, 37 years old now, comes from Johor Bahru, Malaysia. She got stage 4 thymus cancer. Since December 2014, she had been suffered from severe back pain. She had tried hard to reduce the pain, like taking traditional Chinese medicine, western medicine, acupuncture, massage, etc., but none of them reduced her pain. "It was so painful that always woke me up from dream, I could do nothing but only take painkillers." SAM YIT SIM said.
One year passed, SAM YIT SIM was still tortured by the pain. Until one day, she found a small lump on her chest, she was frightened because her mom was killed by breast cancer. She quickly went to hospital for examinations, results showed that she got thymus cancer. SAM YIT SIM was freaked out because she had no idea of what thymus cancer was. After learning the bad news, SAM YIT SIM's mind was mixed with fear and sad. After being comforted and encouraged by her families, she gradually calmed down.
Doctor in Malaysia local hospital suggested her to take chemotherapy and radiotherapy, but she hesitated. The tumor was near her heart, it was of great risk to take operation. Her mother and some of her friends got cancer before, she witnessed the suffering of taking chemotherapy, she felt scared and decided to look for better cancer treatment.
SAM YIT SIM happened to know that her colleague's husband took part in the free cancer symposium held by St. Stamford Modern Cancer Hospital Guangzhou . That's the first time that SAM YIT SIM got to know St. Stamford Modern Cancer Hospital Guangzhou. Coincidentally, a free cancer symposium was held by MCHG in Johor Bahru in July. SAM YIT SIM took part in the symposium and consulted Professor Peng Xiaochi, who is the chief oncologist of MCHG and advised her to take particle implantation, based on her condition.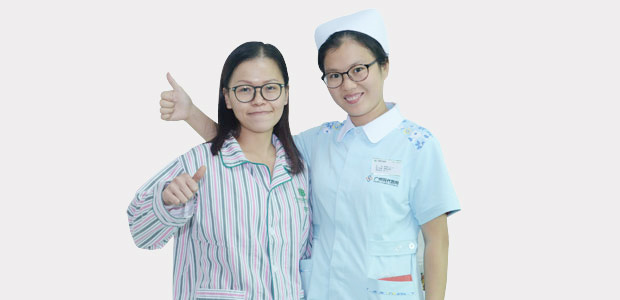 SAM YIT SIM and nurse
"That's the first time I heard about particle implantation, I was curious about it because there is no such kind of therapy in Malaysia. I have more confidence after browsing its official website and Facebook. At that time I didn't take any treatment, I still had good immunity. I would become weak if I took chemotherapy, and it's too late for me to take other treatments. I wanted to try other treatments rather than chemotherapy, radiotherapy and operation." Considering the toxic side effects of chemotherapy, SAM YIT SIM finally decided to take cancer treatment in China.
On August 9th, 2016, with the assistance of staff in Kuala Lumpur office, SAM YIT SIM came to St. Stamford Modern Cancer Hospital Guangzhou for treatment. After systemic examinations, SAM YIT SIM was diagnosed with thymus cancer, with metastasis to the supraclavicular lymph nodes. Based on her condition, the multidisciplinary team (MDT) of St. Stamford Modern Cancer Hospital Guangzhou specially made her a treatment plan: particle implantationand and interventional therapy.
During the first course of treatment, SAM YIT SIM's back pain was relieved and she was no longer to take painkiller as much as before after taking particle implantation and interventional therapy. After the second course of treatment, SAM YIT SIM hardly stopped taking painkiller. Now, it's her third time to be here for treatment. Her back pain that tortured her for more than one year has finally disappeared. Besides, to her surprise, her tumor has shrunk by 30%.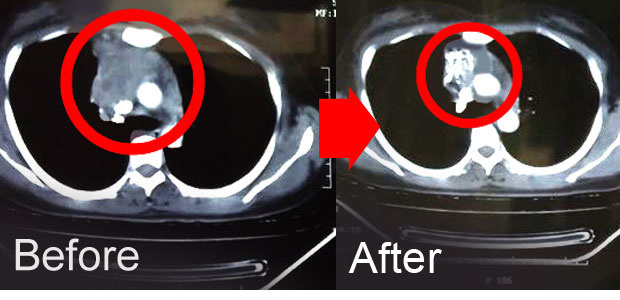 Tumor has shrunk
What impressed SAM YIT SIM most during her hospitalization at St. Stamford Modern Cancer Hospital Guangzhou is its advanced minimally invasive therapy. She said:" I didn't feel any discomfort after taking interventional therapy and particle implantation. I even could go back to work normally. Besides, I noticed that traditional Chinese medicine was added to protect my liver, so as to better help me fight against cancer."
The advanced anticancer technology and her optimistic mind are two key points that help her get good efficacy. "Life goes on no matter I' m happy or not, why not choose to live happily?" During the whole interview, SAM YIT SIM always kept strong and optimistic. At the end of the interview, SAM YIT SIM shared her anticancer experience to other cancer patients:" Cancer is not terminal disease, it's treatable. The most important thing for us to do is to keep an optimistic mind."
*Surgery, in addition to the appropriate chemotherapy and radiotherapy, are effective in treating early cancer, but certain patients in late stage of cancer may not be tolerate surgery well as they can be relatively weak. A combination of carefully planned minimally invasive therapy, chemotherapy or radiotherapy can effectively reduce the side effects and discomfort of treatment and may help patient get better efficacy.