A Retired Filipino Doctor's Cancer Journey in St.Stamford Modern Cancer Hospital Guangzhou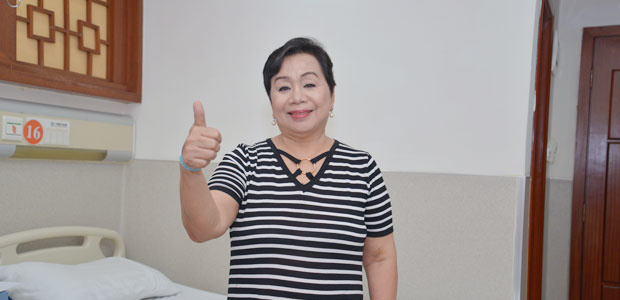 BINAS SALOME GONZALE
My name is BINAS SALOME GONZALE, 64 years old now, from the Philippines. I was diagnosed with well differentiated neuroendocrine neoplasm last March, with metastasis to my liver, lungs, pelvic area and bones. I have been taking treatment in St. Stamford Modern Cancer Hospital Guangzhou for 1 year and 6 months, and I am cancer free now.
I have suffered from on and off pain in my lumbar area since the beginning of last year. As a doctor, I knew there maybe problems with my body. In order to get an accurate diagnosis, I went from one doctor to another. An ultrasound was done to my abdomen, and finally found out that there was a big tumor sized about 9.4*7.5*7.0cm in my liver. I then did a biopsy whose result showed that the tumor in my liver was not the primary one. Chemotherapy and surgery were recommended to me, but as a doctor, I knew how risky it is to take surgery at my age, I do not think I can tackle anything about surgery. I finally received only one cycle of chemotherapy in a local hospital, it didn't help but made me weaker.
Fortunately, I got to know St. Stamford Modern Cancer Hospital Guangzhou through Facebook and two cancer friends. Both of them told me that their treatment effect and experience in this hospital are quite good. Except for traditional chemotherapy, radiotherapy and surgery, St. Stamford Modern Cancer Hospital Guangzhou has 18 minimally invasive therapies, featuring small trauma, few side effects, good efficacy and quick recovery, etc., so I decided to come here and try its cutting-edge minimally invasive therapies.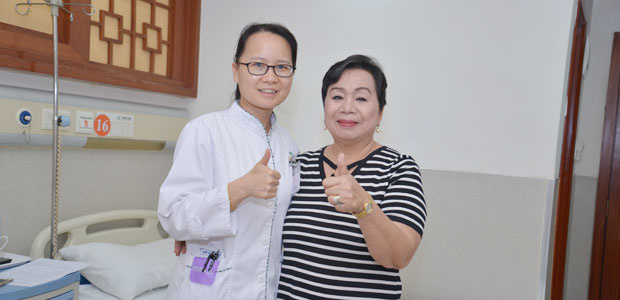 BINAS and her attending doctor
I first admitted to this hospital on last mid-April, at that time I was quite weak due to the one cycle of chemotherapy I received before, and I was unable to walk far because of slight dizziness. Several examinations were done to me right after my hospitalization, including CT Scans and other laboratory examinations. First I was given microwave ablation to treat my big liver tumor and a biopsy to confirm the cancer type, and I finally got an accurate diagnosis: well differentiated neuroendocrine neoplasm with metastasis to the lungs, liver, bones and pelvic area.
The technology in the Philippines and China is different, as well as the way they treat patients. Considering my complicated condition, the multidisciplinary team(MDT) gave me different treatments: microwave ablation for the liver tumor; particle implantation for the tumor in my pelvic cavity; interventional therapy for my bone metastasis and immunotherapy to enhance my immunity. Before I never heard minimally invasive therapy in the Philippines, but there are good to me and very effective in treating tumor. Besides, I did not suffer from any severe side effects, I am very satisfied with the treatment efficacy!
Each month I came here, and there was a lot of improvement on my body. The latest PET SCAN show that there was no uptake of all the tumors. I am in a good condition now, active, energetic and no longer suffer from pain. I really thank the doctors and staff here, there are all good and efficient!
The thing with patient having cancer is that one should have a positive attitude and fight against cancer bravely. Supports from families and friends, good hospital and appropriate treatment are of great significance to a cancer patient. I found the best treatment in St. Stamford Modern Cancer Hospital Guangzhou, medical staffs are very supportive. If you are seeking for the best treatment, come to Modern Cancer Hospital Guangzhou, you will get the best and it is the best facility here in China! At the end, I would like to extend my sincere gratitude to the Lord, he is really a amazing God!
*Surgery, in addition to the appropriate chemotherapy and radiotherapy, are effective in treating early cancer, but certain patients in late stage of cancer may not be tolerate surgery well as they can be relatively weak. A combination of carefully planned minimally invasive therapy, chemotherapy or radiotherapy can effectively reduce the side effects and discomfort of treatment and may help patient get better efficacy.