Herbal Medicine is not the Only and Optimal Choice for Cancer!
Given the fear of surgery and the huge toxic side effects of chemotherapy and radiotherapy, some cancer patients in the Philippines choose to take herbal medicine at home instead of taking treatment in the hospital. To some extent, herbal medicine is effective in treating cancer. But experts in St. Stamford Modern Cancer Hospital Guangzhou(MCHG) reminded: "Herbal medicine may play a supporting role in treating cancer, but it is never the best and only choice for cancer patients! One must go to a hospital for timely treatment once being diagnosed with cancer. Also, never blindly copy other patients' prescriptions because every patient is in a different condition!"
Minimally invasive therapy, a cutting-edge anti-cancer technology that features small trauma, few toxic side effects, good efficacy, and quick recovery, is regarded as one of the most effective cancer treatments and has successfully helped numerous cancer patients. Below are three cases who have ever made wrong decisions on choosing cancer treatment but eventually regain health after combined treatment at MCHG.
If you are looking for better cancer treatment with fewer side effects, please CONSULT ONLINE or fill in the FORM to get professional treatment advice and personalized treatment plan.
Case 1: Endometrial Cancer Patient Linda: Herbal medicine cannot save me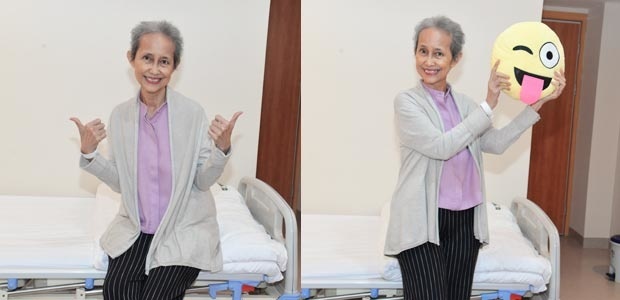 Linda has suffered from irregular vaginal bleeding since February 2014. She already knew how terrible chemotherapy and surgery are because she has a friend who was greatly tortured by the side effects of surgery and chemotherapy, so she told herself never take chemotherapy and surgery even if she is sick.
Linda only took herbal medicine to alleviate her condition. However, the bleeding was not relieved by the herbal medicine instead it worsened. Eventually, she was rushed to a hospital because of massive vaginal bleeding and was confirmed to have stage III endometrial cancer.
The tumor has disappeared after taking interventional therapy, natural therapy and radical resection at MCHG in 2014. 5 years have passed, Linda is still alive and healthy. Regular monitoring is required once a year and the latest CT scan showed that there's no sign of recurrence!
Click to see how Linda defeat endometrial cancer
Case 2: Stage IV Rectal Cancer Patient's Condition Got Worse after Herbal Medicine
HENDRY ANGGLES has suffered symptoms of hematochezia, diarrhea and difficult defecation since July 2016, and was finally diagnosed with stage IV rectal cancer after an enteroscopy. On hearing the diagnosis, HENDRY was freaked out and depressed because he always kept good living habits and there was no cancer in his family history. What's worse, both doctors in Indonesia and Malaysia suggested he take surgery, but considering the side effects bought by surgery like difficulty in defecating, HENDRY and his family rejected.
Followed a friend's suggestion, HENDRY took herbal medicine at home instead of taking treatments in hospital. However, his condition did not gradually improve as expected. On the contrary, symptoms of anal pain, difficulty in urinating have occurred since July 2017, bloody stool became more serious, which made him and his family anxious.
Accompanied by his family, HENDRY arrived at MCHG in Nov. 2017. After receiving interventional therapy, particle implantation and natural therapy, the tumor shrank from 8cm to 2cm!
HENDRY spoke highly of minimally invasive therapy:"I didn't suffer any pain in the first session of interventional therapy. After the treatment, my condition was obviously getting better. I was able to lie down and had a good sleep. After the first discharge, my tumor has shrunk by 50%. Previous symptoms of blood in stool and anal pain disappeared. In the second discharge, I felt like normal as usual."
Click for HENDRY's anticancer journey at St. Stamford Modern Cancer Hospital Guangzhou
Case 3: Breast Tumor has Deteriorated to Middle Stage after Folk Remedy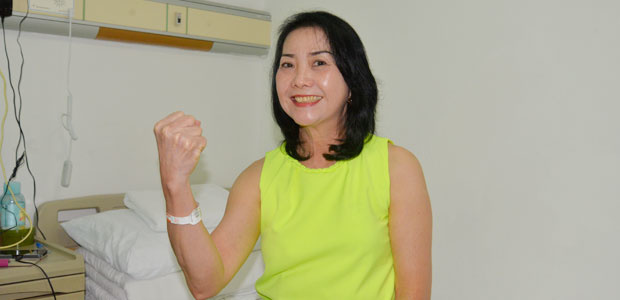 VENNY NYOTOWIJOYO was diagnosed with breast cancer in 2011. She was extremely afraid of taking surgery because her mother died for metastasis of cancer cells after surgery, so she decided to take local conservative treatments instead of those common breast cancer treatments. In May 2013, VENNY's condition got worse: the lump on her left side enlarged to 10x10cm, an enlarged lymph node (2x3cm) appear on her left axillary. In order to alleviate the pain, she even brought more than ten leeches to draw the blood of the tumor!
Though VENNY has tried multiple types of folk remedies, her condition did not improve at all. The tumor has deteriorated to the middle stage when she first arrived at St. Stamford Modern Cancer Hospital Guangzhou on May 6, 2013.
After a mastectomy and combined minimally invasive treatment at MCHG, the tumor and cancer-invasive tissues were totally removed. So far, 6 years have passed, VENNY's in a healthy condition with no signs of recurrence.
Click for VENNY's whole anticancer story
Cancer cells are of strong vitality and fertility, just taking herbal medicine cannot destroy and kill cancer cells thoroughly. But combined therapy of herbal medicine & minimally invasive targeted treatment kill cancer cells effectively, reduce toxic side effects, lower the rate of cancer recurrence, and greatly improve the survival rate.
Seeking for alternative cancer treatment? CONSULT ONLINE or call at 02-8-822122 (Manila Office) or 0917-599-2277 (Cebu Office) to make an appointment for expert consultation and get professional treatment advice.
*Surgery, in addition to the appropriate chemotherapy and radiotherapy, are effective in treating early cancer, but certain patients in late stage of cancer may not be tolerate surgery well as they can be relatively weak. A combination of carefully planned minimally invasive therapy, chemotherapy or radiotherapy can effectively reduce the side effects and discomfort of treatment and may help patient get better efficacy.