Filipino Cancer Patients' Anticancer Journery at St. Stamford Modern Cancer Hospital Guangzhou
In figures released in late 2017, the Cancer Coalition Philippines said 11 new cancer cases are reported each day. One out of every 10 deaths in the country is caused by cancer; every hour, seven adults and eight children die of cancer, the coalition claims
Though cancer is of high morbidity and mortality in the country, cancer treatment is still confined to traditional surgery, chemotherapy and radiotherapy, which are of great side effects like big trauma, hair losing, vomiting, poor appetite, etc. Fortunately, with the development of medical technology, cutting-edge minimally invasive therapy appears and ignites cancer patients' hope of Life. Minimally invasive therapy is an advanced comprehensive therapy, which is applicable to cancer patients in different stages and conditions. It only brings a 1-2mm incision, accurately targets the tumor and causes few side effects to the surrounding healthy tissue so as to effectively kill the cancer cells and shrink the tumor.
Now minimally invasive therapy is widely applied to treat cancer in China and Occident, taking cancer treatment in China is gradually turning into a new trend. However, still, there are many Filipinos who take this trend with a grain of salt. Is taking cancer treatment in China a better choice? Is Minimally Invasive Therapy really effective? These local Filipino cancer patients tell you the answer!
If you have breast cancer and want to get more information about minimally invasive therapy, please CONSULT ONLINE or fill in the FORM to get professional treatment advice.
Breast Cancer Patient LORNA: Minimally Invasive Therapy Shank Breast Tumor from 10cm to Less than 1cm
LORNA LOGICO, 61 years old, comes from the Philippines. She was diagnosed with breast cancer in 2010 and took two sessions of radical mastectomy, while breast cancer recurred and developed into stage IV.
LORNA realized her case was rather critical, she resigned and looked for advanced cancer treatment. At the juncture, she learned about St. Stamford Modern Cancer Hospital Guangzhou and minimally invasive therapy, which gave her hope and belief. As she learned that minimally invasive therapy features strong targeting and causes few side effects, she immediately made the decision to take treatment in China.
In 2018, she came to St. Stamford Modern Cancer Hospital Guangzhou. With four sessions of combined treatment of interventional therapy and cryotherapy, the breast tumor measuring 10cm gradually shrank to less than 1cm, which was beyond her expectation. She was very relieved of the result. Continue reading
ERLINDA FRANCISCO:Minimally Invasive Therapy is A Better Choice for Stage IV Ovarian Cancer Patient
ERLINDA FRANCISCO, 73 years old, comes from Cebu, the Philippines.
In March 2019, ERLINDA was diagnosed with ovarian cancer, for which the oncologist recommended combined treatment of surgery and chemotherapy. She refused to take chemotherapy because of the side effects. Therefore, she decided to go to the United States and seek alternative treatments.
At that juncture, ERLINDA's son-in-law mentioned that he had a former colleague who had suffered from stage IV liver cancer and later got treated in St. Stamford Modern Cancer Hospital Guangzhou. He achieved good results afterwards. Soon after, ERLINDA contacted the staff in Manila office of MCHG and consulted Dr. Lim. She made her mind to go to China for treatment.
On March 17, 2019, ERLINDA arrived at St. Stamford Modern Cancer Hospital Guangzhou. Based on her case, MDT(Multidisciplinary Team) developed a comprehensive minimally invasive treatment plan of interventional therapy, cryotherapy and particle implantation. According to Wang Xiang, the attending doctor of ERLINDA, tumors in abdominal cavity have significantly shrunk, the tumor markers have turned to normal values, and the body has gradually returned to health. Continue reading
Neuroendocrine Neoplasm Patient BINAS: I am cancer free now!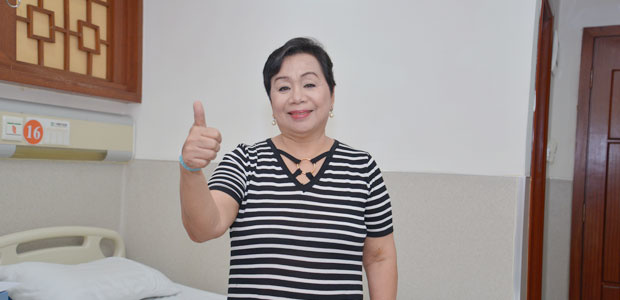 I am BINAS SALOME GONZALE, a 64-year old retired doctor from the Philippines. I was diagnosed with well-differentiated Neuroendocrine Neoplasm in March 2017, with metastasis to my liver, lungs, pelvic area and bones. Chemotherapy and surgery were recommended to me, but as a doctor, I knew how risky it is to take surgery at my age, I finally received only one cycle of chemotherapy in a local hospital, it didn't help but make me weaker.
I first admitted to this hospital in April 2017, considering my complicated condition, the multidisciplinary team(MDT) gave me different treatments: Microwave Ablation for the liver tumor; Particle Implantation for the tumor in my pelvic cavity; Interventional Therapy for my bone metastasis and Immunotherapy to enhance my immunity. Before I never heard minimally invasive therapy in the Philippines, but there are good to me and very effective in treating tumors. Besides, I did not suffer from any severe side effects, I am very satisfied with the treatment efficacy!
Each month I came here, and there was a lot of improvement in my body. The latest PET SCAN shows that there was no uptake of all the tumors. I am in a good condition now, active, energetic and no longer suffer from pain! Continue reading 
Breast Cancer Patient MIMI ABUTIN: St.Stamford Modern Cancer Hospital Gave Me a Second Life
I am MIMIE ABUTIN, from the Philippines, I was diagnosed with breast cancer in Feb. 2015. Although I was scared and confused, I flatly refused the local doctor's suggestion of chemotherapy and mastectomy. I came to St.Stamford Modern Cancer Hospital Guangzhou on March 17, 2015, on a local doctor and a neighbor's recommendation, at that time the tumor has grown to 3cm. To my surprise, after two sessions of interventional therapy and one session of natural therapy, the tumor has shrunk to 1.03cm. During my first session of interventional therapy, I was nervous, but I became relaxed when finding that it's not painful. After the therapy, there were no side effects. I felt comfortable. It was really minimally invasive!
Considering my whole condition, doctors advised me to take a mastectomy to prevent recurrence. I agreed and never regret about this decision because there are no signs of recurrence though 3 years have passed. I am healthy now and living a happy life just like before. Continue reading
Breast cancer patient Susan: Combined Minimally Invasive Therapy Defeat Cancer Recurrence Successfully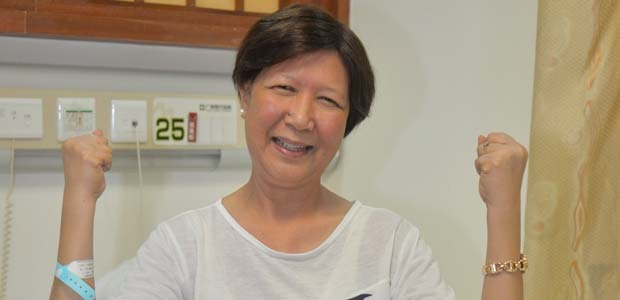 I am Susan Gawat, 58 years old, from the Philippines. I was diagnosed with breast cancer stage IIA in Aug. 2014. Under a local doctor's suggestion, I took mastectomy in September and took 4 sessions of intravenous chemotherapy to prevent recurrence in the Philippines. However, in July 2015, cancer still came back, even with lung and liver metastasis.
Doctors in the Philippines recommended chemotherapy again, but I refused because I knew it could not help me. My daughter-in-law found St.Stamford Modern Cancer Hospital Guangzhou and convinced me to take the treatment here. After taking interventional therapy and natural therapy, I have gotten an improvement and I'm in stable and good condition now. Thanks to the Lord for guiding me to Modern Cancer Hospital Guangzhou. Cancer is a trial of my life. I must fight against it and never give up. Continue reading
Breast Cancer Patient CARGULLO JEAN BUENA: I Successfully Got Rid of Cancer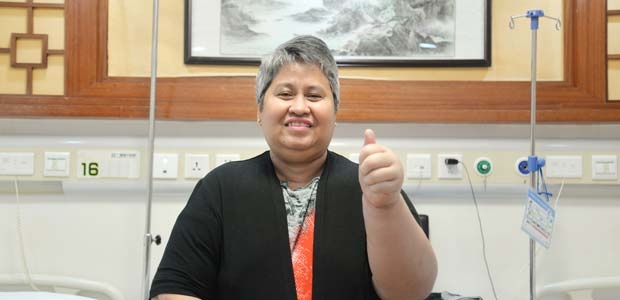 My name is CARGULLO JEAN BUENA, a teacher from the Philippines. I was diagnosed with breast cancer in 2013 during a regular check-up. I was freaking out because the local doctor told me to remove my entire breast. My husband and I decided to look for other effective breast cancer treatment instead of taking the local doctor's suggestion.
When I was first admitted to St.Stamford Modern Cancer Hospital Guangzhou in May 2013, my breast tumor had already developed to stage IV, with metastasis to my lymph node and left breast. After a joint consultation by the Multidisciplinary Team, I was given interventional therapy and natural therapy based on my condition. Interventional therapy is not as terrifying as I thought it was. I did not feel anything. There was only a little bit of pain at the beginning.
After 6 sessions of interventional therapy, one session of cryotherapy and consolidated radiotherapy, the tumor cells in my body have been destroyed and my condition is stable enough for me to return to work and live a normal life. 5 years had passed, I am glad that I am still healthy with my breast remains. Continue reading 
Bladder Cancer Patient SUSON: St. Stamford Modern Cancer Hospital Guangzhou is a HOME away from home!
On a March day in 2018, NORINA SUSON suddenly found there was blood in her urine. After a cystoscope in a local hospital in the Philippines, she was confirmed to have bladder cancer and was given a treatment plan of surgery to remove her bladder, ovarian and urethra. Considering her old age and medical history of diabetics and hypertension, SUSON's family refused the local doctor's suggestion of surgery and decided to look for better treatment with fewer side effects.
Accompanied by her nephew, NORINA SUSON started her anti-cancer journey at t. Stamford Modern Cancer Hospital Guangzhou in July 2018. Since NORINA SUSON is too old to take chemotherapy, she was first given interventional therapy to shrink the tumor. After the first session of interventional therapy, the symptom of bloody urine disappeared. Photodynamic therapy and natural therapy were given next considering the complicated location of the tumor. After 4-month of minimally invasive treatment, the tumor inside her body has already gone, showed by the examination done on Jan. 2019! More happily, both the results of examinations that respectively done in May and August 2019 showed that there was no evidence of recurrence. Continue reading
In these three strong Filipino cancer patients' experiences, surgery, chemotherapy, and radiotherapy still are the major cancer treatments in the country, but these traditional treatments not only bring great side effects but also have high risks of recurrence. Fortunately, the development of minimally invasive therapy brings cancer patients new hope, it is really good that they got great improvement and prognosis after taking this cutting-edge therapy in China. For cancer patients, appropriate cancer treatment is the key to destroy the tumor and improve living quality. Taking cancer treatment in a foreign country with more cutting-edge medical technology is a better choice, especially when the local country cannot offer a better treatment option.
St.Stamford Modern Cancer Hospital Guangzhou has rich experience in minimally invasive therapy and has helped numerous Filipino cancer patients defeat cancer. If you need help, we are here for you, CONSULT ONLINE or call at 02-8-8221222 to get professional treatment suggestions.
*Surgery, in addition to the appropriate chemotherapy and radiotherapy, are effective in treating early cancer, but certain patients in late stage of cancer may not be tolerate surgery well as they can be relatively weak. A combination of carefully planned minimally invasive therapy, chemotherapy or radiotherapy can effectively reduce the side effects and discomfort of treatment and may help patient get better efficacy.