Minimally Invasive Therapy: A Better Choice for Stage IV Ovarian Cancer Patient*
ERLINDA FRANCISCO, 73 years old, comes from Cebu, the Philippines. In March, 2019, she was diagnosed with stage IV ovarian cancer. She refused to take surgery and chemotherapy in local hospital and resorted to St. Stamford Modern Cancer Hospital Guangzhou. With combined minimally invasive therapy, her tumors have shrunk, tumor markers turned to normal values and she also gained good physical condition.
Old woman with ovarian cancer, looking for alternative cancer treatment
In April 2018, ERLINDA had symptom of edema of lower extremity without obvious cause or other discomfort, she didn't take it seriously back then. In December, her son found that her abdomen was obviously swollen, although she suffered no pain but only physical weakness. She also noticed irregular vaginal discharge increasing, of which she never thought as a symptom of ovarian cancer.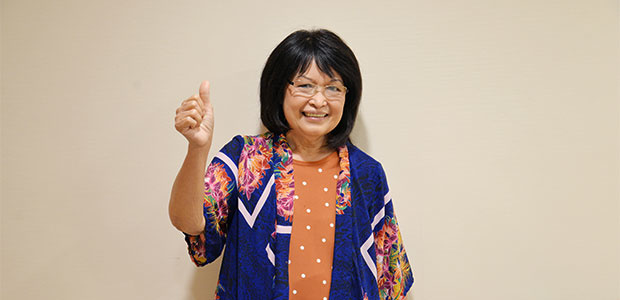 ERLINDA
At the beginning of March 2019, ERLINDA went to see doctor and took CT examination, from which the oncologist initially predicted it was ovarian cancer and recommended combined treatment of surgery and chemotherapy. She refused to take chemotherapy because of the side effects. Therefore, she decided to go to the United States and seek alternative treatments.
At that juncture, ERLINDA's son-in-law brought hope to her. He had a former colleague who had suffered from stage IV liver cancer and later got treated in St. Stamford Modern Cancer Hospital Guangzhou. He achieved good results afterwards. ERLINDA recalled, "On hearing that, I was persuaded to go to Guangzhou for treatment and I made the decision without a second thought."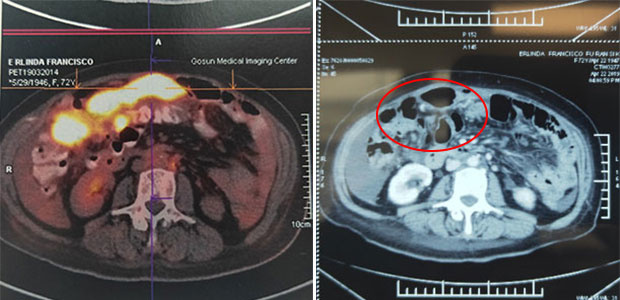 After the treatment, tumors in abdominal cavity have significantly shrunk
Soon after, ERLINDA contacted the staff in Manila office of MCHG and consulted Dr. Lim. She made her mind to go to China for treatment. It usually takes a week for Filipino to get visa to China, she got it done in one day with help.
Receiving cancer treatment in MCHG
On March 17, 2019, ERLINDA accompanied by her family, arrived at St. Stamford Modern Cancer Hospital Guangzhou. Based on her case, MDT(Multidisciplinary Team) developed a comprehensive minimally invasive treatment plan of interventional therapy, cryotherapy and particle implantation. So far, this is her fifth admission. According to Wang Xiang, the attending doctor of ERLINDA, tumors in abdominal cavity have significantly shrunk, the tumor markers have turned to normal values, and the body has gradually returned to health.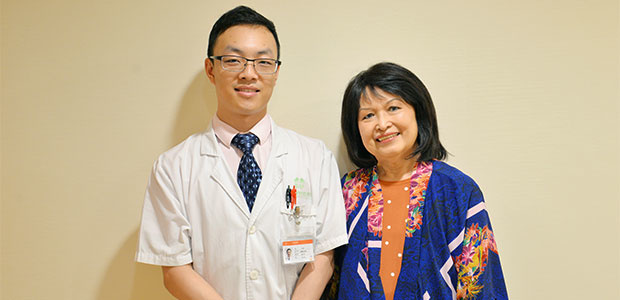 ERLINDA with her attending doctor Wang Xiang
"Before I came to the hospital, I only read some reports about the hospital and learned some information on Facebook. Through my experience of taking treatment and conversations with other patients here, the advanced treatment is really impressive." ERLINDA said, " during the interventional therapy, I was awake and even I could talk to the doctor. I said thank you doctor right after the procedure and he smiled with great relief. There was never discomfort during or after treatment."
The power of positivity
Upon the discharge, ERLINDA couldn't help but express her gratitude to the medical staff. "Thanks to my doctor and nurse, Dr. Wang always arranges everything properly. The medical staff are very caring. The medical services provided here is really considerate."
"For other patients, I want to encourage them to keep an optimistic attitude, which is very important for a cancer patient. With God's guidance, I can find confidence and courage by receiving treatment here. I will share my experience with them and hope that they get inspired through my anticancer story."
*Surgery, in addition to the appropriate chemotherapy and radiotherapy, are effective in treating early cancer, but certain patients in late stage of cancer may not be tolerate surgery well as they can be relatively weak. A combination of carefully planned minimally invasive therapy, chemotherapy or radiotherapy can effectively reduce the side effects and discomfort of treatment and may help patient get better efficacy.