Minimally Invasive Treatment Becomes the First Choice for Unlucky Cancer Siblings*
<Previous NULL
Next> NULL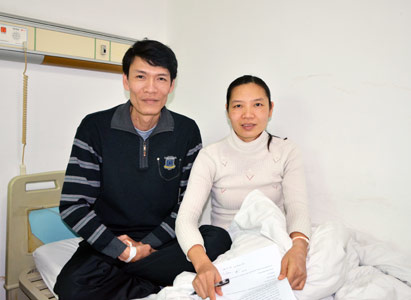 The Day Before Discharge
It was December in Guangzhou. While outside was slightly chilly, the ward in Modern Cancer Hospital Guangzhou was filled with warmth. In one day, Le Thi Mai and Le Hoang Giang, a pair of cancer siblings from Vietnam, will discharge from the hospital. Although cancer put their life on a line, they were very lucky to meet Modern Cancer Hospital Guangzhou, a miracle which changed their life.
Cancer Recurrence Occurs Repeatedly After Surgery
In 2002, Le Thi Mai found she had difficulty in swallowing, and her voice become hoarse; besides, her neck also felt very uncomfortable. As a result, she went to a local hospital for examination, where she was told that it was papillary thyroid cancer. The whole family was shocked with that diagnosis. In no time Le Thi Mai underwent total thyroidectomy for bilateral thyroids along with lymph nodes dissection of the bilateral necks, which she thought would cure her. However, in 2011, recurrences were found in a follow-up check. Although I131 treatments were performed timely, PET/CT in Dec. 2012 indicated: enlarged lymph nodes were noted in the bilateral necks; 2 metastatic lesions were noted in the lung; 1 in the bronchus. Once again, Le Thi Mai received postoperative pathology of lymph node dissection of bilateral necks, along with the excision of metastatic lesions in her lungs and bronchus.
While the whole family was worried about Le Thi Mai's illness, another disaster hit the family — the younger brother Le Hoang Giang appeared the same symptoms as his sister did years ago. Soon physical examination proved that Le Hoang Giang has also developed papillary thyroid cancer. Although it was early stage cancer, two surgeries and three times of I131 treatments did not bring Le Hoang Giang's condition under control.
Cancer made the whole family nearly collapsed. However, Le Thi Mai soon calmed down; she decided to accept the truth and try to fight against cancer bravely with her dear brother.
Minimally Invasive Treatment — New Hope to Fight Cancer
Just as the siblings were searching hard for new hospitals, a friend who has completely recovered from papillary thyroid cancer recommended Modern Cancer Hospital Guangzhou to them. Facts proved that it was a very brilliant advice.
Since it was rare to see two family members having same cancer at the same time, MDT experts of Modern Cancer Hospital Guangzhou soon arranged the physical examination for the siblings. After a whole night's discussion, they decided to perform "interventional therapy + natural therapy" for them.
According to Le Thi Mai's attending doctor, interventional therapy is a mini-invasive therapy performed under the guidance of medical imaging equipments. With a 2-3 millimeter incision, paracentesis could be performed, and then special tube, catheter or other sophisticated apparatus is introduced into human body, through which the anticancer medicines are injected into different tumors of various parts of body. In interventional therapy, drug concentration of regional perfusion can reach to 2-8 times higher than intravenous drip. As a result, it can kill cancer cells accurately and effectively. Compared with traditional surgery that the siblings received in Vietnam, interventional therapy brings patients small wounds but faster recovery; it can also prevent cancer from spreading. Biological natural therapy can activate body's cellular immune system and eliminate cancer metastases, so it plays a vital role in helping the siblings prevent cancer from spreading to other organs.
To support the siblings to take care of each other, the hospital has them arranged in the same ward and their treatment time was staggered. After 13 days of treatment, both Le Thi Mai and Le Hoang Giang's tumor have shrunk to less than 1 centimeter. There was neither discomfort of swallowing was complained, nor hoarseness.
In one day the siblings will discharge from the hospital. As their cancer is well under control, they feel quiet relaxed and listen to the doctor's instructions with a bright smile on their face. "Just have a good rest when you go back home. Remember to avoid spicy foods and insist on taking thyroid tablets." says Dr. Pang.
<Previous NULL
Next> NULL
*Surgery, in addition to the appropriate chemotherapy and radiotherapy, are effective in treating early cancer, but certain patients in late stage of cancer may not be tolerate surgery well as they can be relatively weak. A combination of carefully planned minimally invasive therapy, chemotherapy or radiotherapy can effectively reduce the side effects and discomfort of treatment and may help patient get better efficacy.