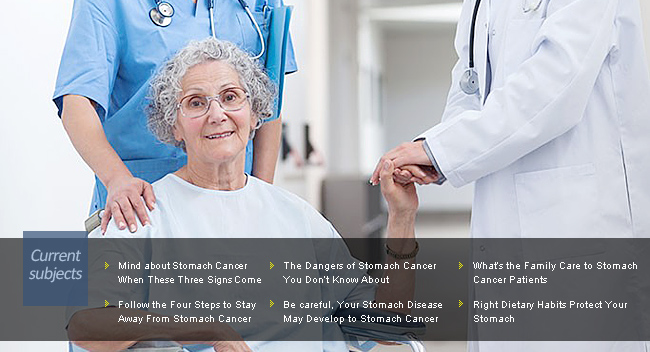 A Fight against Stomach Cancer,
A War Protecting Your Health & Stomach
According to the World Health Organization, stomach cancer, who are thought to be an important health risk internationally, ranges the fourth as the most prevalent caners and the second in death rate among all the cancers diagnosed in the world. The statistics in 2006 reveal that about 950, 000 new cases came and almost 700, 000 patients died of it. Countries in East Asia, South America and East Europe are the regions of high incidence. Stomach cancer tends to develop among young people is relative to the unhealthy life style and environment pollution, as modern life improves.
Mind about Stomach Cancer When These Three Signs Come
The signs can be stomach canceration for those patients who are over 40 years old including ... ...[Read More]

The Dangers of Stomach Cancer You Don't Know About


As a malignancy affecting the life and living quality of its patients, stomach cancer not only brings... ...[Read More]

What's the Family Care to Stomach Cancer Patients


Family care plays an important role to stomach cancer patients. Patients should take... ...[Read More]
---
Follow the Four Steps to Stay Away From Stomach Cancer


As the rhythm of modern society gets faster, people are hurting their stomach. Stomach cancer... ...[Read More]

Be careful, Your Stomach Disease May Develop to Stomach Cancer
Take no time for breakfast, be casual of lunch, have banquet as supper, enjoy midnight snacks at... ...[Read More]

Right Dietary Habits Protect Your Stomach


Too many temptations of food in our life, undoubtedly, that is a challenge to many stomach cancer... ...[Read More]
---
Zhen Yanli
Archiater, Medical Bachelor
Specialty: percutaneous selective arterial embolization for various malignant tumors, percutaneous selective arterial catheterization chemotherapy.

---

Graduated in clinical treatment major with bachelor degree from Baotou Medical School, Dr. Zhen has been involved in tumor studies and clinical interventional therapy for 25 years. He is especially good at percutaneous selective arterial embolization and catheterization chemotherapy for all kinds of malignancies. Besides, he is familiar at operating the minimally invasive treatments for malignant tumors, such as percutaneous transhepatic drainage, percutaneous ureteral drainage, and stent implantation in esophagus, intestines, bile duct and windpipe. He is also specialized at treating various complications arousing from tumors, such as obstruction in esophagus, intestines, bile ducts, ureters and windpipe.

Director Zhen is specializes in a variety of malignant tumors' percutaneous selective arterial infusion chemotherapy, percutaneous selective artery embolization and the treatments of esophageal obstruction, intestinal obstruction, biliary tract obstruction, ureter stenosis and bronchial stenosis complications which are caused by cancers and other diseases. In addition, he has deep attainments in minimally invasive treatments for various malignant tumors. Minimally invasive operations like percutaneous biliary drainage, percutaneous ureteral drainage, esophageal stent placement, intestinal stent placement, biliary stent placement, macro-vascular stent placement, cerebral.

---

Common knowledge of stomach cancer
How do you know about stomach cancer? Do you know its risk factors, incidence and screen methods or other information concerned?Click here to get close to stomach cancer.

| | |
| --- | --- |
| Next Health Topic: | |

A belief of getting over cancer

This is the third time that Mr. Asm Tanvir Ahmed comes to Modern Cancer Hospital Guangzhou, China for follow-up examination and treatments. The examination result makes him very happy. Mr. Asm Tanvir Ahmed says that the doctors from Modern Cancer Hospital Guangzhou are very great. His condition is improved very soon, and the spirit is also very good. He is willing to share his medical treatment seeking story to help and encourage more patients to get rid of the fear and worries of cancer.

He was once extremely disappointed due to an operation.

One day in February, 2012, Mr. Asm Tanvir Ahmed occurred to symptoms like abdominal distension, abdominal pain suddenly, but he thought he's just happen to a common gastrointestinal disease since he has a healthy... ...[Read More]

Treatment for stomach cancer
There are more new treatments for stomach cancer as technologies develop. How to make a choice? You may consider many factors for patient, such as size and stage of tumor, age and healthy condition of a patient and so on. But what are the treatments for stomach cancer? Click here to know more.

---

Keep an eye on us:
Scan by your mobile phone:
---
Why not share this E-mail to your friends or family if you think it helps you.
Pleaseclick hereto quit the subscription if you don't want to receive this E-mail any more.
Copyright © 2012 Modern Cancer Hospital Guangzhou, China All Rights Reserved.