Believe in Yourself, Get Rid of the Fear of Cancer
  This is the third time that Mr. Asm Tanvir Ahmed comes to Modern Cancer Hospital Guangzhou, China for follow-up examination and treatments. The examination result makes him very happy. Mr. Asm Tanvir Ahmed says that the doctors from Modern Cancer Hospital Guangzhou are very great. His condition is improved very soon, and the spirit is also very good. He is willing to share his medical treatment seeking story to help and encourage more patients to get rid of the fear and worries of cancer.
  He was once extremely disappointed due to an operation
  One day in February, 2012, Mr. Asm Tanvir Ahmed occurred to symptoms like abdominal distension, abdominal pain suddenly, but he thought he's just happen to a common gastrointestinal disease since he has a healthy physique condition. But a month passed away, Mr. Asm Tanvir Ahmed condition hasn't improved even after taking many medicines. On the contrary, his pain became more and more serious. Therefore, he went to a local hospital for a comprehensive examination, and the result "gastric cancer" almost made him broken-down. He can't believe that he may suffer from cancer in such a young age.
  Although the result made him feel unacceptable, Mr. Asm Tanvir Ahmed adopted the doctor's surgery suggestion immediately, because of the unbearable abdominal pain.
  The surgery was scheduled on time, but after waking up from the anesthesia, Mr. Asm Tanvir Ahmed was told by the doctors that the surgery has failed. Because doctors found the condition of his abdomen is too complicated to have the resection after opening the peritoneal cavity. Bearing the pain of surgery but haven't received any therapeutic effect, this made Mr. Asm Tanvir Ahmed very disappointed. Friends and relatives recommended him to visit other local hospitals, but he rejected all their suggestions since he cannot get rid of the pain and trauma of the failed surgery. At last, he sought help from friends around who have the experiences of seeking overseas treatments, among whom, some went to Indonesia, some went to Thailand, and some went to Singapore, but most of the results also let him down. Their overseas treatment seeking ways are not so smooth and successful as he thought. Some even spend huge medical expenses, but haven't received any treatment effects.
  Believed in himself and made a choice again
  When he was on desperation, Mr. Asm Tanvir Ahmed learnt about Modern Cancer Hospital Guangzhou in the internet on an occasional chance. With an attempting attitude, he sent his medical reports to the hospital's experts by an e-mail, hoping to get some suggestions. What out of his expectation is that his email got a reply very soon, which made him feel comforting. He likes the feeling of being paid attention to. According to the e-mail content, Mr. Asm Tanvir Ahmed visited the branch office of Modern Cancer Hospital Guangzhou in Bangladesh. After a further consultation with the experts from the hospital, Mr. Asm Tanvir Ahmed saw hope and decided to go to Guangzhou, China for further treatments.
  However, in addition to his brother-in-law and brother, Mr. Asm Tanvir Ahmed's decision was strongly rejected by his families. But he said, as long as there is one person supports him, he would leave for China. At the end of May, 2012, Mr. Asm Tanvir Ahmed came to Modern Cancer Hospital Guangzhou with his brother.
  A pleasant healthy trip
  In the first day of admission, experts arranged a comprehensive examination for Mr. Asm Tanvir Ahmed, and the result of which manifested to be gastric signet ring cell carcinoma with peritoneal metastasis. After an expert joint consultation, a treatment plan with interventional chemotherapy and seed implantation was made accordingly. In the following six months, Mr. Asm Tanvir Ahmed actively cooperated with the doctor's five circles of interventional chemotherapy and a seed implantation operation. Compared with six months ago, his condition has become a lot better. During the interview, Mr. Asm Tanvir Ahmed said Chinese medical technology is very advanced, especially the treatment he has taken, which he has never heard of in the Bangladesh. It is these advanced technologies that make his symptoms disappeared and turn his appetite normal. His weight has increased by 14KG so far, and the body physique condition is improved day by day.
  "During my hospitalization in Modern Cancer Hospital Guangzhou, I insist on calling my family every day. I tell them I am getting very well along with the doctors and nurses here. They come to see me and give me confidence and courage to overcome cancer every day. They are my good friends in China." said Mr. Asm Tanvir Ahmed, "I also tell my family that I participated in the hospital's outdoor activities, visited the famous scenic spots of Guangzhou with other patients. Guangzhou is a city full of enthusiasm. This medical seeking journey to China is a pleasant one to me."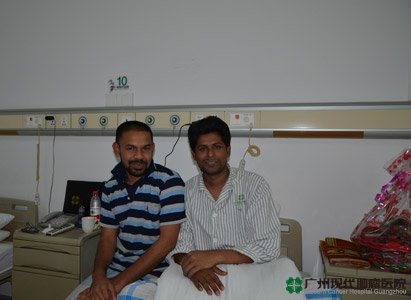 Mr. Asm Tanvir Ahmed and his brother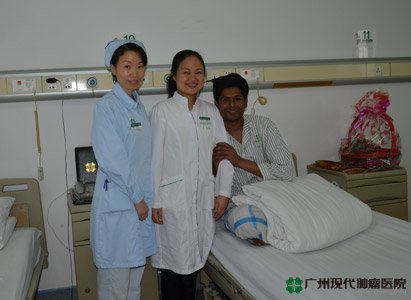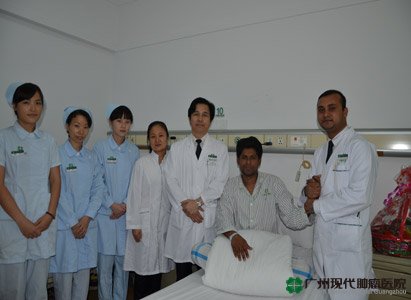 Mr. Asm Tanvir Ahmed and the medical staffs from Modern Cancer Hospital Guangzhou
If you have any questions, please contact us via online consultation, email or phone call. If you find our website useful, please follow our FaceBook and YouTube, health information will be updated regularly.
Online Inquiry
CLICK HERE!
Let's Have A Healthy Life!
Video
To show you
what is cancer by
videos
Chatting on Facebook

Become a fan of us!
+Follow
We are waiting for you.