Modern Cancer Hospital Guangzhou Saved My Life
  Maybe Almighty Allah really exists in the world; he guides every religious believer toward to the light and hope.
  Mr.Yong, from Indonesia and being in 49 years old this year, is on the peak period of career development. Despite his body has always been hale and hearty, busy work and heavy pressure made him finally suffer from poor emotion status, easy fatigue, hidden pain in liver area, loss of appetite and so on since the beginning of 2010, but these symptoms have failed to arouse his attention. People often ignore little warnings from the body, only when these warnings become into red alerts, can enough attention be caused. It is just like the situation occurred to Mr.Yong.
  In July, the illness became more and more serious, and the symptoms of vomiting and having blood in the stools have occurred to Mr.Yong. Then he went to a local hospital for treatment and was diagnosed as fatty liver cirrhosis and gastrointestinal bleeding. Mr.Yong was hospitalized for a period of time and has been taking drugs since hospital discharge. But in January of 2012, bad luck struck again, Mr.Yong again appeared to vomit and have blood in the stools, and this time was more serious than the last. Mr.Yong came to a local hospital for treatment and bleeding temporarily was stopped. However this simple treatment was just temporary relief to illness, and can't fundamentally solve his suffering. Vomiting and blood stools may be a relapse again.
  It was kind of lucky chance coincidence that Mr.Yong came to Modern Cancer Hospital Guangzhou for treatment. With 30 years of clinical experience in the treatment of liver cirrhosis, Director Zhen XiangLin carried out overall physical examination for Mr.Yong and found out that Mr.Yong not only suffered from a fatty liver cirrhosis, ascites, spleen enlargement, spleen function hyperthyroidism, but also type 2 diabetes. Getting the diagnosis results, Director Zhen began to make a treatment plan. With many years of experience in traditional Chinese medicines, Director Zhen flexibly applied the combination of Chinese and western medicines to protect symptomatic liver, kill viruses and prevent hepatic fibrosis, so that promote the regeneration of liver cells; when the condition improved, partial splenic artery embolization was performed; finally stem cell immunotherapy was given.
  Stem cell technology is through femoral artery puncture to selectively place catheter into hepatic artery: firstly perform contrast examination and then infuse the cells with differentiation potential through the catheter, so as to help the liver cell regeneration and to achieve remedial goal. There are many methods in the world, like portal vein infusion, vein input infusion and liver puncture implantation, but Modern Cancer Hospital Guangzhou think that due to hepatic artery is the nutrition artery, so artery infusion should be the best.
  After more than 10 days of treatments, Mr.Yong's illness has got a good control, and also his physical condition was in good state without nausea and vomiting, abdominal distension discomfort. Besides, he slept well. During hospitalization, Director Zhen took detailed records of Mr. Yong's condition everyday and made corresponding changes to treatment plan timely as per his physical reaction. The nurses of responsibility also gave the most meticulous cares and the translator team provided the most enthusiastic help. On April 1st, Mr.Yong discharged impassionedly from the hospital and returned to Indonesia, and he also sincerely said that he would introduce the beautiful name-- Modern Cancer Hospital Guangzhou to all of his friends.
  On June 9, 2012, Mr.Yong came to Modern Cancer Hospital Guangzhou for return visit and the examination results showed that, his condition was stable and he was in good health. Mr.Yong couldn't forget the care from all medical personnel of Modern Cancer Hospital Guangzhou and wrote an acknowledgement letter of his deep blessing to this hospital.
  "Sincerely thank Almighty Allah as he guides me to come to Modern Cancer Hospital Guangzhou for treatment.
  I was diagnosed as liver cancer by Indonesian doctors. My physical condition was very weak and sometimes I vomited, however, with the guidance of Almighty Allah, I went to Modern Cancer Hospital Guangzhou where I received stem cell therapy. Thank Allah, my condition has improved a lot.
  Here, I would like to take this opportunity to express my deep gratitude to medical team in the leadership of Director Zhen Xianglin, nurses of third floor and outstanding translators like Zhang Xiuzhen for their warm care and help.
  Hereby express my heartfelt blessings!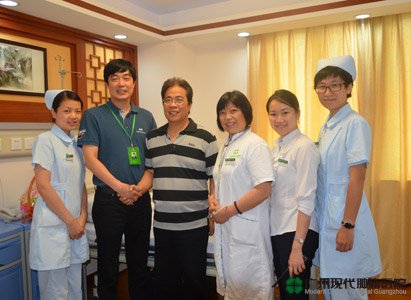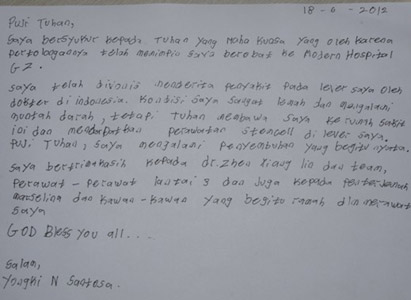 If you have any questions, please contact us via online consultation, email or phone call. If you find our website useful, please follow our FaceBook and YouTube, health information will be updated regularly.
Online Inquiry
CLICK HERE!
Let's Have A Healthy Life!
Video
To show you
what is cancer by
videos
Chatting on Facebook

Become a fan of us!
+Follow
We are waiting for you.