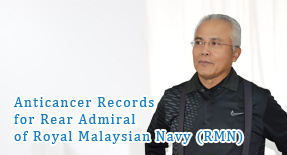 The Days Of Battling Against Cancer In ...
In early February of 2014, Mr. Zainal was informed by the local hospital in Malaysia that his postoperative rectal cancer has metastased to pelvic cavity, liver, neck and mediastina...
Find treatments at our hospital
A Therapy to Cut Tumor Blood Supply.Starves Cancer to Death.

Cooling and Heating to Kill Tumor and Stimulates Anti-tumor Immune Response of Human.

125I Seed Implants –Tumor-Oriented Therapy.

Cancer topics
select a disease...

Online Inquiry
CLICK HERE!
Let's Have A Healthy Life
Video Center
To show you
what is cancer by videos
Contact Us

MANILA OFFICE
add:
Unit A-1102,6780 Jaka Building Ayala
Avenue,Makati City,Metro Manila.
tel:
02-8221222(Landline),
0915-4642818(Globe),
0922-8083333(Sun)

DHAKA OFFICE
add:
9C, Navana Tower, Gulshan-1, Dhaka.
tel:
01775-105555
01775-106666
Add us
Become a fan of us
on WECHAT