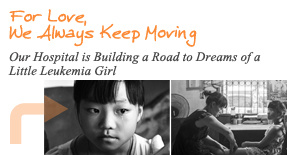 For Love,We Always Keep Moving...
Modern Cancer Hospital Guangzhou Is Building A Road to Dreams of A Little Cancer Girl.Little Jingwen is a 9-year-old girl who comes from Hunan Province China, where is thousand mile...
Find treatments at our hospital
A Therapy to Cut Tumor Blood Supply.Starves Cancer to Death.

Cooling and Heating to Kill Tumor and Stimulates Anti-tumor Immune Response of Human.

125I Seed Implants –Tumor-Oriented Therapy.

Cancer topics
select a disease...

Online Inquiry
CLICK HERE!
Let's Have A Healthy Life
Video Center
To show you
what is cancer by videos
Contact Us

MANILA OFFICE
add:
Unit A-1102,6780 Jaka Building Ayala
Avenue,Makati City,Metro Manila.
tel:
02-8221222(Landline),
0915-4642818(Globe),
0922-8083333(Sun)

DHAKA OFFICE
add:
9C, Navana Tower, Gulshan-1, Dhaka.
tel:
01775-105555
01775-106666
Add us
Become a fan of us
on WECHAT