Interventional Therapy Benefited Me Continuous Passion for Life*
"Thank St. Stamford Modern Cancer Hospital Guangzhou for giving me courage to carry on my passion for life. The cutting edge technologies and considerate humanistic service here generated deep impression on me." LOW CHEW LONG said. "I also want to express my gratitude to my attending doctor and nurses here. They helped me in every respect of life with patience and carefulness. Although being treated in a foreign country, I felt like home. The free sightseeing service provided by the hospital entertained the patients.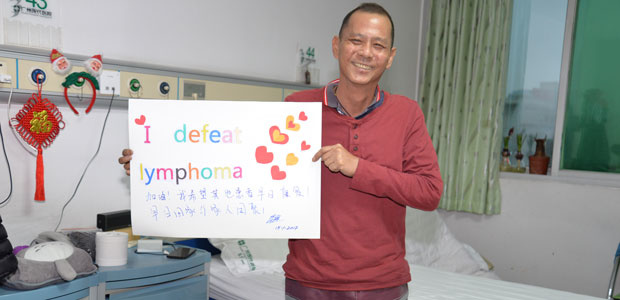 LOW CHEW LONG
LOW CHEW LONG, 48 years old, comes from Malaysia. In March, 2016, he was diagnosed with lymphoma in local hospital. Three months later, he traveled long distance to China and underwent treatment in MCHG. Now his tumor has disappeared and he's got good condition.
In Oct. 2015, LOW CHEW LONG was detected a peanut-size lump in his left armpit. He didn't feel any pain, so it's been neglected. In October, the lump enlarged to egg-like size and it also occurred in clavicles. Being worried about his own condition, he took a biopsy in local hospital and was diagnosed as lymphoma stage IV. The doctor offered the suggestion that he should take chemotherapy but he refused due to the side effects, killing both normal cells and cancer ones. Then he resorted to Chinese medicine therapy, 4 months later, his condition became worse and multiple enlarged lymph nodes occurred in his both armpits and neck.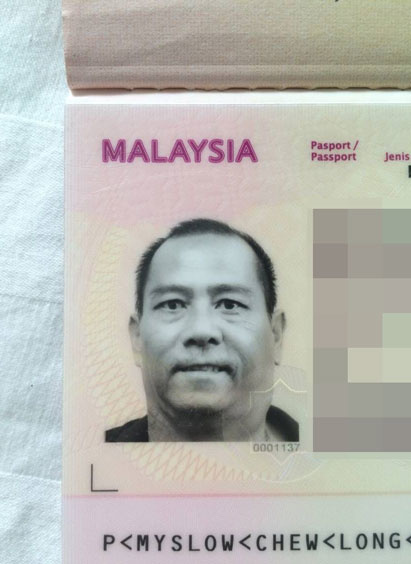 Before the treatment
Immersed in despair, he got to know MCHG on newspaper by chance and attended the free symposium in Kuala Lumpur, which provided free consultation about cancer. After discussion with doctor and being informed of the minimally invasive treatment in MCHG, he didn't hesitate to book his ticket to China.
In MCHG, LOW CHEW LONG was diagnosed with hodgkin's lymphoma multiple violations of lymph nodes. Therefore, The Multidisciplinary Team (MDT) conducted an intensive discussion over his condition and finally decided to apply interventional therapy to him.
According to LOW CHEW LONG, he felt slight pain during the treatment and a flow of heat passed through the body. "As I trusted doctors and treatment here, so I was free from fear."
After the treatment, he yielded good efficacy and the tumor shrunk without suffering any side effect. Comparing his previous condition with body weakness, now he is so energetic that he always walks around the hospital. His attending doctor, Pang Anneng said, as long as he takes regular recheck, he will achieve better efficacy and back to normal soon.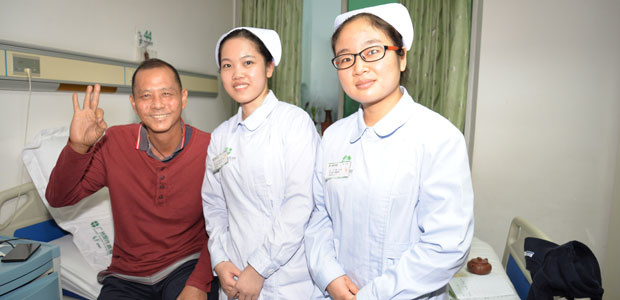 LOW CHEW LONG and medical staff
He was surprised that he got such good efficacy in a short period after the treatment. "I have a friend who also suffered cancer and took treatment in Malaysia. Due to the side effects of therapy, he became weak and now he even walks with a stick, while I live like a normal person. I sincerely feel sorry for him."
With a naturally cheerful and optimistic personality, he always encourage other patients, "Don't be afraid and be strong, positive attitudes can help you yield better efficacy." Although suffered from disease, he still shows great passion for life. He is so talkative that he gets acquainted with patients and medical staff in the hospital. They all speak highly of him.
He also joked that, "he disease didn't take advantage of me, I even gained 2 kg during my stay in the hospital."
Since the foundation, MCHG has achieved great improvement in minimally invasive treatment and has benefited numerous cancer patients. In the course of serving more patients, we still have long way to go.
*Surgery, in addition to the appropriate chemotherapy and radiotherapy, are effective in treating early cancer, but certain patients in late stage of cancer may not be tolerate surgery well as they can be relatively weak. A combination of carefully planned minimally invasive therapy, chemotherapy or radiotherapy can effectively reduce the side effects and discomfort of treatment and may help patient get better efficacy.