70-year-old Man Fight Cancer with Minimally Invasive Therapy*
HENKY TJANDRA comes from Indonesia. In the middle of May, 2019, he felt pain in the throat while having food, so he went to the local hospital and got it checked. It was in Singapore where he was diagnosed with stage I non-Hodgkin's lymphoma. He was thrilled and depressed by the result. In his experience, cancer is life-threatening disease without cure.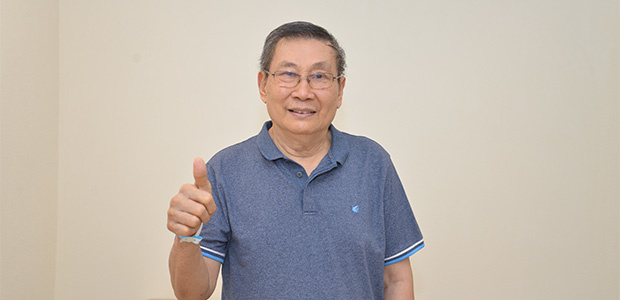 HENKY TJANDRA
However, with the support and encouragement of family, he was relieved from big pressure. Luckily, one of his relatives who once took treatment in St. Stamford Modern Cancer Hospital Guangzhou and got good result, recommended the hospital as an ideal option. After that he consulted the doctor in Jakarta Office and made the decision of leaving for Guangzhou and seeking treatment.
Arriving at St. Stamford Modern Cancer Hospital Guangzhou, he was in doubt and hesitation. In the following days, he knew well of the hospital and got ready for the treatment, of which he was not even sure in the first place.
Based on his case, the Multidisciplinary Team measured a treatment plan combining interventional therapy and targeted therapy. According to his attending doctor, differ from traditional surgery, interventional therapy, with a 1-2 millimeter incision, directly targeted to the tumor via arterial infusion, moreover, the drug concentration of interventional therapy is 2-8 times higher than that of systemic chemotherapy.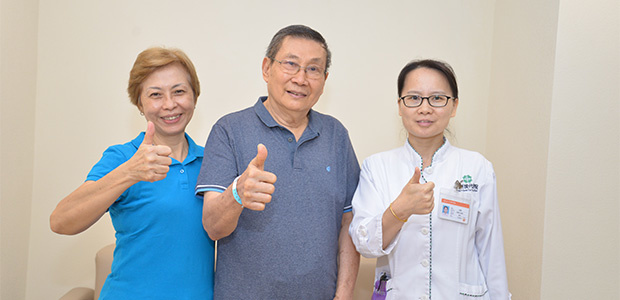 HENKY with his wife and attending doctor Lin
Interventional therapy kills cancer cells more effectively. Along with targeted therapy, the combined treatment avoids the side effects of surgery and chemotherapy, reduces the risk of metastasis and recurrence and prolongs patient's survival. Therefore, minimally invasive therapy gained trust of many cancer patients.
The effect of the treatment eliminated all concerns HENKY had before the treatment. With 3-month of treatment, his condition was well under control, for which, he cherishes great gratitude to his attending doctor and caring nurses. "Also the credit should be given to my family, who were always supportive and considerate." HENKY said with great relief.
Upon discharge, HENKY shared his anticancer experience, "as a patient, one should trust the doctor and build self-confidence, cooperating with the doctor, complying with his instructions and developing a cancer patient-friendly diet.
*Surgery, in addition to the appropriate chemotherapy and radiotherapy, are effective in treating early cancer, but certain patients in late stage of cancer may not be tolerate surgery well as they can be relatively weak. A combination of carefully planned minimally invasive therapy, chemotherapy or radiotherapy can effectively reduce the side effects and discomfort of treatment and may help patient get better efficacy.