Interventional Therapy Effectively Treats Lymphoma Recurrence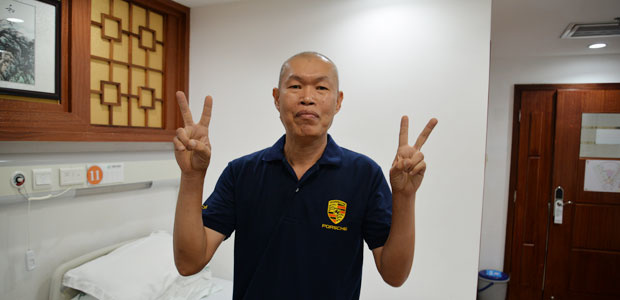 SARUDIN
SARUDIN, a 52-year-old Indonesian, was diagnosed with Non-Hodgkin lymphoma in 2016. Though he received 6 cycles of chemotherapy in Penang, Malaysia, cancer cells were found in his right collarbone and mediastinal lymph nodes in 2018. After taking interventional therapy and natural therapy in St. Stamford Modern Cancer Hospital Guangzhou, all the cancer cells died and tumors disappeared.
Misfortunes Never come Singly, A Tumor was Found during the Coronary Artery Bypass Grafting
In January 2016, SARUDIN received a coronary artery bypass grafting because of coronary heart disease. However, misfortunes never comes singly, a tumor was found behind his heart during the surgery. Although the tumor was removed during the surgery, postoperative biopsy result confirmed to be Non-Hodgkin lymphoma. Hearing the truth of cancer, SARUDIN fell into despair. He already suffered a lot and could not deal with the suffering brought by cancer. Doctor in Penang recommended chemotherapy and promised him cancer cells would disappear and never come back. Follow doctor's advice, SARUDIN received 6 cycles of chemotherapy during February to June, 2016, and cancer cells do disappear as the doctor promised.
Cancer Recurred 2 years after chemotherapy, turn to St. Stamford Modern Cancer Hospital Guangzhou
However, good time doesn't stay long, SARUDIN was told that cancer cells were found in his right collarbone and mediastinal lymph nodes in a follow-up examination in May. Chemotherapy was recommended again, but SARUDIN rejected without hesitation. The idea of taking treatment in St. Stamford Modern Cancer Hospital Guangzhou came to his mind. Actually, SARUDIN already knew St. Stamford Modern Cancer Hospital Guangzhou in 2016, but the worry of families' disapproval and the promise of the doctor made him chose chemotherapy. To his surprise, his idea of taking cancer treatment in St. Stamford Modern Cancer Hospital Guangzhou was supported by every family member, nothing is important than the treatment.
Interventional Therapy Effectively treats Lymphoma Recurrence
With the company of families, SARUDIN was admitted to St. Stamford Modern Cancer Hospital Guangzhou on Jun. 28, 2018. Based on the result of examinations he took right after admission, the multidisciplinary team (MDT) tailored a treatment plan for him: natural therapy to enhance his immunity, interventional therapy to destroy and kill the cancer cells.
SARDIN has already knew the treatment principle of interventional therapy through the explanation of doctor in Surabaya satellite office, introduction and video post on the hospital website. Interventional therapy is a mini-invasive therapy performed under the guidance of medical imaging equipments. With a 1-2 millimeter incision, paracentesis can be performed with the lead of medical imaging equipment. Then a special tube, catheter or other sophisticated apparatus are introduced to inhibit the growth and spread of cancer cells, so as to cut off the tumor's blood supply and reach the effect of local chemotherapy without any toxic side effects of chemotherapy. Neither discomforts nor side effects appeared during the treatment. Now, all the cancer cells died after the treatment and tumors were disappeared.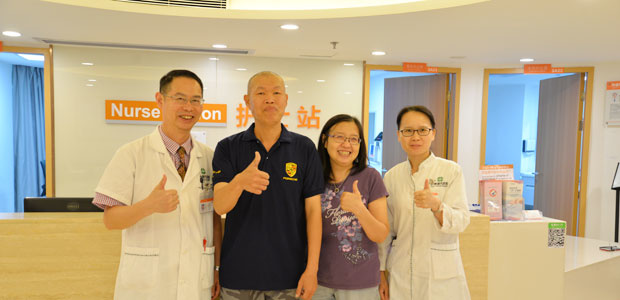 The couple and doctors
Thanks St. Stamford Modern Cancer Hospital for giving a new life
SARUDIN's wife cannot help but sigh:"I felt my world collapse when hearing the news that my husband got cancer. Cancer is just like a death sentence, fortunately we found St. Stamford Modern Cancer Hospital Guangzhou, doctors, nurses and interpreters here are kind and nice, thanks them for helping us pull through." SARUDIN also shared his encouragement to other cancer patients:"Never give up, only when you fight against cancer actively, can you restore to health as early as possible."
Types of Lymphoma:
There are two main types of lymphoma, that is, Hodgkin lymphoma and Non-Hodgkin lymphoma, of which the latter is more common. There are many types of Non-Hodgkin lymphoma and it is mainly divided into acute Non-Hodgkin lymphoma and chronic Non-Hodgkin lymphoma. Based on the cell type, it can be divided into cell B lymphoma and cell T lymphoma, while the former is more common.
*Surgery, in addition to the appropriate chemotherapy and radiotherapy, are effective in treating early cancer, but certain patients in late stage of cancer may not be tolerate surgery well as they can be relatively weak. A combination of carefully planned minimally invasive therapy, chemotherapy or radiotherapy can effectively reduce the side effects and discomfort of treatment and may help patient get better efficacy.