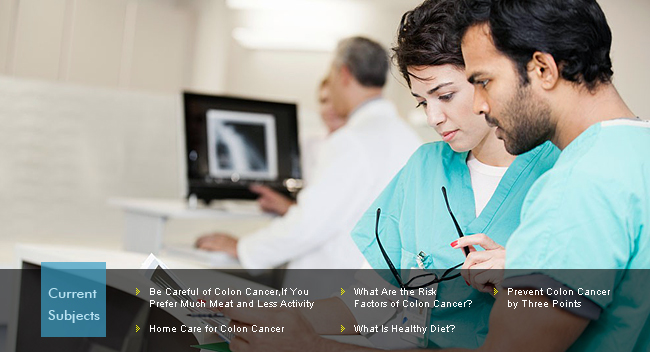 Colon Cancer May Attack You
Because of Your Bad Daily Habits
It is reported that, there are over 12,000, 000 new developed colon and rectum cancer cases, which range the third in malignant tumors in male while the second in female, tightly following breast cancer. Between these two intestinal cancers, colon cancer takes a high incidence obviously. As living standards improving in past few years, the diet habits and structure of the people from Asia, Latin America, Africa and other areas have changed greatly that the incidence and mortality of colon cancer keep going up. Apart from that, most colon cancers are in middle or late stage when being detected. Many researches supported that the incidence of colon cancer keeps increasing is because of the changes of living habits and diets, such as high intake of fat diets and insufficiency of activity. To know the healthy living style helps us to prevent from the attack of colon cancer.
Be Careful of Colon Cancer, If You Prefer Meat and Less Activity
The people who often have high fat or oil foods would increase the burden of intestinal tract and lead to... ...[Read More]

Be Careful of Colon Cancer



Attention! Hemorrhoids can be a sign of colon cancer. About 50% -80% colon cancer patients in early stage are misdiagnosed... ...[Read More]

Reasonable Diet Helps Prevention of Colon Cancer


About 40% patients develop cancer is owing to improper diets, in which is including colon cancer patients according... ...[Read More]
---
Three Points Help You Prevent Colon Cancer


It is necessary to prevent colon cancer by yearly related screening from the age of 30. Those people of high risk should... ...[Read More]

Home Care for Colon Cancer



Colon Cancer Patients should choose the foods that are bland and fresh, such as fresh fish, egg, lean meat, fresh fruits and vegetables... ...[Read More]

How to Regulate Your Physical Condition after Surgery of Colon Cancer through Diets
As the main treatment for colon cancer, surgery would bring the patients anemia and physical weakness.Some patients may develop... ...[Read More]
---
Dr. Wang Ronghua
■ Specialist of Image Department and Minimally Invasive Therapy
Dr. Wang has been involving in imaging diagnosis and radiation interventional therapy clinically for more than 20 years, with rich experience in tumor diagnosis of CT and MRI, he also masters interventional therapy in treating colon cancer. Dr. Wang introduces that, to colon cancer, it would mainly apply vascular interventional therapy, which is to inject chemical medicine selectively in the vessels supplying blood to tumor. As the local medicine concentration increases, it effectively kills cancer cells to cut down the tumor size. It can also use non-vascular interventional therapy on patients with obstruction in colon because of increased tumor size. The non-vascular interventional therapy is to implant a metal stent inside the stenosis of colon to enlarge intestinal tract that the patient can have smooth bowel movement.

Interventional therapy normally is performed under medical imaging devices that the whole procedures are visible and safe. Additionally, doctor would use special vessels in puncture, which would make the trauma smaller and can efficiently find the tumor without doing great harm to other tissues and organs.

---

Common Knowledge of Colon Cancer
How do you know about colon cancer? Do you know how it happens, its incidence, screening methods, etc.? Come more close to it, please click here.

| | |
| --- | --- |
| Next Health Topic: | |

A Commendatory Letter written by the family of An Intestinal Cancer Patient from Bangladesh
Mr. Tan is a colon cancer victim from Bangladesh. On February, 2012, he was suddenly developed the symptoms of abdominal pain and distention, sometimes vomiting too. After PET/CT, a lump was detected in his abdomen and finally it was diagnosed intestinal cancer with metastases to greater omentum and abdominal wall... ...[Read More]
Set Up the Confidence in the Fight against Cancer, Search for the Hope of Life
I'm from Surabaya, Indonesia. My husband developed pus and blood stools, urinating difficulties, pain in right lower abdomen and lumbosacral region that he even could not walk. He was found of cancer through examinations, and the cancer cells have been metastases to other bones of whole body. The doctor said even treatment cannot help him anymore. It never occurs to me that my healthy husband would develop cancer so severe. Will I watch him die... ...[Read More]
Treatment for Colon Cancer
As technologies develop, there are multiple new treatment methods for colon cancer. But which is the best one for a patient, the factors should be considered are many, such as tumor size, staging, patient's age and physical condition etc. But what are those treatments? Click here to know more.

---

Keep an eye on us:
---
Why not share this E-mail to your friends or family if you think it helps you.
Pleaseclick hereto quit the subscription if you don't want to receive this E-mail any more.
Copyright © 2012 Modern Cancer Hospital Guangzhou, China All Rights Reserved.