Build confidence to fight cancer, find a new hope for life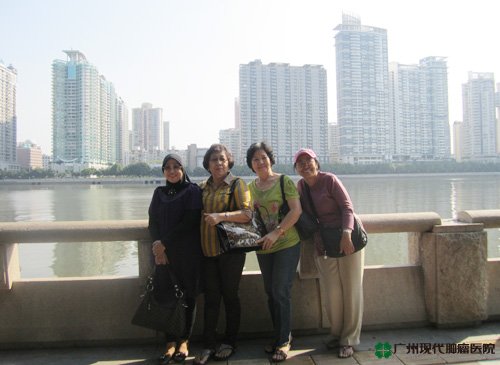 I am an ordinary woman from Surabaya, Indonesia, and in June 2011my husband suddenly appeared stool containing pus and blood, difficult urination, right lower abdominal and lumbosacral pain as well as inability to walk. After MRI examination in the local hospital, the results showed that he was suffering from cancer and cancer cells had spread to bones of his whole body, the doctor said that there was no way for treatment. Never did I imagine that my husband who had always been healthy, would suffer from cancer and what's worse, I was told that he was untreatable. Shall I just watch him die?
  Then, we were introduced to Modern Cancer Hospital Guangzhou in China by my son's friend, which were strongly opposed by our relatives, but I didn't want to give up any chance that can help my husband survive. Later, under heavy pressure, accompanied by my son, we went to Surabaya office of Modern Cancer Hospital Guangzhou, making an appointment for medical tourism. Clinging to the last hope and letting my husband see a more beautiful world in the rest of his life, we came to china.
  Staff in Surabaya office of Modern Cancer Hospital Guangzhou helped us with the application of Visa and tickets, carefully registering our departure time, arrival time and all the people would come with us, and telling us there would be a airport Shuttle sent by the hospital to pick us up.
  Besides, they also gave us a detailed map of Guangzhou and a mobile phone card so that if we did not need the airport shuttle services, we can reach the hospital by seeing the map, and we can use the phone card to contact the hospital and our relatives in Indonesia, which bring us a great convenience and help us save some costs. The heart-to-heart service moved us deeply.
  After we arrived at Modern Cancer Hospital Guangzhou, nurses arranged a comfortable ward for us and the doctor came to ask my husband's condition in detail, besides, interpreters introduced to us the hospital environment and examinations and treatments my husband was about to undertake so as to let us know the whole process of the treatment. The doctors, nurses, and interpreters here were very friendly, and our communications were very happy.
  My husband was scheduled to do a series of examinations and then his doctors designed a treatment plan based on the test results. In order to alleviate his bone pain, the doctor carried out many cycles of radiotherapy. After the pain disappeared, he was received minimally invasive interventional therapy. Just at this time, a miracle appeared. After those treatments, my husband who could only lie in bed and "walk" by a wheelchair stood up! This made us very excited and also gave us a new hope!
  Under treatment and nursing by doctors and nurses, my husband's condition gradually improved. At the same time, based on the premise that would not affect his conditions, our doctors designed a series of tour routes, which included a visit to Beijing Road Shopping Mall.
  It turned out that in order to provide us a great tour, the staff of Modern Cancer Hospital Guangzhou would go to tourist destinations in advance to know the conditions such as, where was more suitable for getting on and off, which places would provide food that were more suitable for patients, where are more suitable to rest, etc. After a detailed investigation, they would inform the interpreters our whole trip plan, time, place and indications, etc. The staff who were responsible our trip would arrange shuttle buses according to the numbers of visitors, interpreters and first-aid appliances.
  With the heart of thanksgiving, accompanied by the medical staff and many other cancer patients, our tour started. Here our sincere gratitude sent to Modern Cancer Hospital Guangzhou for providing us such meticulous services.
  On the way to Beijing Road Shopping Mall, the interpreters chatted with us, told jokes, sang songs and played games, thus our whole bus was full of laughter. Numerous high buildings and large mansions, parks with beautiful blooming flowers were passing through our window. While my husband and I were viewing the flourishing of Guangzhou and the beautiful scenery, the bus arrived at Beijing Road Shopping Mall. After getting off, interpreters reminded some tips on this travel again and then in their company, we visited the street, alley, and shops with ancient Chinese characteristics, enjoyed the exquisite food, fully felt Guangzhou that integrated thousands of history with unique modern cultures.
  The happy time always passed so quickly and soon we would have to go back to hospital, in the guidance of staff, we got on the bus in order. On the way back, we shared our shopping goods, shared our pictures.
  Thanks God, thanks to Modern Cancer Hospital Guangzhou, you give us a new hope and this wonderful medical tourism also left us a lot of good memories!
If you have any questions, please contact us via online consultation, email or phone call. If you find our website useful, please follow our FaceBook and YouTube, health information will be updated regularly.
Online Inquiry
CLICK HERE!
Let's Have A Healthy Life!
Video
To show you
what is cancer by
videos
Chatting on Facebook

Become a fan of us!
+Follow
We are waiting for you.