NGHIEM THI THU: Interventional therapy helps me walk out of despair and regain confidence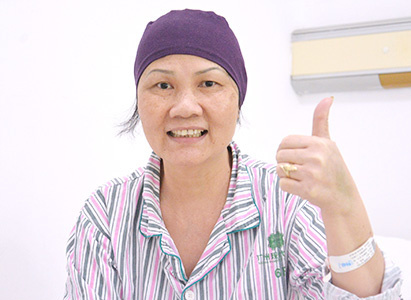 NGHIEM THI THU
NGHIEM THI THU grew up near a mining pit, although a lot of friends and family members around suffered from a variety of respiratory diseases due to environmental pollution, her body was good, rarely got sick. However, on October 29, 2014, she suddenly experienced chest tightness, breathing difficulty, malaise without spiritual energy. So she went to hospital for CT, and it was found that there was left pleural effusion, so the doctors diagnosed it as pulmonary tuberculosis. But one month later, her condition was not improved, so she had to do a biopsy and it suggested lung cancer. Suddenly this bad news broke her calm and happy life.
NGHIEM THI THU did an intravenous chemotherapy in Vietnam, but her condition did not improve, with dyspnea, cough, chest pain and other symptoms torturing her all the time. Her family and she were very anxious and wanted to seek a better hospital with better treatment. By chance, they heard Modern Cancer Hospital Guangzhou from a lung cancer patient nearby who just finished his treatment in this hospital and received very good efficacy. So they visited the patient and learned that he could act like a normal person even he was so deeply tortured by lung cancer before. This visit brought her new hope, so she came to Hanoi office of Modern Cancer Hospital Guangzhou for free consultation. After discussion with her family, she finally decided to go to Guangzhou, China for treatment.
"In fact, before I came to Modern Cancer Hospital Guangzhou, I was a little bit hesitant as I just knew this hospital had good technologies and services from others without any actual experience of my own," told by NGHIEM THI THU. After inspections in the hospital, she was eventually diagnosed with poorly differentiated adenosquamous carcinoma of the left lung with pleura mediastinal lymph node metastasis. The definitive diagnosis results as well as help and care from the doctors and nurses enhanced her confidence in Modern Cancer Hospital Guangzhou. Because when she was in Vietnam, the local doctor could not even give her a definite diagnosis due to restriction of medical conditions.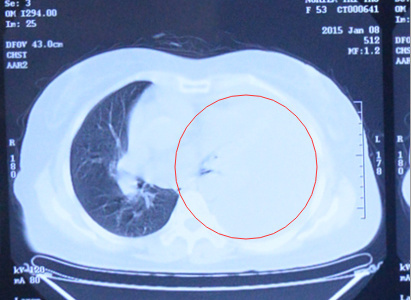 Before treatment, pleural effusion was in white
After diagnosis, MDT expert team of Modern Cancer Hospital Guangzhou developed individualized treatment program for her as per her condition and physical status. First, drained pleural effusion out of her, and then performed interventional therapy. "Before when I finished intravenous chemotherapy in Vietnam, I just felt so tired, but after interventional treatment done here, I did not feel any bad feeling. As you can see, the efficacy on me is so good, "said by NGHIEM THI THU with excitement. Currently NGHIEM THI THU has accepted three times of interventional treatments, and her condition has improved a lot. "I no longer cough, and after the second interventional treatment, the tumor has shrunk by half, with pleural effusion being disappeared, what's more, my spirit status is also very good," told by NGHIEM THI THU with her warm smile, "Since I knew I had the disease, my family and I were so desperate that even lost faith before. However after receiving treatment here, I could do the things by my own. For example, during this year's festival, I myself prepared the things needed for the New Year Festival. I am very happy. "
During the closure of the interview, NGHIEM THI THU shared her wishes with us, "I hope I can continue my work, then live a happy life with my family." We also wished her a speedy recovery!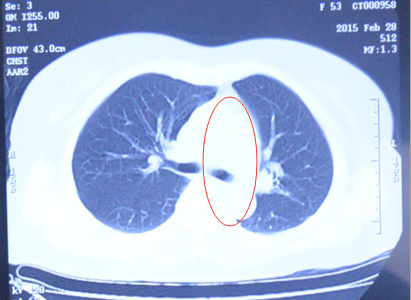 After treatment, pleural effusion almost disappeared
If you have any questions, please contact us via online consultation, email or phone call. If you find our website useful, please follow our FaceBook and YouTube, health information will be updated regularly.
Online Inquiry
CLICK HERE!
Let's Have A Healthy Life!
Video
To show you
what is cancer by
videos
Chatting on Facebook

Become a fan of us!
+Follow
We are waiting for you.