Warm Heart Relieved My Fear of Cervical Cancer
  I am a mother with four kids and 67 years old now. My daily life used to be very comfortable and cozy. I cultivated flowers and had a walk every day. I thought that my later years would also be so cozy and had never thought that I would have such a horrible disease like cervical cancer.
  Refusal to Accept Chemotherapy
  However, misfortune happened to me one day. In 2012, I found myself bleeding again after menopause for many years. I thought it was particularly abnormal and went to a local hospital in Indonesia for examination with my families. The doctor told me that there was a 5.1cm*5.9cm tumor in my cervical, and a lymph node of 2.3cm2.6cm occurred distantly. And that was cervical cancer. I was scared and had no idea about what to do. The doctor suggested me to had chemotherapy. But we refused it after checking a lot of information about it. The process of chemotherapy would be a torture for the patient, who would also undergo vomiting and loss of hair, etc. I was very old then and did not want to stand such a torture. Thus I began to take TCM for cancer treatment. It worked at the beginning and stopped the bleeding, however, the symptoms came back again.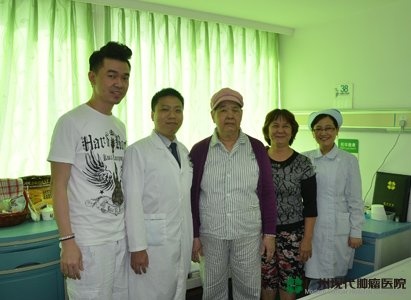 Consultation in Jakarta Office
  My kids were worried about my disease and searched a large quantity of information about hospital. They intended to cure my disease abroad. We could have access to the information about abroad hospitals only by searching online and consulting through phone. But we were informed that Modern Cancer Hospital Guangzhou had a branch office in Jakarta and the doctor there can offer us free consultation services. Thus my children took me to Jakarta with my medical reports.
  Specialist Li Yuanzhong in the branch office put forward a treatment plan with interventional therapy and particle implantation therapy, which we had never known before. We searched it online and knew that these therapies had been widely applied to treat cancer these years. They were international advanced technologies but haven't been introduced to Indonesia. Most importantly, these therapies had little side effects and pain. Therefore, we decided to accept treatments in Modern Cancer Hospital Guangzhou in China.
  Interventional Therapy and Particle Implantation Therapy Making Tumor Vanish
  I was so happy about my choice to be here. And I could had advanced treatments. This was my third time to come to this hospital and I had accepted interventional therapy for 6 times and once particle implantation therapy so far. My bleeding disappeared after I accepted my first interventional therapy. Now, my 5.1cm*5.9cm tumor as well as an my 2.3cm*2.6cm lymph node have vanished. My tumor markers are normal. I am eased because I feel little pain, and postoperation response after Interventional therapy and particle implantation therapy is absent. Now, I feel better and my weight has increased by 3kg.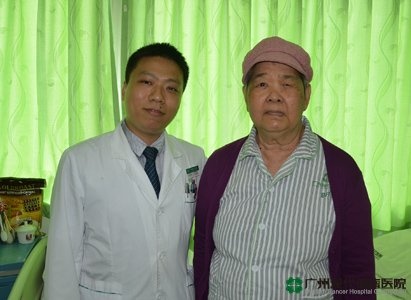 No Pain and Fear
  Being here, I forget that I am a patient. The doctors and nurses here smile as sunshine out of clouds, which makes people feel warm and comfortable. They always comfort and encourage me, and make me forget the pain and horror of cancer. We just leave everything about my cancer to Dr. Ou Yuji, my attending doctor, and just care about what we will chose in the next meal.
  I am an old woman who loves to join in the fun. Thus I was ready to join in all activities in the hospital like visiting a temple, having a sight in the garden, watching song and dance performance, etc. These activities make me very happy and help me remove my anguish of hospitalization.
  It will take a long time for me to defend against cervical cancer. I really appreciate my families' companion. It gives me energy and makes me believe that the medical advancement could help us find the best way to solve torture.
If you have any questions, please contact us via online consultation, email or phone call. If you find our website useful, please follow our FaceBook and YouTube, health information will be updated regularly.
Online Inquiry
CLICK HERE!
Let's Have A Healthy Life!
Video
To show you
what is cancer by
videos
Chatting on Facebook

Become a fan of us!
+Follow
We are waiting for you.