YONG AH SANG: I Believe I Can Defeat Cancer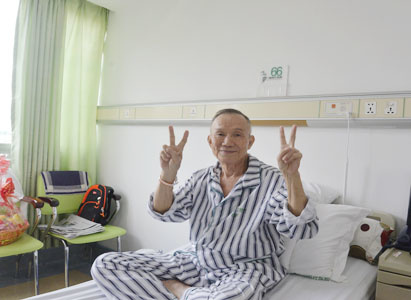 YONG AH SANG
From Malaysia, at the age of 73 this year, YONG AH SANG had never thought that he would get cancer before with his healthy and strong body. Since December 2014, he started to become thinner and thinner gradually, but he had good appetite and mentality as normal without any discomforts. This made him and his families &friends confused. One day, during a trip to China, he suddenly found that he had a sense of being choked when he ate, and he had to end the trip and went back home at once. His children took him to hospital for checkup. He was told esophageal cancer by three doctors. Upon hearing that, he thought that it was a fate of joke at such an old age. However, he was so strong and optimistic that he accepted this fact without complaints.
The local doctors suggested him take surgery to remove the tumor. But his children did not agree with that. They did not want his father to suffer the pain of surgery because of his old age. And they found other treatments including traditional Chinese medicine and immune ozone therapy for him. So YONG AH SANG began to take Chinese medicine. After a month, his discomfort of swallowing was reduced, but its effect was very slow. Meanwhile, he got immune ozone therapy. The doctor suggested him take this therapy for 20 times, and said that after 4 times, it would work. However, the effect was also very slow. So he gave up after taking for 7 times.
His children had been worried about his father and kept finding other more suitable treatments for him. By chance, YONG AH SANG's son found Modern Cancer Hospital Guangzhou via web. And they knew the story of SEE YAP LOONG, who got the same cancer as him. When knowing Mr. SEE got good therapeutic effect and was in good condition in Modern Cancer Hospital Guangzhou, YONG AH SANG saw the hope. Hence, companied by his son, he came to Kuala Lumpur office of Modern Cancer Hospital Guangzhou to consult, and believed that the minimally invasive therapies were quite suitable for his condition. After family discussion, he decided to go to Guangzhou, China to take treatments.
When he came to Modern Cancer Hospital Guangzhou, he was examined by CT and diagnosed with cancer in the middle and lower section of esophagus. MDT (Multidisciplinary team) made a plan of interventional therapy and biological immunotherapy for him according to his situation. He still remembered the day when he got interventional therapy. He said that it was making his body feel little bit hot when the drug was being injected into his body. After the therapy, he was not allowed to get out off the bed in 24 hours. As 24 hours passed, he could move and walk, and felt good. And then he had a fever which was gone after several days. At present, he has good appetite, sleeps well and can swallow normally.
YONG AH SANG
"Except for discomforts for several days after treatment, it is like vacationing at other times." YONG AS SANG said. With positive attitude, he got up at 5 o' clock every morning, and moved around in his ward. And then he went to the hanging garden on the fourth floor of the hospital for walking and having a fresh breath. He said, "The environment is very good here. The services here are different from Malaysian hospital. Here, all the nurses and doctors are so nice to me, providing very good services. I am confident about the following treatments because technology of Modern Cancer Hospital Guangzhou is NO.1 with rich experience in cancer treatment."
At the end of the interview, YANG AH SANG shared many stories of his life to us. He specially thanked his filial children for encouraging and supporting him. He also said that his favorite was travelling, especially travelling in China. He hoped and said, "I want to defeat this disease as fast as I can, so that I can travel around the whole China, and go through every province of China." We hoped that his wish could come true soon.
If you have any questions, please contact us via online consultation, email or phone call. If you find our website useful, please follow our FaceBook and YouTube, health information will be updated regularly.
Online Inquiry
CLICK HERE!
Let's Have A Healthy Life!
Video
To show you
what is cancer by
videos
Chatting on Facebook

Become a fan of us!
+Follow
We are waiting for you.