Advanced Minimally Invasive Technologies Effectively Treat Liver Cancer
TJIU JEFRY, a successful entrepreneur who owns a factory and has a happy family, is 47 years old this year. Every day, he is content with a fulfilling and happy life.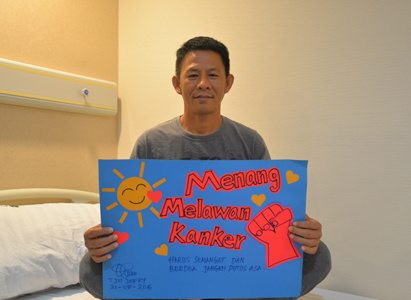 TJIU JEFRY
However, there was a turning point in June, 2015. TJIU JEFRY got abdominal pain, so he went to take check-up. After that, he was diagnosed with liver cancer. At that moment, TJIU JEFRY was so scared and confused. Although he had been suffering from chronic hepatitis, he had never thought that it would become liver cancer. What's more, his families also worried a lot. But, JEFRY was still optimistic and cheered up soon to find cancer treatment.
When he hesitated to take treatment in Indonesian hospital, his brother who worked on medical insurance recommended him Modern Cancer Hospital Guangzhou. His brother knew about the hospital from customers who were cancer patients and got good treatment effect in Modern Cancer Hospital Guangzhou. TJIU JEFRY saw hope and began to collect the information of the hospital. Besides, he also went to the Jakarta office of the hospital for consultation. When he knew that numerous cancer patients from Indonesia, Vietnam, Malaysia, the Philippines, etc chose minimally invasive treatments in Modern Cancer Hospital Guangzhou and gained good treatment effect, he thought that it was a reliable and a good option.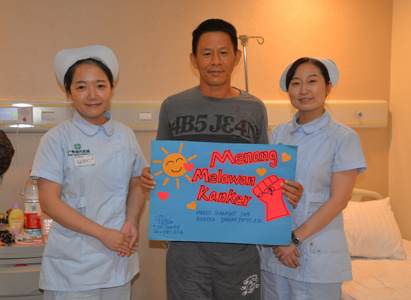 TJIU JEFRY and nurses
On June 31, 2015, with accompany by his wife, TJIU JEFRY arrived at Modern Cancer Hospital Guangzhou. On the second day, he took check-up first in the hospital. The result showed that his tumor was about 10*8*10cm big, and the value of liver cancer marker AFP was 3887 ng/ml. And then professional MDT (multidisciplinary team) customized the treatment plan: interventional therapy, microwave ablation and triple oxygen immunotherapy.
After TJIU JEFRY took the first interventional therapy, his AFP index decreased to about a hundred ng/ml. However, there were some side effects, such as belly discomfort, vomiting, bad appetite, etc. He said that it might because he was too nervous. Subsequently, he felt better to take the following treatments as he felt more relaxed. Currently, there are no side effects when he takes the treatments. He has totally received 6 sessions of interventional therapy, 2 sessions of microwave ablation and 4 sessions of triple oxygen immunotherapy. His condition is good and stable now, and the tumor marker AFP has inclined from 3887 ng/ml to 11.5ng/ml.
TJIU JEFRY felt gratitude to doctors and nurses at Modern Cancer Hospital Guangzhou. He said that the medical workers were very professional and the services were very good, especially the pick-up service for hospital admission and discharge. Meanwhile, he was very thankful to the God and his families. In addition, JEFRY encouraged other cancer patients and said, "Believe in doctor and the God, and take treatment. We can conquer cancer! "
When talking about the changes since he got cancer, JEFRY told us something about his work. He said that he haired the agency to help run his company. Although he did not worry about his business, it still had some influence. JEFRY hoped that his condition would become better and better so he could continue his normal work and life as before.
Best wishes for him!
If you have any questions, please contact us via online consultation, email or phone call. If you find our website useful, please follow our FaceBook and YouTube, health information will be updated regularly.
Online Inquiry
CLICK HERE!
Let's Have A Healthy Life!
Video
To show you
what is cancer by
videos
Chatting on Facebook

Become a fan of us!
+Follow
We are waiting for you.