Treatment effect and care drive fear away
  During February of 2012, Tehuykeav, who is from a small town of Cambodia, was beset with continuous coughing. The only possibility she suspected was some small problems. So she went to Battambang Province, expecting a small health examination. Unfortunately, she was told having lung cancer.
  In order not to upset her husband and child, Tehuykeav pretended to be as calm as nothing had happened. However, every mid-night when thinking she may be gone the other day and never see her husband and child and cook for them again, she could not help sinking into fear. From then on, she lived on counting her days and struggling with cancer.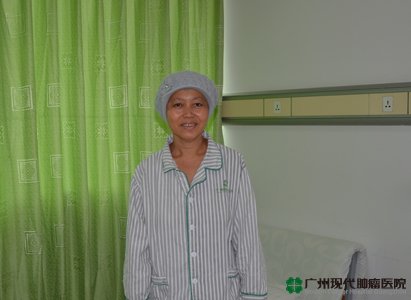 Loosing the beloved?
  Compared with sadness, Tehuykeav's husband had more fear of loosing his beloved wife when hearing about the news. So he took her wife to Thailand for more thorough examination, which confirmed the existence of a big tumor in her right lung and diagnosed it as advanced lung cancer. Due to distrust of treatment technology of Thailand, they then went to Vietnam for treatment. During March, 2012, Tehuykeav underwent 6 sessions of chemotherapy in a Vietnam hospital, expecting that her condition would be controlled. However, it turned out that the tumor did not shrink regardless of her suffering of the bitter side-effects. Instead, the tumor became 1/3 larger than it was one month before. Both Tehuykeav and her husband felt hopeless with the treatment. During the treatment in Vietnam, Tehuykeav's coughing became severer and sleep poorer day by day. She could only sleep for 2-3 hours per day. Her husband was frightened to awake by dreams and then rushed to her sick-bed to see whether she was still breathing. Only after confirming she was still there, can he fall asleep again.
  Because of not getting good treatment effect in Vietnam, Tehuykeav and her husband kept on seeking for other treatment after came back to Cambodia. Since Tehuykeav was diagnosed with lung cancer in February, she has lost her plump figure and become very thin. Her energy also has become so poor that she could not even brush her teeth and wash her face, not to mention go up and down stairs on her own. Seeing the suffering of his beloved, her husband fell into deep sorrow. Their son even felt strange why his mother, who used to be very healthy, now stayed in bed all day and could not cook delicious food for him and his daddy.
  Such bitter days did not stop until they saw the information of Modern Cancer Hospital Guangzhou in the television one day. Without a second choice, Tehuykeav and her husband decided to take a chance and go to Guangzhou, China for a better treatment.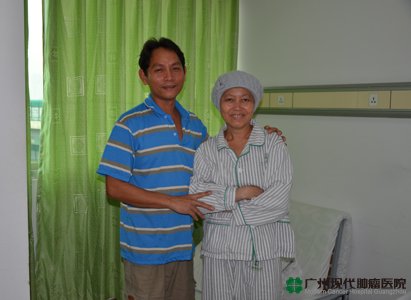 No more fear but firm confidence of fighting against cancer
  In September, 2012, Tehuykeav came to Modern Cancer Hospital Guangzhou with the company of her husband. Attending doctor Dr. Pang arranged a thorough examination for her immediately to further confirm her condition. She then was diagnosed with small cell lung cancer and that 2/3 of her right lung was occupied by the tumor. According to her condition, Dr. Pang and other specialists held a joint consultation and finally settled a comprehensive treatment plan for her. The treatment plan consisted of cryosurgery, which was aimed to kill 50%-60% of the tumor, and then two sessions of interventional therapy, which can obstruct the blood supply of the tumor and achieve the purpose of inhibiting and killing the cancer completely.
  After the comprehensive treatment, Tehuykeav coughed less and felt no more difficulty in breathing. She was able to go up and down stairs and deal with daily life by herself. The most exciting thing was that the big tumor has shrunk 1/3 and the tumors in local range even have disappeared completely according to the postoperative examination. "From then on, my husband and I fear no more and are confident in defeating cancer", said Tehuykeav. It was the good treatment effect and Dr. Pang's advanced treatment technology that drove away Tehuykeav's fear and gave her confidence. Moreover, the intensive care of the nurses in Modern Cancer Hospital Guangzhou enabled both Tehuykeav and her husband to feel the warmth of this hospital and be filled with hope.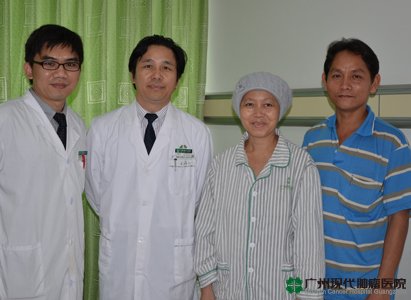 Come back home
  Both Tehuykeav and her husband were deeply impressed by the doctors, nurses, interpreters and the environment of Modern Cancer Hospital Guangzhou. In particular, the hospital provided food according to patient's individual appetite and often organized tourism activities. Tehuykeav and her husband once took part in a day trip in Beijing Road, where they not only felt the exotic cultural customs, but most importantly had a pleasant time together with other wardmates. During the activity, they got to know each other, exchanged experience of fighting against cancer, supported and encouraged each other. It was a unique and helpful way in Modern Cancer Hospital Guangzhou to help patients.
  As hospital discharge approached, Tehuykeav became eager to go back home. Since her condition was under control, she could not wait to go home to cook for her son and husband, so as to make up the time spent in the hospital. Most importantly, she wanted to share with other people who are being tortured by cancers with her experience of fighting against cancer. She wanted to remind people, when discomfort happens, they should go to hospital timely for examination and treatment, so as to avoid delaying the treatment and worsening the condition. She also wanted to tell her family and friends about Modern Cancer Hospital Guangzhou, which is humanistic and has effective treatment.
If you have any questions, please contact us via online consultation, email or phone call. If you find our website useful, please follow our FaceBook and YouTube, health information will be updated regularly.
Online Inquiry
CLICK HERE!
Let's Have A Healthy Life!
Video
To show you
what is cancer by
videos
Chatting on Facebook

Become a fan of us!
+Follow
We are waiting for you.