Aida Nuguid: Modern Cancer Hospital Guangzhou Is the Instrument that God Sent to Me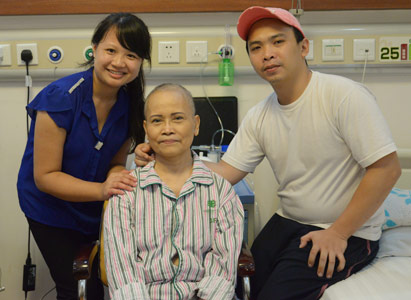 Group Photo from Aida Nuguid and Her Families
My name is Aida Nuguid. I am a Filipino and I have a small business in local place. When it comes to cancer, although I have been in business for many years and suffered a lot, I still feel very sad.
It was at the end of last August, I had a bad cough and so I went to a local hospital for a physical examination. Both chest X-ray and CT scan results showed there was a tumor in my left chest, which was about 2cm*1.5cm*1cm. After that, my doctor gave me a three-month anti-tuberculosis treatment. And because phthisis was a very common disease in the Philippines, I didn't care it too much until it was too late.
Two-month treatment for phthisis passed very quickly. However, my cough didn't get any better, but it became even worse. Then I felt it was not right. I went to the local hospital and did a PET scan here. The result frightened me: The tumor in my lung was three times bigger than before. "It is lung cancer." When the doctor told me the truth, I couldn't help crying even though I had always been strong. It seemed as if the world has down to me. I began to regret: Why didn't I pay enough attention to the last test? Why did I smoke so much in the past 15 years? (I have been addicted to smoking for 15 years. Every day I will smoke at least three packs. ) But cry couldn't help me, neither could my regret. My business experience taught me that, when facing difficulties and setbacks, you should not give up until the last moment. And so I will never give up any hope.
I started to seek treatment positively after I made up my mind. The very first thing I did was decisively rejected the surgery advised by my doctor in the Philippines, because I didn't want to lose my left lung, and I didn't think that resection operation was an ideal treatment plan for me. As far as I know, operative surgery will cause great pain and big risk to a patient. And because I have heard from others before that the Chinese are very good at treating cancer, I asked my son to search the internet for the best cancer hospital in China. We found several cancer hospitals actually, and after comparison, I found that Modern Cancer Hospital Guangzhou which uses minimally invasive therapies to treat middle and advanced cancer receives highly praise. I believed that it was the instrument that God sent to me, so I contacted the hospital soon and came here with my son.
From the first time I admitted the hospital in March till now, I remembered every treatment I received in this hospital clearly, for each one gave me big improvement. From the very beginning, I have done six interventional therapies, twice cryotherapy and one biological immunotherapy. By infusing the anticancer drug into the tumor in my lung through interventional therapy, my cough was greatly relieved. Cryotherapy was also used in the treatment to freeze and then blast the cancer cells in my body. Both treatments are minimally and they would not cause big side effect. To help me fight against cancer better, doctors in MCHG also used biological immunotherapy to improve my immunity. Now both my disease and quality of life are greatly improved. When I admitted the hospital, I have very bad cough. I was so skinny, and I was so weak, you can see I was almost at the point of dying. But after the treatment, I have great improvement. My hair is still here. My movement is fast. The cough disappeared. I have good appetite and good sleep. I was getting fatter. All things seem improving.
Please forgive me to use the word "improvement" repeatedly, for that is the most impressive thing that this cancer hospital gives to me. Although those improvements seem nothing special to an ordinary patient, but to me, as a cancer patient, they mean a lot, and I am so happy to see each my improvement, even if it is a very small one. And my family and friends, they are happy for me too. Here, I just want to say: To all the cancer patients, yes, don't lose hope. Keep in believing and keep asking god and he will heal you. Just talk to the lord, and he will send the instrument to heal you, just like it has sent the Modern Cancer Hospital Guangzhou to help me. Thanks to Modern Cancer Hospital Guangzhou, my disease is now under good control.
If you have any questions, please contact us via online consultation, email or phone call. If you find our website useful, please follow our FaceBook and YouTube, health information will be updated regularly.
Online Inquiry
CLICK HERE!
Let's Have A Healthy Life!
Video
To show you
what is cancer by
videos
Chatting on Facebook

Become a fan of us!
+Follow
We are waiting for you.