Cancer Is Not the End of Your Live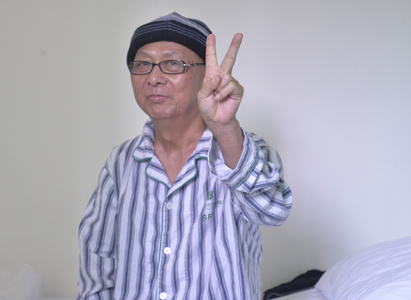 DJONG NYAM SANG
Interventional Therapy + Cryotherapy Make a Miracle of Live
"I believe myself. I believe the doctors in here. I believe I can fight against cancer. So do you. Fighting!"---- DJONG NYAM SANG
I am DJONG NYAM SANG from Jakarta and was diagnosed with lung cancer in stage 4. When the attending doctor told me in the morning, "Your tumor marker reduce to 20 and the tumor obviously shrank.", I was extremely happy. Possibly, one year ago, I can't believe I would sit here, do whatever I want with the companying of families and share the best things in the world.
In June 2014, I felt uncomfortable so I took some inspections in Malaysia in August. However, the results surprised me and my families. I never thought I would get cancer. What's worse, the lung cancer was already in stage 4. Under the X-ray, you can see a 5cm tumor in lung and the doctor estimated that I couldn't live more than 6 months. I had my wife, children and four adorable grandchildren and I did nott want to lose them. Thus, in Malaysia, I began a long and painful treatment course.
At first, the Malaysian doctors let me choose the medicine but I can't make a decision because I hadn't had cancer before and neither did my families. With no doubt, in order to recover quicker so I chose the most expensive medicine under the support of my families and I also kept eating ganoderma for 3-4 months. However, my condition did not turn good as it was detected. The symptoms of coughing, asthma, etc. were not improved and my condiyion went from bad to worse.
I made an appointed to the doctors but the doctors accidentally took a long holiday. At that time, my condition was worse and worse so I can't wait and wanted to take cancer treatment as soon as possible. I did not like the bad service of doctors in Malaysia so I decided to take cancer treatment in other places.
My wife looked for better cancer treatments through internet, recommendations from friends, etc. We searched Modern Cancer Hospital Guangzhou and attracted by their minimally invasive therapies and characteristic services. My friends also suggested me going to Modern Cancer Hospital. Actually, I wanted to give up because taking therapies in other countries may bring a lot of inconvenience and I had spent all my money. My wife and children encouraged me to go on taking cancer treatments. They did not leave me alone. So did I. In December 2014, I arrived at Modern Cancer Hospital Guangzhou.
This was my third hospitalization here. I took cryotherapy and 5 sessions of interventional therapy before. Before I came here, the staffs made an appointment for me in advance and they gave me the best ward. I was very satisfied with their service.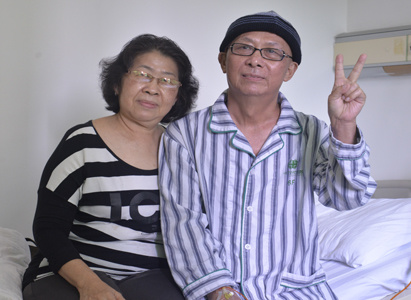 DJONG NYAM SANG & His Wife
Compared with the treatment mode in Malaysia, there were a lot of differences with Modern Cancer Hospital Guangzhou. MDT (Multidisplinary Team) in Modern Cancer Hospital Guangzhou made an individualized therapeutic regimen for me, interventional therapy + cryotherapy, as soon as I hospitalized in here. They applied a multidisplinary treatment mode so I did not have to go around many treatment rooms and wait for the doctors because in every morning there were 5-6 professional oncologists went around and checked my condition, which made at ease. In Malaysia, only one doctor kept in touch with me and there were a lot of choice for me to take. There was a big difference with doctors between Modern Cancer Hospital Guangzhou and Malaysian hospitals.
Before taking interventional therapy and cryotherapy, I was scared because doctor told me that coughing and asthma would bring troubles to the cryotherapy so the symptoms needed to be improved before treatment. I prayed for "no coughing, no asthma". Actually, I did not show any bad symptoms in the treatment and it was smooth. After the second session of interventional therapy, I gained the weight; my condition turned better; the tumor marker reduced a lot.
I have to say that the comprehensive minimally invasive therapy make a miracle of life for me. It breaks the estimate that I can't live more than six months. Now I have lived one more year since the day I was diagnosed with lung cancer. My condition is good now and I will keep on doing exercises and joining the regular activities in the hospital. The doctors and nurses share jokes with me and I have a lot of fun here. I believe I still have time to share the best things in the world. Of course, cancer makes me realize that families are important for me and I also need to take good care of every cherished people, lead a happy life, keep an optimistic attitude and enjoy everyday.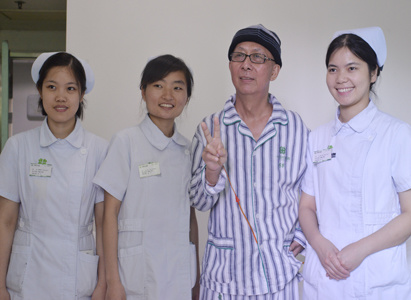 DJONG NYAM SANG & Medical Staffs
If you have any questions, please contact us via online consultation, email or phone call. If you find our website useful, please follow our FaceBook and YouTube, health information will be updated regularly.
Online Inquiry
CLICK HERE!
Let's Have A Healthy Life!
Video
To show you
what is cancer by
videos
Chatting on Facebook

Become a fan of us!
+Follow
We are waiting for you.